How the RV-8 Became One of the Most Popular Kitplanes of All Time
Twenty-five years ago, Richard VanGrunsven trusted his instincts, and thousands of home builders are glad he did.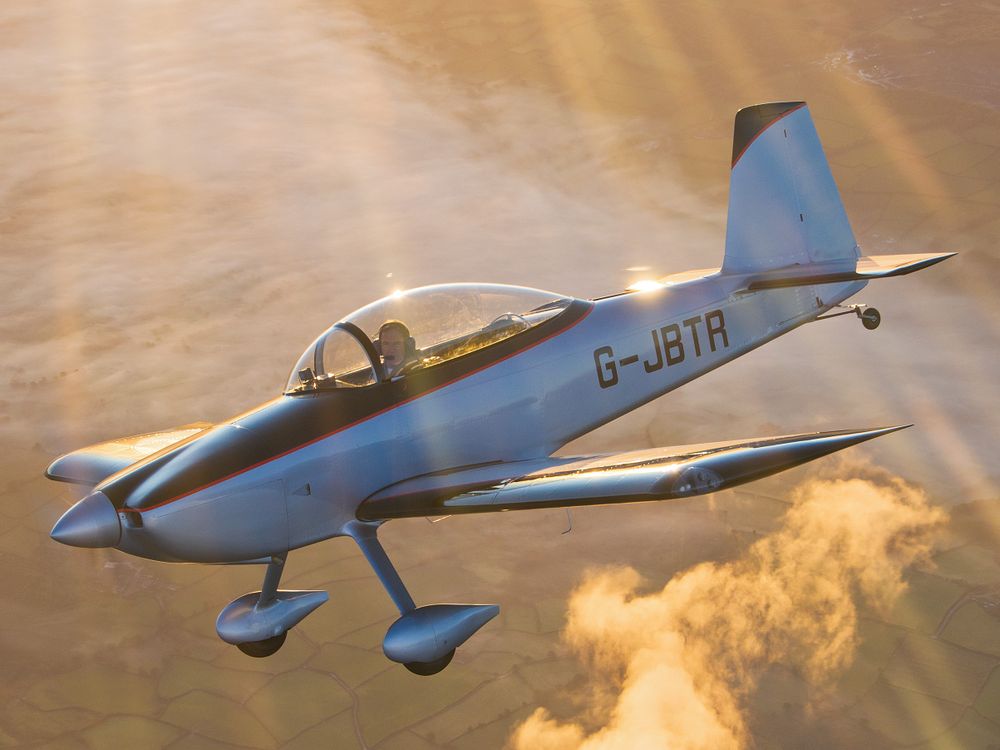 Any time an aircraft designer can look out the window and think, A thousand of my airplanes are out there flying right now, that's a good feeling. By that yardstick, Richard "Van" VanGrunsven should be feeling very good indeed. His company, Van's Aircraft, can document 10,700 aircraft flying or that have flown. He founded the company in 1972, so that total says he's sold an average of a little more than four airplanes a week, every week, for 48 years. Any factory building light aircraft would be happy with those numbers, but Van's Aircraft doesn't build light aircraft. The company makes aircraft kits, so those 10,700 airplanes have been built by individuals, working in small shops and garages all over the world.
Exactly 25 years ago, Van surprised his staff with the decision to offer a new design. The decision was not surprising, but the design was. He proposed the RV-8, a standard, tandem-seat airplane—pilot in the front, passenger in the back. An earlier tandem design, the RV-4, had essentially built the company, but in the middle 1990s, its sales had declined sharply.
One of the common complaints about the RV-4 was there wasn't room to carry much and the rear seat was claustrophobic. The newer RV-6 (Van was never known for clever names), which could be thought of as an RV-4 with side-by-side seating, addressed the problem and was selling at record numbers. Some of Van's senior staffers favored dropping the RV-4 altogether and concentrating on side-by-side designs. Why spend development money on a long shot rather than a known winner?
Van, however, is a very independent guy. He grew up on an Oregon farm, part of a Dutch community. There were eight kids, and while they weren't in poverty, there wasn't a lot of money, so he learned to make things out of what was available. In his early business years he was known, politely, as "thrifty." People eventually came to realize that he was focused less on hefty profits than on keeping his product within range of people who weren't rich.
There is one story from a customer who had met Van at Lakeland, Florida's Sun 'n Fun airshow. The customer didn't have much hair, and the Florida sun was fierce, so he went looking for a hat. Most airplane vendors were happy to sell him a logo-emblazoned ball cap for $10 or $12, but Van was asking just six. "Why?" the customer asked. Because six dollars was enough to ensure a modest profit, Van told him, and that was enough. That man and his wife ended up building two RVs.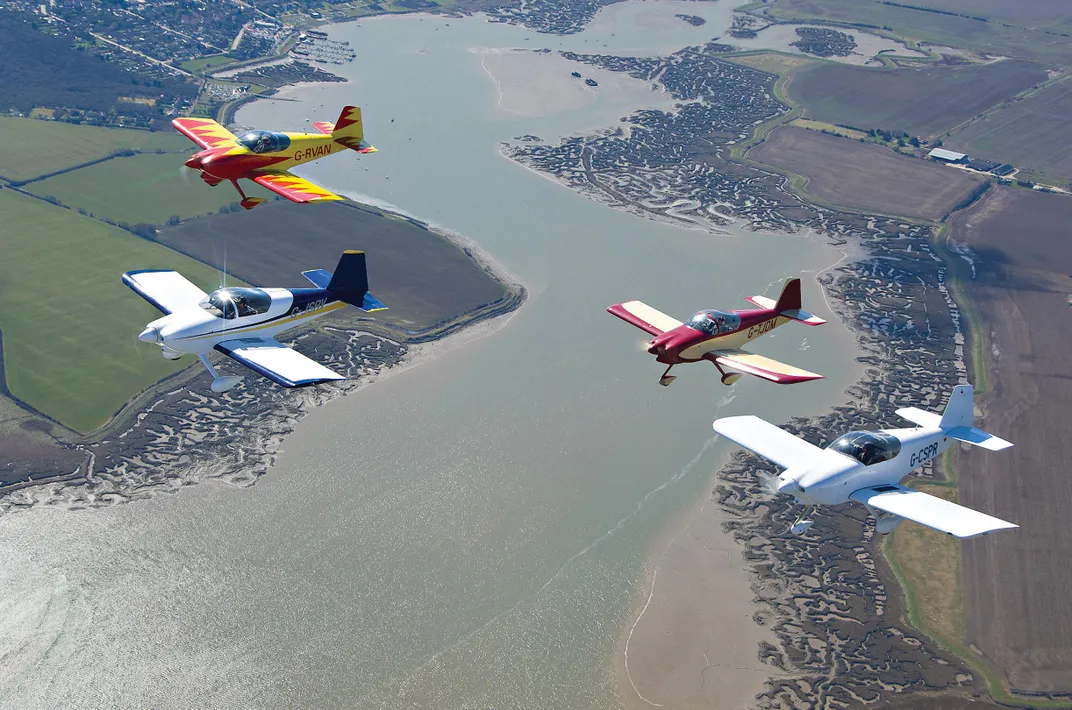 Van has always been a performance-oriented pilot. He liked sitting on the centerline, especially for aerobatics, and he wasn't ready to give up on tandem seating. "When I designed the RV-4, I concentrated on the pilot experience," he says. "Now I had to think much more about how the person in back—often the pilot's spouse, who is pretty important when you're trying to sell someone an airplane—was experiencing the ride." The general consensus is that a side-by-side seating configuration provides more room, but the combined width of the RV-8's front and rear seats is 58 inches, compared to 43 inches in the RV-6.
And the RV-8 is a strikingly handsome airplane. The sleek fuselage sits atop a rectangular wing with a span of only 24 feet. A large bubble canopy covers both seats—there aren't many airplanes that give the pilot better visibility. Since it went on sale 25 years ago, 3,900 RV-8 kits have sold and 1,560 have been completed and flown in countries all over the world.
Because the RV-8 was larger and heavier than the RV-4, Van provided for more power, eventually approving engines up to 210 hp. With the big engine and the very clean airframe, the RV-8 would top out at 220 mph and cruise up to 212. Better yet, at least from Van's point of view (on the centerline!), it followed the RV tradition of superb handling qualities and aerobatic agility. Pilots who have never flown an RV usually climb out after their first flight beaming with what's become known as the "RV Grin." (It can last for days.)
Nothing I've ever been in connects man and machine like an RV. The handling is light and exquisitely coordinated. You don't fly an RV as much as you just fly. The machine fades away. My friend, the late Eustace Bowhay, with more than 20,000 hours in the Canadian bush, flew just about everything including his own P-51 Mustang for a long time. He told me his RV was the best airplane he'd ever owned.
One of the last pilots you'd expect to be an RV champion is Doug Rozendaal, a well-known warbird pilot whose license has an "all makes and models endorsement." He's owned several RVs and has flown the -8 many times. "All of Van's designs do so many things well," he says.
The RV-8 has a stall speed of just 56 mph, and the rugged landing gear make grass airstrips not only possible, but preferable. Van, whose original reputation for thrift has never completely gone away, notes that "tires last longer on grass."
When the prototype airplane showed up at the Experimental Aircraft Association's Oshkosh airshow in 1995, the reaction surprised even Van. No longer having to choose between sport or cross-country flying, prospective buyers lined up for order forms. New computer-controlled machine tools at Van's factory in North Plains, Oregon (pop. 640) made it possible to provide parts that cut the building time by 40 percent compared to the RV-4.
Customers from every walk of life, from carpenters to computer nerds to NASA employees, signed up to build an RV-8. One of the NASA employees was Paul Dye. Retired from his position as Lead Flight Director for Human Space Flight, he is also a commercial pilot. New to homebuilding when he began the RV-8 in 2004, he finished it in 18 months, logging just over 1,000 hours of shop time in the process. "I put 300 hours on the airplane the first year," says Dye. "I've got over 1,000 hours in it now, and it's still as exciting as it was at the beginning. Over the years I've learned that you come for the airplane, but you stay for the people."
The community of RV builders, pilots, and spouses covers several continents—Africa, South America, Europe, Australia…. There are photos of RV-10s operating off roads in Siberia! They are an essential part of the success of the RV line.
Dan Benua, a software engineer from Oregon, came to the RV-8 from a different direction. "I'd built an RV-6A some years ago, and sold it to build a four-seat RV-10 for family trips," he says. "Of course, once you have a station wagon, you need a sports car, so I built a single-seat RV-3. It is a great sports car, but when I flew with my formation team or flew to formation clinics, my wife couldn't come. I needed another project, so I decided a two-seat sports car would solve both problems and ordered an RV-8. I've been very impressed by the precision of the parts, and the whole project fits nicely in a two-car garage."
When Van looks out his window, he has the satisfaction of knowing that the RV-8 is one of five of his designs to reach 1,000 flying. (A sixth should reach that mark in 2021.) When asked which of his designs is his favorite, Van demurs with the time-worn protest. "That's like asking which of your children you love most," he says. "But if I had to have just one, a nice, light RV-8…."