Transatlantic Flight During a Pandemic Makes for a Long, Strange Trip
Caught by COVID away from home, the author finds his way through three airports and across an ocean.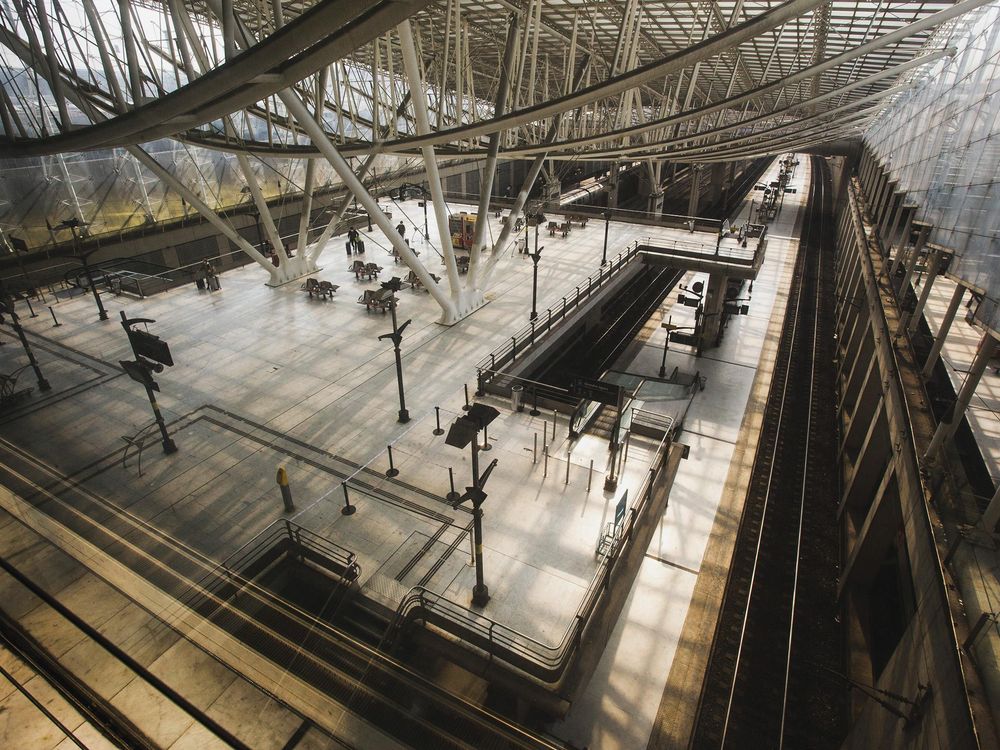 Kids love a public disruption and, as a child, I was always a great fan of school-canceling snowstorms and municipal strikes. As a grumpy, self-important adult, I grew to expect that I could fly the Atlantic anytime I had the time, money, and a reservation—until this virus-haunted spring when I found myself grounded in Lombardy, the Italian epicenter of the Covid-19 epidemic. It was brutal there—so many sick, so many dead, all heralded by the wail of ambulance sirens day and night.
We'd planned to fly home in early April. Then in mid-March, America discovered Covid and Delta Air Lines cut its transatlantic schedule to one flight a day from five cities (none in Italy), all to be operated by its European code-share partners. We were stuck. But after four canceled rebookings and 14 weeks of safe, well-fed, and Netflix-supported lockdown, my wife and I set out on June 1 for the Milan airport at Malpensa. We wondered if 14 hours of flying back to Ohio in a pressurized aluminum tube alongside strangers was the wisest course. But surgically masked and sanitizer-loaded, we headed for the airport, steeling ourselves as if we had to cross a sagging bridge over a chasm because that was the only way home.
On arrival, we discovered that passenger operations had been temporarily moved two miles away, to the much smaller Terminal 2, normally the domain of the budget airlines. The last time I was there, Terminal 2 was positively heaving with travelers and roller bags. Today the board showed 17 flights for the entire day. Fortunately our Air France flight to Charles de Gaulle was still listed.
We had our passports out to prove our foreigners-going-home status to airport security. Then we went through a thermal-scanning gateway to a socially distanced holding pen, and then across the echoing check-in hall to assigned spots six feet apart like chess pieces on a giant board. Here we waited our turn in a church-like hush of lowered voices and private contemplation. Why is that man wearing his mask under his nose? Did I just touch my face?
Eventually we moved through ticketing, a no-wait security screening, and corridors of steel-shuttered airport boutiques. In the Air France gate area, seats were taped off and the floor sectioned so that the 50 or so passengers could wait in isolation for an Airbus A320, which usually carries 220. We were boarded in small groups, from back to front, a startling reversal of the airline caste system. Today it was Last Rows first and First Class last.
Anyone who has changed planes at Paris' Charles de Gaulle dreads the infamous passport control hall where jet-lagged souls shuffle through webbed cattle pens before coming under the cold eye of a police agent. Today, there were only two agents behind glass at the far end and the two of us. Other than barking at my wife to stand two meters back from her husband, the masked agent had nothing to say before delivering the official passport whump.
After so much worry, the long Atlantic haul was anticlimactic. The 60 or so passengers were sprinkled around the four cabins of what looked to be a fully crewed Boeing 777. Everyone was masked. Everyone was on best social-distancing behavior. It was a daytime flight but after lunch the window shades came down and the cabin lights dimmed. It was like throwing a blanket over a canary cage. The passengers went quiet, even the babies.
There were screens but I couldn't watch them. I had a book but couldn't read. I was thinking about the rituals of commercial flight, not just the hassle of getting to and through the airport but how after I buckle into my seat, I willingly hand over my life to the flight crew. Following 9/11, we'd worried about burly men congregating outside the lavatory. New times, new dangers, I thought, and fell asleep.
When we landed in Atlanta, all the federal control agencies were out in force. CDC workers took our temperatures, recorded our contact info, and told us to go into home quarantine for 14 days. An agriculture inspector questioned us closely about seeds. Border Patrol agents almost outnumbered passengers. The TSA was on full alert, insisting on shoes off, a double X-ray for our iPads, hands-up body scans followed by a same-sex frisking.
The pandemic had flipped the equation of modern global aviation, leaving governments, airlines, and mega-airports like ATL with mass capacity and uncertain demand. Our flight with 60 passengers arrived at an international facility scaled to handle thousands. We were like a great river shriveled to a trickle in its wide bed, or as a mid-19th century Cincinnati journalist once described the Ohio River in drought, looking "like a small boy in a big hat." As the pandemic recedes, the question is whether global aviation will swell again to fill the hat or whether suspicion, caution, or hard times will require us to get a new size or even a different hat.
I have lost count of how many times we've flown the Atlantic to see grandparents and now to be grandparents. Along the way, we've lost luggage, a few stuffed animals, and occasionally sensation in our lower extremities. We've weathered blizzards, a derecho, and the Shoe Bomber. Oddly enough, the only other time we'd flown transatlantic via Atlanta was during another "natural" catastrophe, the 2010 Eyjafjallajökull volcanic eruption in Iceland that disrupted air traffic across the northern hemisphere. To avoid the volcanic ash plume, our flight from Milan detoured far out over the North Atlantic to swing along Iceland's ash-free north coast before turning south for Atlanta.
This June, when we came up an escalator in Atlanta into the Terminal A concourse, we nearly turned and fled in panic. We'd landed in a crowded new world where viral transmission was apparently a matter of opinion. Here, shops were open, eateries roared, and face masks were optional. Fortunately for our nerves and immune systems, our last leg to Cincinnati was strictly no-mask/no-fly. We boarded back-to-front and spread out in the cabin.
By the time the Delta flight attendant was showing us how to click our seat belts, I was miles away, reliving my accidental trip to Iceland. I'd been in a rotten mood. In Milan, they wouldn't check our luggage but kept us standing for hours while far-away supervisors decided what to do. Much, much later, our pilot told us to look out the left side of the aircraft. I vividly remembered the cloudless view we had of a miniature Iceland—rocks, rivers, tiny houses, tiny boats—passing below. Goodness, I remember thinking, I love flying. The virus and the volcano reminded me that flying can take you to unexpected places, some pleasant, some not so. Frequent flyers know it's no good hoping for nothing but blue skies. Still we take our chances.