WWII, As It Really Looked
A new book showcases long-forgotten color images of Britain in the Second World War.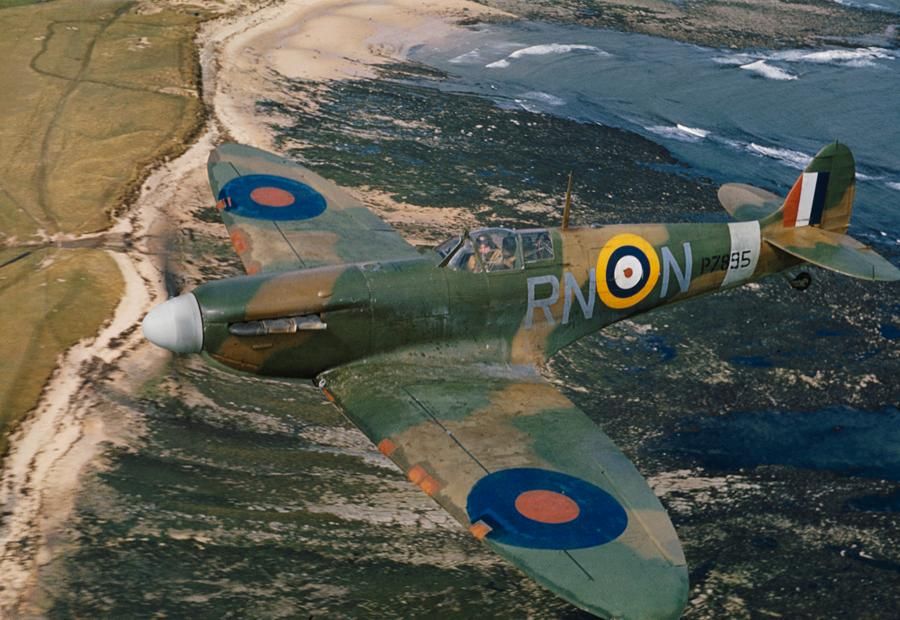 There are many iconic photographs from World War II: An aircraft spotter standing atop a London building with St. Paul's Cathedral rising in the background; three dead American soldiers lying half-buried in the sand at Buna Beach on New Guinea, taken by LIFE photographer George Strock; Alfred Eisenstaedt's photo "The Kiss," shot in Times Square the day Japan surrendered. They're all powerful—and they're all in black and white.
While color images of the war exist, they aren't extremely common. Yet official photographers serving with the British armed forces shot nearly 3,000 color photographs, using Kodachrome film obtained from the United States. About 1,500 images survive; they were given to the Imperial War Museums in 1949. Of these, nearly 80 have been collected in a new book: The Second World War in Colour, by Ian Carter (2017, Imperial War Museums, distributed by the University of Chicago Press).  
The images are astonishing: A Hudson Mk VI in a cerulean sky, flies above Egypt's most famous landmark, the Great Pyramid of Giza. A Lancaster bomber crew pose for a photo at RAF Waddington, along with additional crewmembers: homing pigeons housed in watertight bright yellow boxes (how did they breathe?). A very young and beautiful Princess Elizabeth stands with the Austin 10 "Tilly" and Austin K2 ambulance she helped maintain during her time in the Auxiliary Territorial Service. Dutch civilians dance in the streets after the liberation of Eindhoven by Allied forces.
Carter acknowledges the gaps in the collection: No color film was given to British official photographers covering the D-Day landings. And the war in the Far East was basically ignored, probably due to logistics and processing challenges. The Home Front is beautifully covered, as are British operations in the Mediterranean theatre. The collection also includes a few German propaganda photographs, and some images taken by U.S. military personnel while on combat missions, "something that was virtually unheard of in the RAF," notes Carter. Looking at these rare color photographs is eye-opening in another way: Has it really been almost 80 years since these events took place?