Life of a Salesman
Guys who sell airplanes don't always make the deal, but they always have the funniest stories to tell.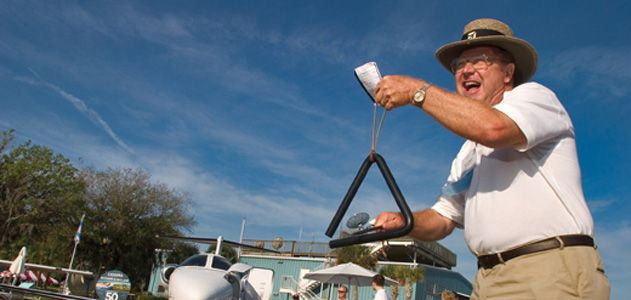 In 1932, Bill Piper dispatched his salesmen in $1,300 Cubs. They were paid $15 a week, given another $25 for expenses, and admonished not to return to the factory in Pennsylvania until their airplanes were sold.
More than 70 years later, not much has changed for airplane salesmen. Now, as then, they spend countless solitary hours flying across the country in search of paying customers, who are generally wealthy, sometimes eccentric, and often unpredictable. During demonstration flights, salesmen are turning over control of their airplanes to total strangers without much knowledge of their flying abilities. Like peddling illegal drugs, selling airplanes is one of the few occupations in which a prospective customer can kill you.
When the job isn't downright hazardous, it's often wearying. Weather strands you at small airports in the most desolate of backwaters. There you sit in a deserted Denny's on Thanksgiving, washing down your burned burger with a flat Coke. Lodging in a cheap motel, you have nothing but instant coffee, a bad television, and a weak shower for comfort, but you are so exhausted it just doesn't matter.
Still, the profession has no shortage of takers, appealing to people who don't want the 9-to-5 office life with a boss looking over their shoulders. And a top light-airplane salesman can take home more than $250,000 per year.
Bruce Keller knows about life on the road. He has been selling piston-engine airplanes for 35 years. Keller started working at Cessna in 1973, and aside from 1986 to 1996, when Cessna shuttered piston aircraft production, he has been with the company ever since. He calls himself "Old Bruce," and speaks with a pronounced drawl that is part preacher, part carnival barker, and a little Chuck Yeager. At major fly-ins and conventions, you are likely to see him first thing in the morning, clad in straw hat, company shirt, and khakis. He stands in front of gleaming $241,000 Skyhawks and $326,000 Skylanes, rings his triangle, and yells, "Cessna's open! Cessna's open!" like a cowboy cook calling, "Come 'n git it." He currently serves as a regional sales manager, assisting company-approved dealers in a territory that encompasses Alabama, Florida, and Georgia. But Keller's beat was once the entire Eastern Time Zone, and he's worked virtually every airport pancake breakfast and fly-in along the Atlantic. "I go to fly-ins for the Flying Farmers, the Flying Physicians, the Flying Dentists, and the Flying Morticians," he says. "The Flying Morticians—now, that's quite a group."
Keller is a fount of insider information: He knows that if you buzz the airport at Carrabelle, Florida, the constable will drive out and give you a ride to Julia Mae's restaurant. He knows that at a certain Arkansas airport the credit card machine for self-service fuel is hidden inside the refrigerator. And he knows where to find the keys in the beat-up Volkswagen microbus left for visiting pilots in Luray Caverns, Virginia.
The thousands of air miles that Keller has logged have given him plenty of time to cultivate a sense of humor, one that is reminiscent of the late comic Rodney Dangerfield. "I'm a VIP member in the Super 8 motel chain," he says. "I've stayed in places that rent rooms by the hour.
"I flew a Cessna 150 from Wichita to Fort Lauderdale once—the trip took so long I grew a beard in the airplane.
"When I come home, my wife asks me to wear a name tag."
Ba-doom-boom!
Shtick aside, Keller understands what he is peddling. "It is a way of life I am selling, not just aluminum," he says. "I want the customer to share that with me. If you look at my airplane and you sit in it, you are going flying." The lifestyle that Keller is selling centers on the ease, privacy, and get-up-and-go freedom that comes with the license to fly: If you want to travel to a new city, there's no need to adjust your schedule to a commercial airline's timetable or stand in airport security lines with the masses.
Keller's customers generally have a comfortable amount of discretionary income, and some have paid for airplanes with gym bags full of cash. One paid for a new airplane by writing a personal check on the spot. Of course, financing is available. Keller recalls demonstrating an airplane to a 94-year-old pilot in Pennsylvania: "I said, 'Now, sir, we have 20-year financing on these airplanes.' And he says, 'I like that.' "
Like those who sell almost any luxury item, airplane salesmen encounter prospective customers who often dream beyond their means and sometimes weave tall tales about their financial wherewithal. Good salesmen try to size up prospects before they invest much time and money in wooing them. Independent salesman Fred Ahles was trying to do just that during a telephone inquiry he received about 10 years ago. An older-sounding gentleman wanted a new, single-engine Piper Saratoga.
Like Keller, Ahles has been an airplane salesman for more than 30 years, and during that time he has sold more than 1,000 airplanes and represented almost every manufacturer. Today, Ahles is president of Premier Aircraft Sales, a Fort Lauderdale, Florida-based company that sells used and new aircraft.
The man on the phone was 200 miles away and promised, "If you can deliver a new Saratoga today, I'll take it." The brashness made Ahles suspicious, and he feared he would blow an entire afternoon and lots of fuel showing an airplane to a wannabe. Ahles began questioning the man.
"Have you ever owned an airplane before?"
"Sonny, I've owned about 35 of them."
"Really? How long have you been flying?"
"Since the 1930s."
"Do you have an airplane now?"
"I sold it."
"Really? What kind of airplane was it?"
"A 747."
"Why did you sell it?"
"The neighbors complained, said it was making too much damn noise. I kept it in my back yard."
"Why did you have the 747?"
"The 707 wasn't big enough for the
elephants."
About this time, Ahles decided that perhaps the gentleman was not only unqualified to buy an airplane, but also insane. As the conversation continued, the man explained that his wife used to train exotic animals and that he also used to own a Piper Cheyenne 400 turboprop. Ahles remained skeptical, but promised that he would call the man right back. He hung up and called Piper to see if they knew anything about him.
"Fred, he's loaded," a Piper manager said. "Get your butt up there."
So Ahles flew the Saratoga from Fort Lauderdale to the man's private, 7,500-foot runway in Ocala, where he was greeted and invited to lunch at the prospect's house, a 1920s mansion once owned by the Vanderbilts. To get there, the two walked through a tunnel in the 30-foot-tall blast wall constructed at the end of the runway for the 747. Plexiglas windows lined the tunnel, and behind one of them was the biggest gorilla Ahles had ever seen. And it did not like him.
"It sees me and goes nuts," remembers Ahles. "It comes charging at me from the other side of the Plexiglas."
The man ended up buying the Saratoga. Today, the land around what was his private airstrip has been converted to an exclusive fly-in community called Jumbolair. John Travolta lives there with his Boeing 707.
As Ahles learned, vetting a prospect is something of a black art. "You develop a 'gut meter' of who to qualify and who to spend your time with," says Mark Woods, a Brighton, Michigan-based Mooney salesman who typically flies 100 to 150 demonstrations annually. Woods sold Plymouths and financial services before migrating to aircraft. "Nobody is perfect, but we get it right more than we get it wrong," he says. "There are all kinds of dilapidated airports with wealthy people nearby. Just because a client is wearing a T-shirt and jeans doesn't mean that he is not financially able."
The sales cycle can be a lengthy dance, according to Woods. "There are guys I talk to for two years before they buy an airplane," he says. But two-year or two-day sales are the exception. Woods says 80 percent of his sales are completed 60 to 120 days after he first makes contact with a customer.
Even trickier than gauging financial ability is assessing a customer's flying skills and diplomatically steering him into a more appropriate aircraft. During demonstration flights, salesmen are the pilots in charge, and they are responsible for maintaining safety in the air.
"You generally know when to take the airplane away," says Jeff Ermish, a regional sales manager with Symphony Aircraft.
"You don't want to insult anybody," says Keller. "But sometimes you just go bouncing down the runway and you turn to the customer and say, 'Good job, sir. The ELT [emergency locator transmitter] didn't even go off.' " (ELTs automatically emit a homing beacon when an airplane crashes.)
"It's a double-edged sword," says Dave Bardeau, who sells Cessnas for Executive Aircraft out of Fort Lauderdale. "Your livelihood revolves around making that sale. If a person wants to buy an airplane, then, by God, they want to buy an airplane, and it is not my place to tell them they cannot or could not be in it. But on the other hand, my best customer is the one who comes back to buy repeatedly, and to that end you don't want them to get hurt in an airplane. And you don't want them to do something stupid, so you have to handle it. You have to tell some people what is right or wrong for them."
In these situations, salesmen can also fall back on the authority of insurance companies. "The FAA [Federal Aviation Administration] makes the rules, and insurers enforce them to their standards, and that is a much higher set of standards than the FAA will ever create," says Bardeau. "You better have experience, and if you don't have experience, you are going to get training or you are not going to get insurance. You are going to be trained to a standard that is way higher than it was in the past. That's a good thing. It needs to happen."
Thanks in part to insurance company pressure, most general aviation aircraft companies offer some sort of pilot training for their customers. Mooney, for example, offers a five-day course that comes with the airplane.
AIRCRAFT SALESMEN OFTEN have a love-hate relationship with the home office. Even in the best of times, manufacturing light aircraft has always been a tough way to make money, and just about every manufacturer has been bankrupt or near-bankrupt, creating special stresses for the sales troops in the field.
Mooney has filed for bankruptcy four times since 1930, most recently in 2004. Mark Woods remembers trying to sell Mooneys as the company teetered on the edge of insolvency in 2001. Production was shut down, employees were laid off, and to Woods' disappointment, product support for customers evaporated. "They were so leveraged and they owed everybody," says Woods. "So when we restarted production [after bankruptcy], nobody would give us credit, and everything [for] the production line had to be bought with cash." Production continued, slowly. Today the company is on sounder financial footing, and in 2005 Mooney delivered 85 airplanes.
According to the General Aviation Manufacturers Association, some 14,398 single-piston-engine aircraft were made in the U.S. in 1978. Then came the 1979 recession, soaring fuel prices and shortages, and double-digit interest rates. The late 1970s also saw an explosion of lawsuits filed against light-aircraft manufacturers. Virtually any time a small airplane crashed, no matter the cause, the manufacturer was sued. Settling or defending the suits dramatically raised the price of each aircraft. Manufacturers' liability insurance rates increased, as did the rates of insurance for private pilots.
Demand for light airplanes starting dropping, and general aviation manufacturers started to scale back. By 1986, the number of single-piston-engine aircraft produced by all U.S. manufacturers dropped to just 985.
Cessna's light-airplane dealer network had been shrinking, and in 1986 Bruce Keller was one of only four district sales managers left. He was working in New Hampshire when the phone rang in his hotel room. The voice on the other end said, "Bruce, come to Wichita." Keller got on the phone to his three remaining colleagues, who had all received the same foreboding call. Cessna had decided to pull the plug on piston-engine aircraft production (the company had a much more profitable business jet division). Keller and the others were let go. "It was a tough day," he says.
Keller found work managing a small airport and later as a customer service manager for United Airlines at Washington Dulles International Airport in Virginia. The work was unsatisfying, but he can joke about it now. "My job was handling problem passengers and the FAA, and I could get the two groups mixed up."
In 1994, after much industry lobbying, Congress passed the General Aviation Revitalization Act. The legislation immunized general aviation aircraft manufacturers from liability related to defects in aircraft that are more than 18 years old. The law enticed Cessna to restart single-piston-engine aircraft production, and by 1996, "Old Bruce" was back in the saddle selling the company's Skyhawks, Skylanes, and Stationairs.
The industry, however, has yet to return to the halcyon days of 1978. Last year, the total number of U.S. single-piston-engine aircraft produced was just 2,024, a little more than double the 1986 low. Cessna accounted for 822 of the total, while relative newcomers Cirrus and Columbia delivered 600 and 114, respectively.
The introduction of sleek fiberglass composite airplanes like those from Cirrus, Columbia, and Liberty are clearly giving the old-line metal airplane manufacturers like Beechcraft, Cessna, Mooney, and Piper competition in what is already a tight market. Add in the 261 single-engine models produced last year by Canada's Diamond Aircraft, and new-line manufacturers account for almost half of all single-engine aircraft produced in 2005.
So far, the old-line companies are surviving by exploiting their name recognition and established product support. All of them have also adopted the "glass cockpit" technology first popularized in light airplanes by Cirrus. Cessna saw demand double for its piston singles after it began replacing "steam gauge" instrument panels with the Garmin G1000 system. So did Mooney. "Your product doesn't have a shelf life today if it doesn't have a glass panel in it or you have plans to put it in there pretty darn quick," says Mooney's Woods. "If you let your product go stale, you're dead."
"Cessna called me and asked my opinion about glass cockpits," says Cirrus chairman Alan Klapmeier. "I told them it was the best thing we did, and they should definitely go for it.
"I guess I shouldn't have done that," he jokes.
Thanks to glass instrument panels, Woods thinks the older airframers will remain competitive. "Our airframe is a mature, seasoned airframe," he says, slipping into his sales pitch. "But basic aerodynamics have not changed. Compared to the new airplanes today, our product is more efficient, goes faster and higher on less fuel, and further."
The tension between old and new manufacturers comes to a head each April at the annual Sun 'n Fun airshow in Lakeland, Florida. Spring is the start of the light aircraft flying season, and while thousands of "tire kickers" attend the Experimental Aircraft Association's larger July airshow in Oshkosh, Wisconsin, proportionately more pilots come to buy at the smaller Sun 'n Fun. And the manufacturers know it. Cirrus deploys an army of salesmen and five aircraft dedicated to giving demonstration rides at Sun 'n Fun, and Cessna has built a permanent pavilion at the Lakeland site. Other manufacturers, including Columbia, set up shop at the airport in nearby Plant City: A smaller volume of air traffic there during the week of Sun 'n Fun means more opportunities to take prospective buyers on demo flights.
Depending on the size of their territories, most salesmen attend 20 to 30 airshows and fly-ins a year. Another way to find buyers is to maintain contacts with flight schools, and a third great source of leads is the base of customers whom you've already sold to. However salesmen hook up with potential buyers, it still comes down to "butts in the seat": The more people you fly, the more airplanes you sell.
On a Saturday morning last April, Columbia salesman Duncan Jones showed off a $579,000 top-of-the-line Model 400 to a particularly hot prospect, Tim Baker, an anesthesiologist from Lafayette, Louisiana. Baker has been flying for 28 years and has owned several aircraft. He currently flies a Cessna 182. If the Columbia flightline at Plant City were a Las Vegas casino, Baker would be considered a "whale," a high-roller.
Baker and Jones hopped into the cockpit of the slick, 270-mph, low-wing rocket, fired up the engine, and started scrolling through the computerized pre-launch checklist that popped onto the multi-function display of the Garmin G1000 glass panel system.
"I like this," said Baker. "I own Garmin stuff."
Jones could not contain himself, saying, "Well, you need to order one-—now." Baker ignored the entreaty and asked a question about the display system. Less than five minutes later, he snapped the Model 400 off the runway and settled into a brisk climb of 1,600 feet per minute. Before they had leveled off at 7,300 feet, Jones had already enumerated the features and benefits of the aircraft's flight control system, which the aerobatically trained Baker put to the test. He pitched the nose up 30 degrees, then threw the airplane into a hard left turn. As Baker continued to yank and bank, a slight smile formed on his lips. Jones talked Baker through a stall and popped the speed brakes, whereupon the airplane entered a steep descent: 4,500 feet per minute.
Toward the end of the 45-minute flight, Baker mentioned a few things he didn't like about the Model 400, but Jones was relentless. "So do you know what color you want?" he asked. "I'm color-blind," Baker shot back.
Eight months after his demo ride, Baker has not decided if he wants the airplane, which is not atypical. Only around 10 percent of all demo rides lead to a purchase.
There are times when a salesman knows there is no hope of a sale, but he flies someone anyway. Many years ago, a man came to an airport where Bruce Keller was giving demo rides. He had never seen a new airplane and had never been up in an airplane at all. "You could tell this fellow was having a tough time with life," says Keller. "He had on striped pants and a plaid shirt. We talked a bit, then I put him in the right seat and we went flying. He told me he couldn't buy an airplane, and I told him I wasn't asking him to. To this day, I still get a Christmas card from that fellow. It meant a lot to him, and it meant a lot to me."