Last of the Few
The Battle of Britain in the words of the pilots who won it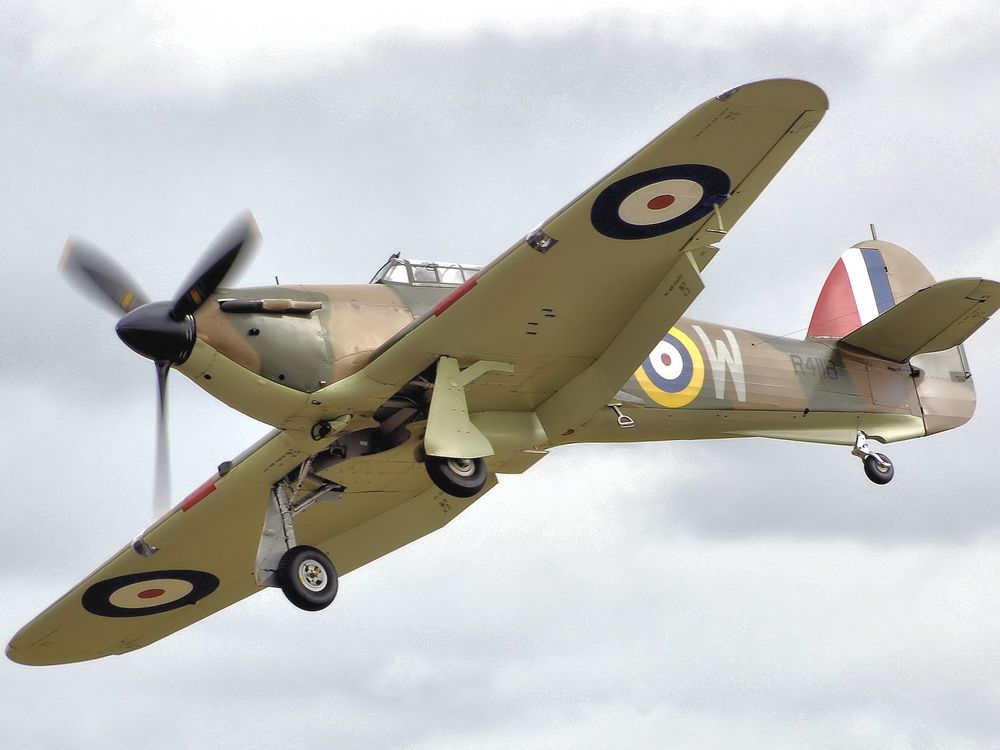 When Hitler's forces invaded Czechoslovakia and Poland in 1939, Britain prepared to send its Advanced Air Striking Force across the Channel to help defend the Belgian and French borders. But no Spitfire squadrons were sent out of the country—the new aircraft was too important to Britain's defense to use them to defend other nations.

From bases in France and forward airfields in England, RAF pilots battled the Luftwaffe and their Me 109 fighters in their slower (and heavier) Hawker Hurricanes. Before the RAF was forced to withdraw from France on June 18, 1940, 80 pilots had been killed, and 25 percent of RAF aircraft were lost.

The pilots and aircraft that remained returned to Britain to join the Spitfire squadrons, determined to protect the island from a German invasion. But before German troops could land, Hitler ordered Reichsmarschall Hermann Goering to gain air supremacy over Britain by destroying RAF bases and aircraft. These attacks, which came to be known as the Battle of Britain, lasted from July 10 until October 31, 1940. It was the Luftwaffe's longest aerial bombing campaign to that date.

For his new book, Last of the Few: The Battle of Britain in the Words of the Pilots Who Won It (Skyhorse Publishing, 2011), author and oral historian Max Arthur interviewed surviving members of the Battle of Britain. Click on the slideshow images below to read excerpts from the book.

Reprinted with permission from the publisher.
Pilot Officer Tom Neil: 249 Squadron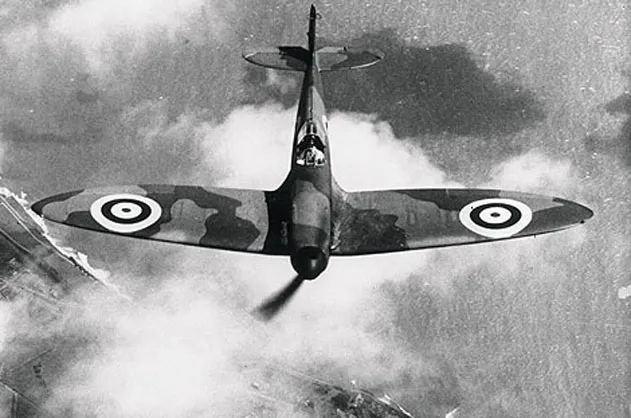 It just so happened that I was the first officer to arrive at 249 Squadron…. I found that we had no aeroplanes and that we were designated as a Hurricane squadron, because it said so on my posting notice. So it was no surprise to us when eight Spitfires turned up, and we flew Spitfires straight from biplanes. None of us (most of us were volunteer reservists) had ever flown monoplanes before and suddenly we were faced with these fearsome Spitfires.

The bloke said to me, "This is a Spitfire. Get in and fly it." All the training you had was to sit in the hangar with the blindfold round your eyes—the Spitfire was up on trestles—and you felt around the cockpit trying to identify all the tits and bits, pull the wheels up and you put the flaps down, etc.—half a day.

Then you were introduced to your aeroplane and told to get on with it.
Pictured: Supermarine Spitfire F. Mk.1 over England, circa 1940.
Flight Lieutenant Peter Brothers: 32 Squadron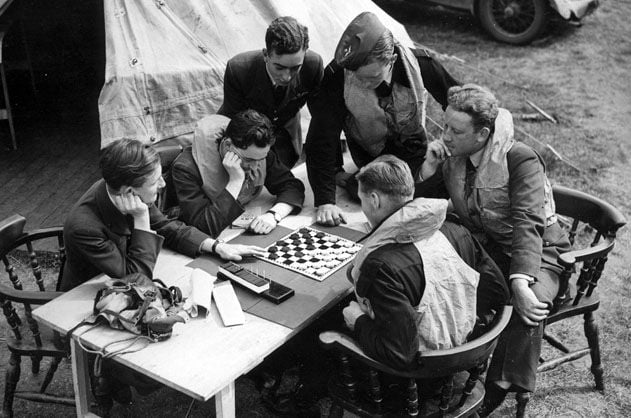 It was quite impressive, meeting this black cloud of [German] aircraft, all piled up [ahead of us] like—as somebody described it—"the moving staircase at Piccadilly Circus." They would be up in their hundreds, with the bottom squadron leading. They'd be stacked up behind, as well, with the fighters sitting up on top. One thing I remember from those early heavy raids was the density of the rear-gunners' fire. They'd put up a sort of barrage that you had to go through if you wanted to get in close—to about fifty or a hundred yards—which was vital. The aim was to get that rear-gunner out of the way. There was nothing you could do to avoid it—you'd collect a few holes and just hope for the best.
Pictured: Pilots and gunners of 264 Squadron pass the time with a game of draughts.
Pilot Officer Frank Carey: 43 Squadron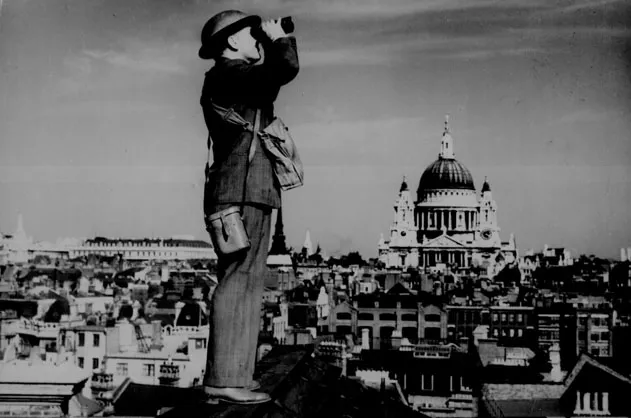 There were six of us on this patrol. As we arrived, we could see planes stretched out in great lumps all the way from the Isle of Wight to Cherbourg. At the bottom, Ju 87 dive-bombers; above those, Me 109s in great big oval sweeps covering the distance; and above them Me 110s. The flight commander had told three of us to do the fighter protection at the back, and we got up into them. The situation was absolutely ludicrous—three of us to take on that mob! The others went straight into the dive-bombers. Within seconds we were split up all over the place. The only advantage was that it was a hundred to one against hitting your own side; you could fire at anything.
Pictured: Aircraft spotter in London during the Battle of Britain.
Pilot Officer David Crook: 609 Squadron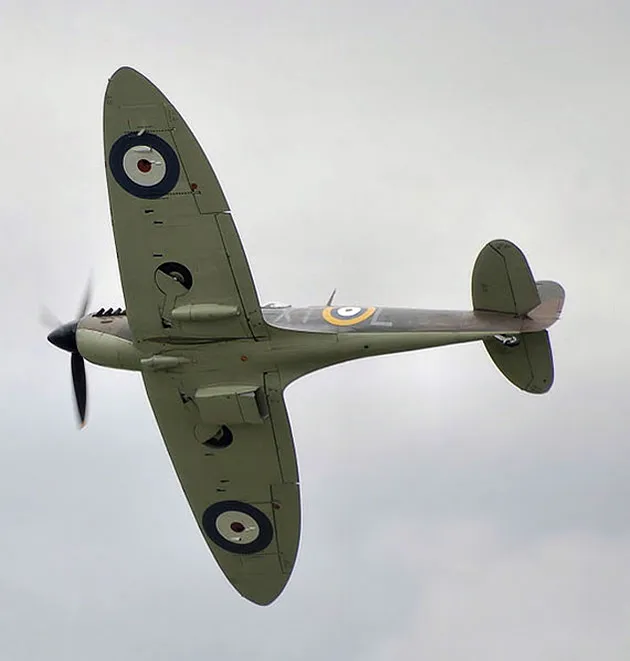 It is an odd thing when you are being fired at by a rear-gunner that the stream of bullets seems to leave the machine very slowly and in a great outward curve. You chuckle to yourself, "Ha, the fool's missing me by miles!" Then, suddenly, the bullets accelerate madly and curl in towards you again and flick just past your head. You thereupon bend your head a little lower, mutter, "My God," or some other suitable expression, and try to kill the rear-gunner before he makes any more nuisance of himself.
Pictured: Supermarine Spitfire Mk IIA at Kemble AIr Day 2008, Glouchestershire, England.
Johannes Steinhoff: Luftwaffe Fighter Pilot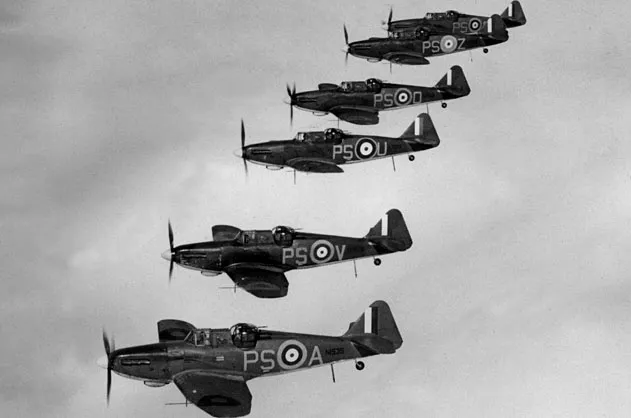 The English had ingeniously found a way to defend their island. Every pilot, except a small group of night flyers and bomber pilots who were the nucleus of the coming night bomber fleet, was retrained as a fighter pilot. It made no difference if he was a liaison plane pilot, a bomber or fighter-bomber pilot, he was retrained. Industry was instructed to concentrate on fighters. And in this way it was possible to seal the gap—and more! In one stroke, the lost air superiority was regained, and henceforth we did not own the airspace from Calais to London.
Pictured: 264th Squadron Defiants. The aircraft was vulnerable to the Messerschmitt Bf 109s.
Pilot Officer Tony Bartley: 92 Squadron
We did five sorties a day. We never stopped—we just went. You went to your dispersal hut half an hour before dawn, but when the Tannoy [PA system] said scramble, you scrambled. You went up and you fought all day long until the sun went down. Whether it be three, four, five missions a day—you just fought and fought and fought. At the end of the day we got off the airfield, because they used to bomb us at night, so we would go down to the White Hart at Brasted and drink a lot of beer.
Pictured: An RAF sergeant assists pilot Chesley Peterson, Eagle Squadron, in securing his parachute before entering a Hawker Hurricane.
Pilot Officer Bob Doe: 234 and 238 Squadron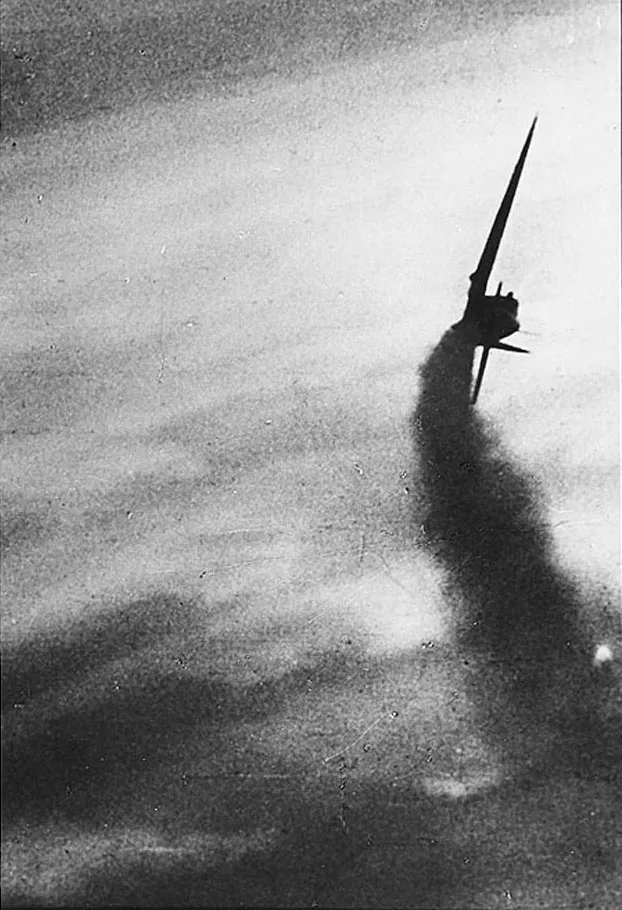 I had two half-hour trips in the Hurricane, learning to fly it, and went into action….

On 10 October we were scrambled, Hurricanes against high-flying 109s, on a day when there was a solid cloud from about 4,000 up to 20,000 feet. Once in the cloud, I lost everyone. As I broke the cloud, I was hit from behind and in front. The first thing I knew, a spark came over my right shoulder into the dashboard. Then I heard a thump underneath my bottom, and a cannon shell hit my right foot and cut the Achilles tendon. I was hit in my left shoulder, which was like the blow from a sledgehammer, and I was also hit in the hand….

I realized I was still alive and that I ought to get out quickly…. I landed on my bottom and was knocked out. When I came to, I was in the middle of a quagmire on Brownsea Island with an Irishman standing over me with an iron bar saying, "What are you?" For me the Battle of Britain was over. I was twenty years old and had fourteen confirmed kills to my credit.
Pictured: A Hawker Hurricane going down over Britain, presumably during the Battle of Britain.
Pilot Officer George Herman Bennions: 41 Squadron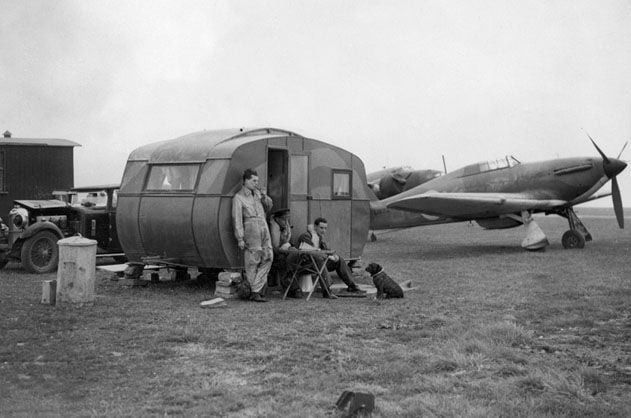 I was annoyed with myself for having been shot down so decisively, and I felt terribly isolated. I couldn't hear or see very well.... I felt so very sorry for myself, which is not a good situation for anybody....

There was one person in particular who put me on a much more even footing. He had been shot down by a Hurricane. He had sent a message to go and see him. I was on crutches at the time, and I managed to get over to where he was with a hell of a lot of struggle and self-pity. As I opened the door in Ward 3, I saw what I can only describe now as the most horrifying thing I have ever seen in my life.

This chap had been really badly burned. His hair was burned off, his eyebrows and eyelids. You could just see his staring eyes, with only two holes in his face. His nose and lips were also badly burned. Then I looked down, and saw that his hands and feet were burned. I got through the door on my crutches with a struggle, and then this chap started propelling a wheelchair down the ward. Halfway down, he picked up the back of a chair with his teeth. Then he brought this chair down the ward and threw it alongside me and said, "Have a seat, old boy."

It was then that I cried—and I thought, "What have I got to complain about?"

On August 20, 1940, Prime Minister Winston Churchill addressed his nation: The gratitude of every home in our island, in our Empire and, indeed, throughout the world, except in the abodes of the guilty, goes out to the British airmen who, undaunted by odds, unweary in their constant challenge and mortal danger, are turning the tide of the world war by their prowess and their devotion. Never in the field of human conflict was so much owed by so many to so few.