Kids, Your Science Project Advisor is an Astronaut
Michelle Ham teams students with the space travelers she once trained at NASA.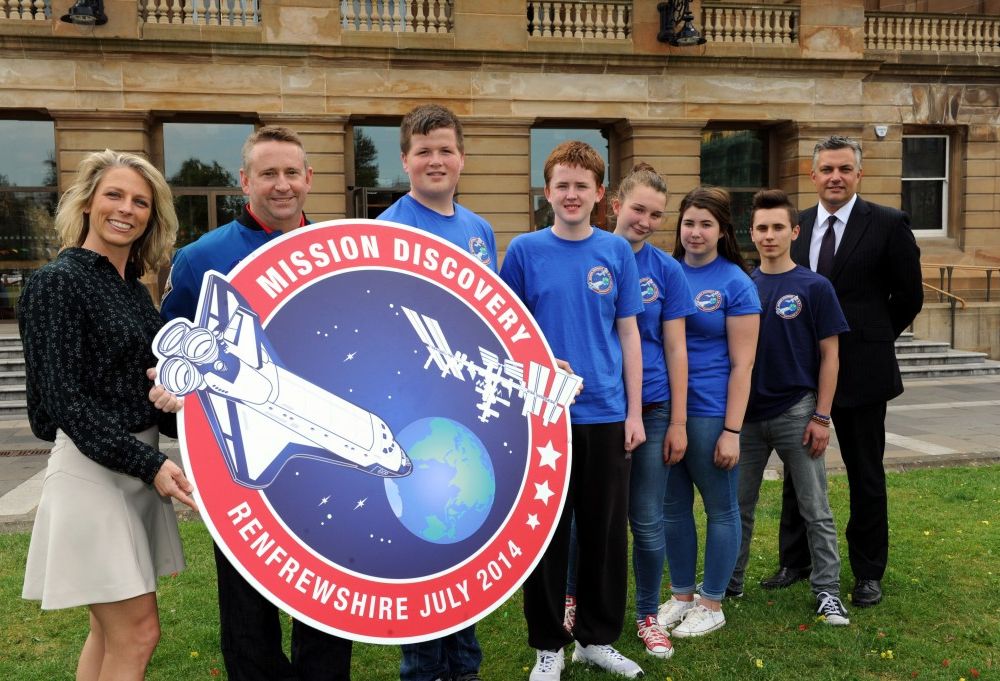 When she watched her teenage students' experiments being launched into space from Wallops Island, Virginia, former NASA astronaut trainer Michelle Ham cried. It was the first group of many experiments to be lofted, all part of Mission Discovery, a multiple-day event where teenagers develop scientific payloads and compete to get them into space.
The experiments kids produce during Mission Discovery have the potential to one day go to the space station. The best part: The students get to work directly with astronauts, who share their experiences and insights, as well as help the teens design their projects. Many astronauts and former astronauts have participated: Scott Kelly, Jerry Ross, Ken Ham, Mike Foale, Nicole Stott, and Mike McCulley. This year, three Mission Discovery events are planned: at the Kentucky Science Center in Louisville (March); at Embry-Riddle Aeronautical University in Daytona Beach, Florida (June); and at Paisley Town Hall in Renfrewshire, Scotland (June-July).
Mission Discovery is not just a competition. It's an experience that exposes high school and college students to the possibilities of working in science, technology, engineering, and math (STEM) and related fields. Recently Mission Discovery teamed with a nonprofit organization, Higher Orbits, which Ham founded for raising funds to get students to a Mission Discovery event.
Ham believes that if a child wants to pursue an interest in space, money should never be an obstacle. For her it's personal: When she was young, "I watched the first space shuttle launch on television and I was hooked," Ham recalls. She wanted desperately to go to space camp, but her family couldn't afford it. Luckily, a scholarship enabled her to go, twice.
Ham went on to study communication at Embry-Riddle in Florida, and later got a job with a contractor as an astronaut trainer, working side by side with many of the men and women who traveled to the space station. She recalls the sense of family at NASA. When the shuttle Columbia was destroyed in 2003, "I was in Russia at the time, and needless to say we were all devastated," she says. "I will never forget how everyone banded together."
After a decade in the space business, Ham moved on, first to independent consulting. She became involved in the formation of Mission Discovery, then was inspired to start Higher Orbits. She says her time at NASA gave her the passion and resources she needed to begin fundraising.
Higher Orbits is new and still very small, but has big plans. Although most current efforts are focused on raising funds to help kids participate in Mission Discovery, other projects, including mentorship programs and more, are in the works. "In the long term, the goal is for Higher Orbits to partner with and/or spearhead a wide variety of projects that will use space to promote STEM," Ham says. Also in the future: perhaps broadening her constituency a bit. "I think high school and college will always be my target niche," Ham says, "but that doesn't mean there's not room to expand" to other kids in different age groups. And she has other dreams: "Ten years from now I want a Mission Discovery in every state, and I want all of them funded so that everybody has easy access to come and work with an astronaut for a week," she says.
The satisfaction in all of this, Ham says, is seeing the expressions of excitement and wonder on the kids' faces. "I'll tell you what," she says, "if you spend five days with students—even if it's 200 or 250 of them in a room—and you see the impact you're making, you see the light bulbs come on, you see them come out of their shell."