How Many People Does It Take to Build a Bizjet?
Plenty. And some are doing jobs you've never heard of.
Photos by
Jim Wise
.
From the second floor observation deck of a manufacturing plant near Savannah, Georgia, the view is impressive. Twin lines of green Gulfstream G650 jets are in various stages of completion; the aircraft, sitting nose to tail, each on a cart, are ready to be moved on rails down the line. At one station, workers join barrel-shape sections to form fuselages. At another, a crew weaves yards of avionic cables through pre-drilled holes, as if threading the eyes of giant needles. The clack-clack-clack of an automated riveter—the size of a school bus—echoes throughout the 313,650-square-foot facility.
In Savannah, more than 1,750 people work on the G650, Gulfstream's flagship business jet. (Another several hundred work for the G650 program at two other U.S. plants.) The employees in Savannah are spread throughout the company's sprawling campus, across multiple buildings and departments—from design and engineering to paint, upholstery, and product support.
Despite its $66.8 million price tag, the G650 has a waiting list of more than two years. Each aircraft is designed to the buyer's specifications, from the number of seats (the G650 can accommodate up to 18) to the pattern and material of the carpet (wool or silk?) to the choice of china patterns for the galley. The design process alone can take up to a year, and delivering a finished G650 to a buyer calls on an astounding number of skills and backgrounds.
Brian Durrence | Vice President for Engineering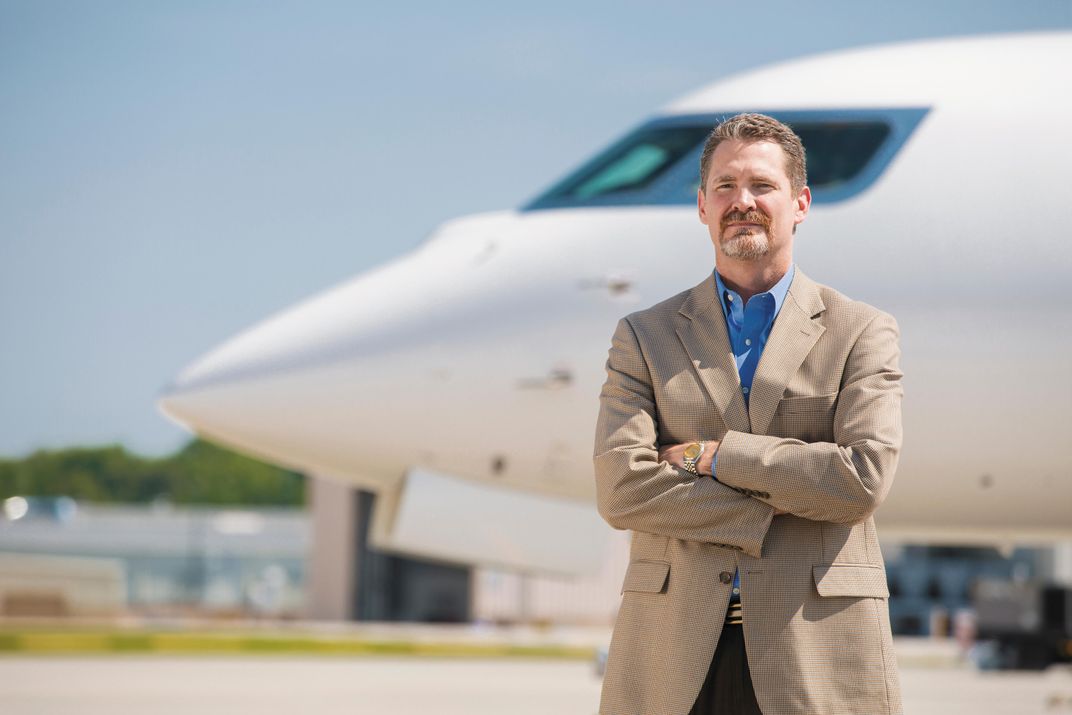 When Brian Durrence was tapped to lead the G650's preliminary design in 2004, he became the first full-time employee to work on the new jet. He was later appointed chief engineer for the program. For Durrence, who had been with the company since 1990 and had worked on Gulfstream's earlier aircraft, the 650 brought an entirely new set of challenges.
"It was a brand-new aircraft," he says, noting the only parts carried over from the G550 were the windshield and nose radome. "On top of that, we decided to use a whole new set of design tools to do 3D-model-based design. All the early [Gulfstream] aircraft were blueprint aircraft. With the G650, it's all 3D data. Literally, when we turned on the computers for the first time, there was nothing there. It was a complete blank."
And Gulfstream wanted to produce each aircraft with 50 percent fewer parts than required by the G550.  "It was certainly a daunting task," says Durrence, whose engineering team would grow to more than 500. "It forces you to start squeezing the aircraft kind of like a balloon. You press on one side and something sticks out, so you're constantly balancing requirements and competing goals in order to get the desired aircraft at the end."
The team's accomplishment sunk in for Durrence when he flew in a G650 for the first time during a checkout flight in 2013. "That was a pretty gratifying experience," he says. "I don't think I stopped smiling for a few weeks."
Rick Myers | Completions Paint Lead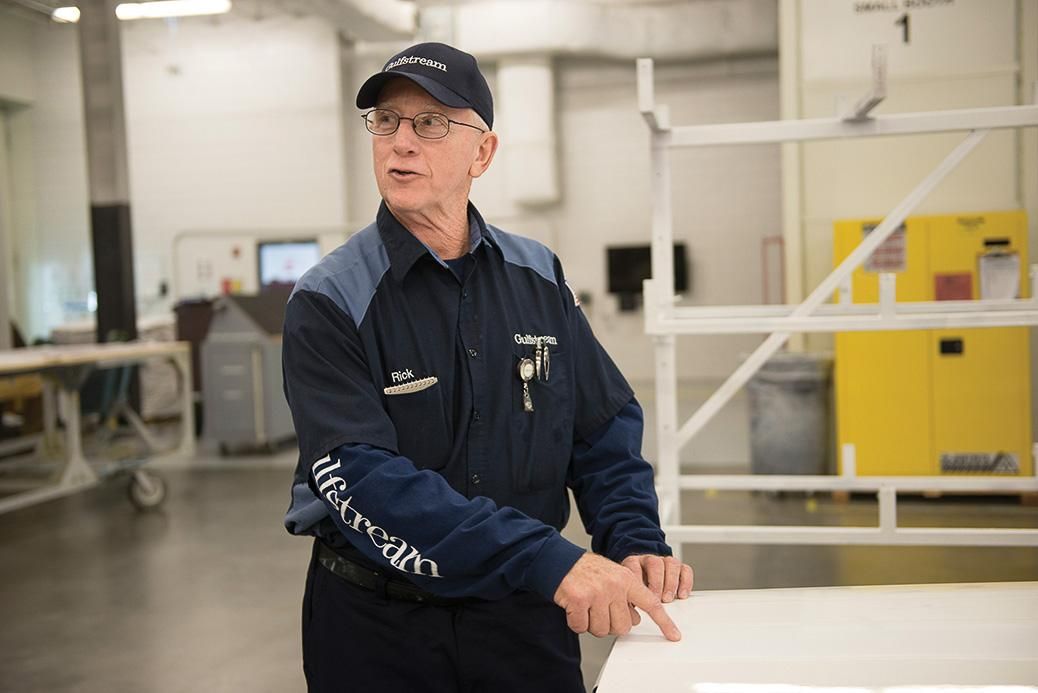 Rick Myers grew up in his father's body shop, painting cars and motorcycles, and has been working at Gulfstream since he was 19. He says that since he started in the early 1970s, the job has gotten easier—and safer. Back then, he says, paint crews were "lucky to get dust masks and maybe a paper suit" when they painted an airplane. These days, crews wear ventilated hazmat gear and adhere to a strict list of rules and regulations. "Now they don't even let you wear your suit out [of the Gulfstream factory's paint hangar]," says Myers. "If you've got dust or paint on you, they want you to throw it in the hazmat can."
Roughly 55 people in the paint shop are assigned to the G650. It takes a crew of eight working two shifts each day about two weeks to prep, sand, prime, and paint an airplane. And everything has to be perfect. "Our customers will crawl up the horizontal, in between the engines, under the belly," says Myers. "They look at every little thing. They see a speck of anything, they want it fixed."  Myers has seen his share of unusual paint jobs over the years, including a jet that was festooned with hundreds of 3D cubes for a Russian movie project and another for a customer who requested pink, a gift for his daughter's 18th birthday.
Recently, Myers has concentrated on training new hires, but he estimates he's painted more than 1,000 aircraft during his career. His favorite look? "I'm conservative," he says. "A lot of people like the flashy pearls and metallics. I like them all white, with nice simple stripes."
Suzanne Whelchel | Completion and Delivery Executive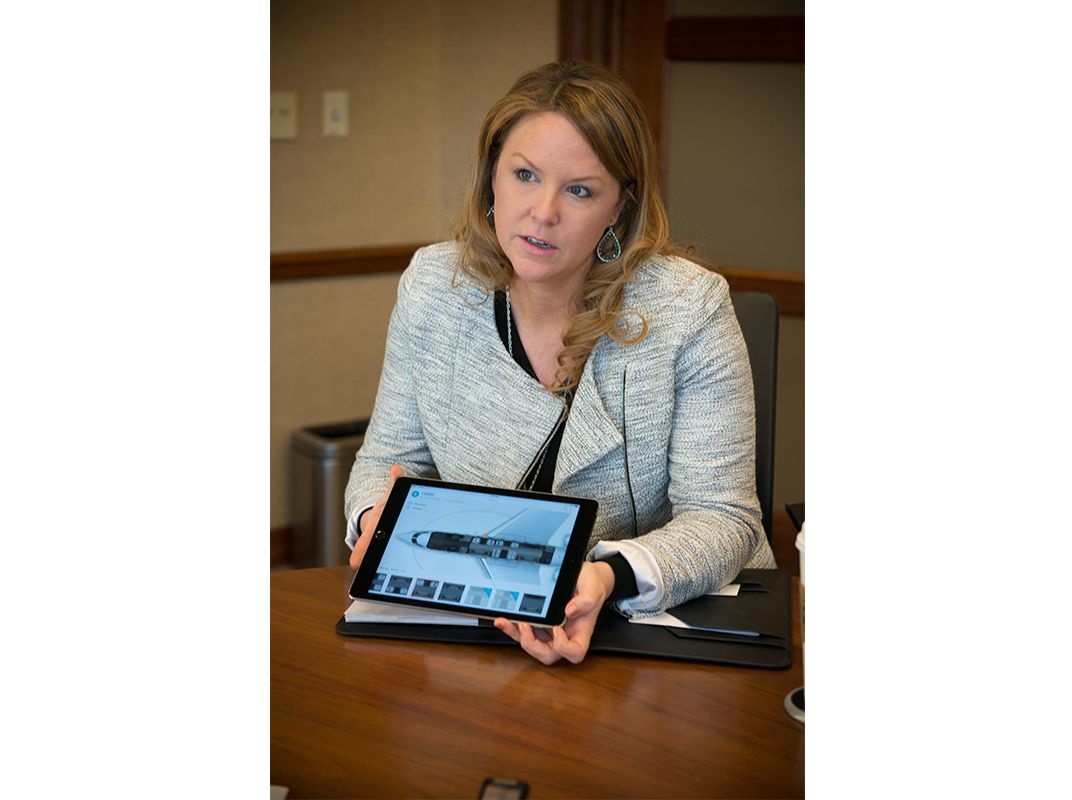 Let's say you've decided to purchase a G650. Some major decisions await: How do you want to configure the seats? Do you need multiple workspaces for yourself and your employees? Would you prefer one divan or two?
Guiding you in the decision-making is Suzanne Whelchel, one of more than 10 completion and delivery executives, whose job is to walk customers through all the decisions that need to be made between order and delivery. "It's a really important role…. You're an extension of the sale of the aircraft, so you're confirming a customer's decision," says Whelchel, who holds an MBA as well as a pilot's license. "It's a pivotal position in that you've got to make them happy that they chose to go with Gulfstream. We do our best to show our flexibility. What you're envisioning for your cabin—if it's feasible, if it can be certified—we want you to have it."
Whelchel helps customers define their airplanes via three progressively detailed meetings throughout the year during which particulars—from seat layout to veneers to the color of the sidewalls—are selected.
In the five years she's been in this role, Whelchel has heard a few uncommon requests. One customer requested a motorized pocket door that could retract into the sidewall of the airplane, while another wanted the silk carpet interwoven with fiber-optic lighting.
Jake Howard | Experimental Test Pilot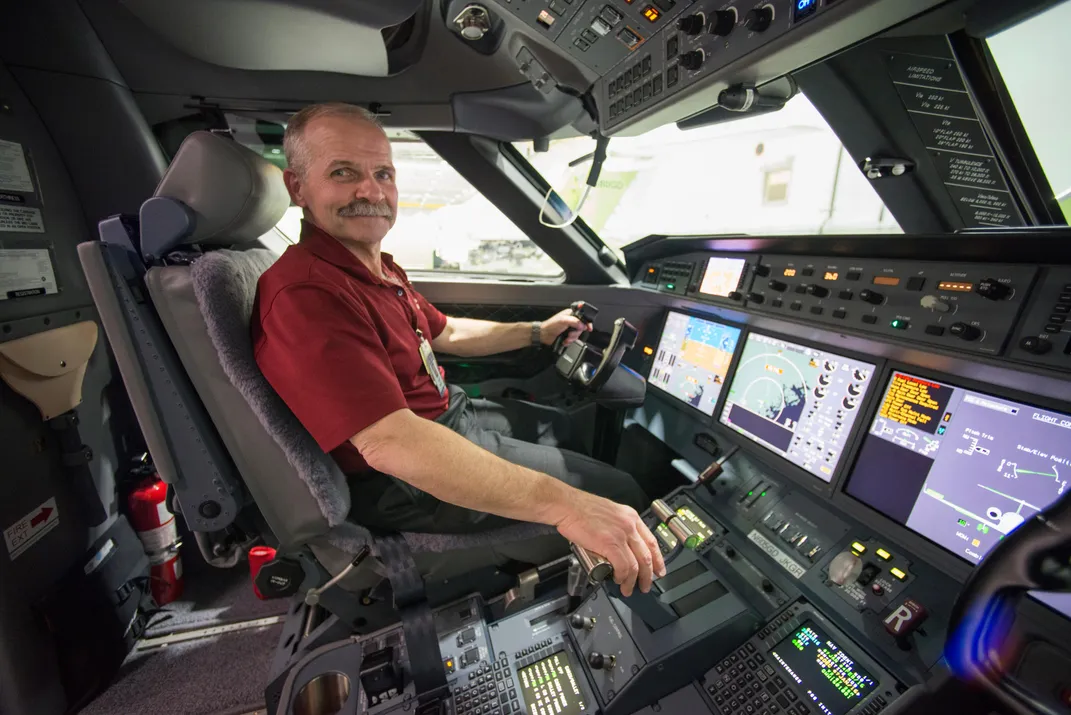 As the lead test pilot on the G650, Jake Howard says he was "essentially a professional meeting-goer for a while." The 55-year-old spent a good part of seven years leading up to the airplane's first flight huddling with engineers and designers, as the teams worked out all the pilot interfaces. "You're basically there to provide a pilot perspective on system operations for the engineers," he says.
There were countless hours on Gulfstream's non-motion flight simulator. "By the time you get to the airplane, it's anticlimactic," he says. "You've flown it so much, and you just see if it meets your expectations. I'm a little biased, of course, but it's a great flying airplane. When you have as much thrust as we have—when it's a lightweight airplane—it's a hoot."
Bill McLeod | Vice President, Sales, Eastern North America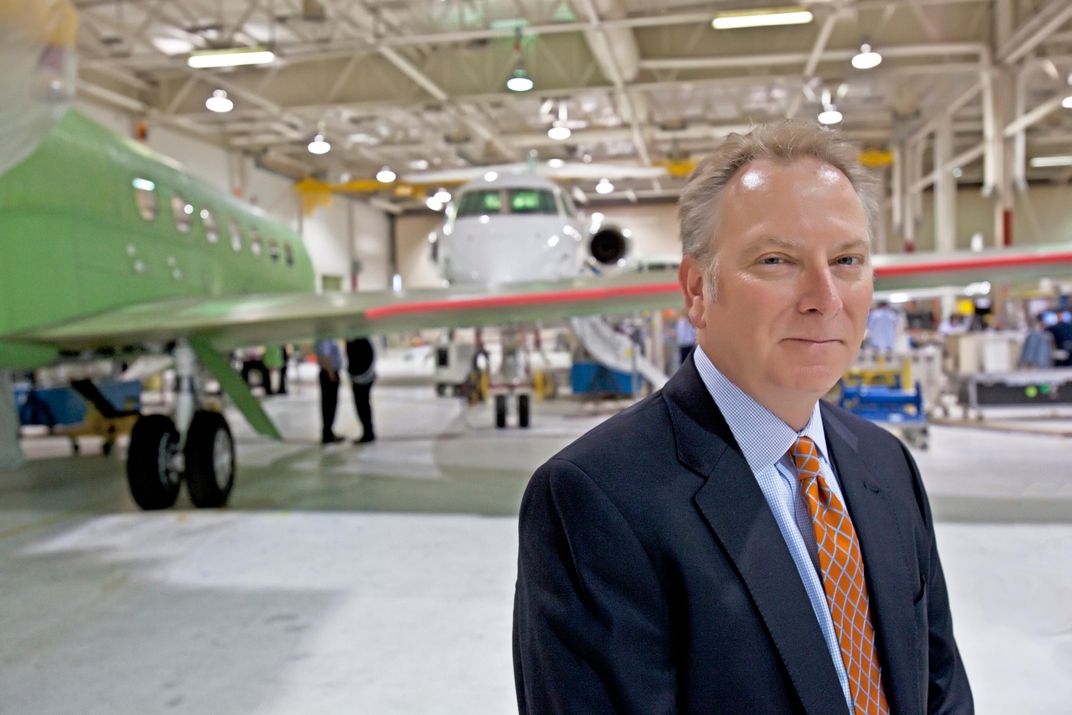 Years ago, Bill McLeod's mentor gave him some advice about selling airplanes: "He said, 'Most people have a linear view of the sales process, where you start at A and you go through the process and you get to B, where you sell an aircraft.' He warned me at the time, he said, 'That couldn't be further from the truth. The way our business works is we've got a bunch of carousels going around, and each one of those carousels represents a potential buyer. What we do is step on that carousel and go around a few times, and if there's anything going on, we follow through. If they're not quite there yet, we step off and go to somebody else. It's very much a relationship: Get to know them, stay in touch, and when it's time for them to buy an aircraft, you're there.' "
McLeod has been selling airplanes at Gulfstream since 1993. He says in a good year, he'll move five to seven, but it's very much a team sell: "If someone comes into this business and they want to sell aircraft and they think they're gonna do it as a lone wolf, they're gonna crash and burn. There's too much to know. There are too many technical aspects, regulatory aspects, finance, and business aspects. You can't know it all. You're as much a conductor or orchestra leader as you are a salesman. In any deal that we do, I'm gonna have contributions from folks within our operations group, pilots, engineering/design, and finance."
McLeod says that most aircraft salespeople he knows started out as pilots or—like him—on the technical side of the business. It's a highly exclusive group. "Look at it this way," he says; "we've only got about 35 people in the world doing this for Gulfstream. Now there only are a few other manufacturers out there. When you get down to it, there are probably only 150 to 200 aircraft salesmen in the world. It is not an easy field to get into. When people ask that question, I have to be upfront: The probability of getting one of these jobs is not much greater than the probability of getting struck by lightning."
Salespeople at Gulfstream work on commission, so if you're good at it, selling multimillion-dollar airplanes is a lucrative business. "It's high-risk, high-reward," McLeod says. "You can make money if you sell aircraft. If you don't, you eat beans."
Davana Pilczuk | Corporate Ergonomics Manager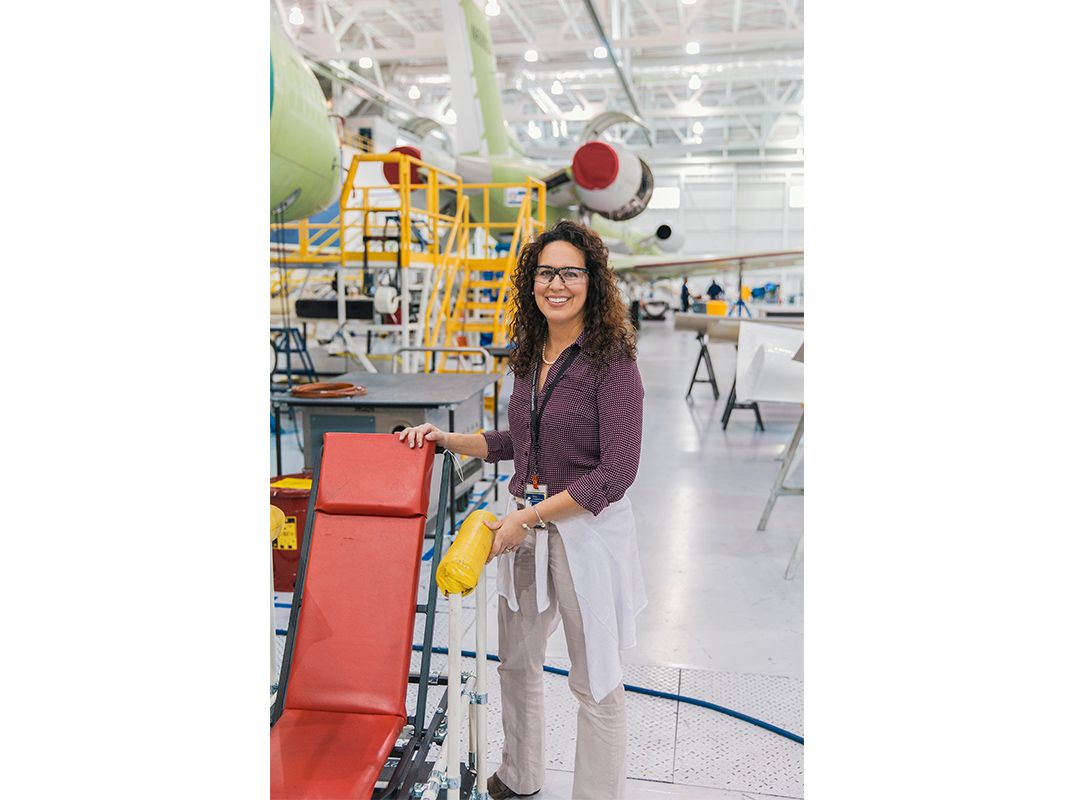 Repeatedly reaching to shoot rivets, bending to run cable—even sitting at a desk for hours on end—can cause all sorts of injuries. Helping employees avoid the hazards of the Gulfstream workplace is Davana Pilczuk, one of two ergonomists at the company. "I call us the 'aviation whisperers' because we have to know engineering and manufacturing and how to build airplanes, but then we also have to understand the human body. We have to decipher: When the job is too hard, how do we redesign it? How do we make it so that when people are working in an office or shooting rivets, it's easier on their bodies?"
Pilczuk spends much of her days working with employees to solve recurring problems. Does a sander need to be lighter? Can a clamp be designed to require less pressure to secure? Is there a garment out there that wicks sweat better to help keep workers cool? "We've got to protect them," she says of Gulfstream's employees.
Tony Saxon | Master Craftsperson, Furniture Fabrication
In his 29 years at Gulfstream, Tony Saxon has worked in just about every manufacturing department, from electrical to paint. But as a master craftsperson in furniture fabrication, he specializes in applying the rich finishes to the G650's cabinetry, divans, doors, and trim. He's also the go-to guy for fixing blemishes in the wood. "Repairs are my forte," he says. "I joke to people that I messed up so much when I was a beginner that I know how to do all that stuff."
Over the years, Saxon has outfitted airplanes in nearly every wood imaginable, including African rosewood, koa, and bamboo. "If there's an exotic wood, pretty much, I've worked with it," he says. "Trends will come and go. When the 650 first started, the trend was darker veneers. Now it's trending back toward lighter veneers. Thirty years ago, it was burls. That's what every customer wanted." Part of Saxon's job involves going on test flights to tweak cabinetry, doors, and tables that may expand at altitude. During a flight some 20 years ago, the seal on a cargo door failed. "We were up about 35,000 doing the checkout flight, and we [had received] a bad seal from the [cargo door] vendor. Things like that happen. When it went, [the flight crew] had to drop because the cabin was depressurizing. My head went spinning. I came to a couple seconds later, and we were at 8,000 feet. Oxygen masks dropped down. Got pretty motion sick on that one."
These days, Saxon prefers to stay on the ground, working on what he considers an art. "The veneer work, that's what the customer sees," he says. "It's kind of like van Gogh. You give him a canvas and it's nothing, but then he paints it. Basically, our veneer is the paint. That's where the beauty comes."
Jason Blatter | Coordinator, Aircraft Checkout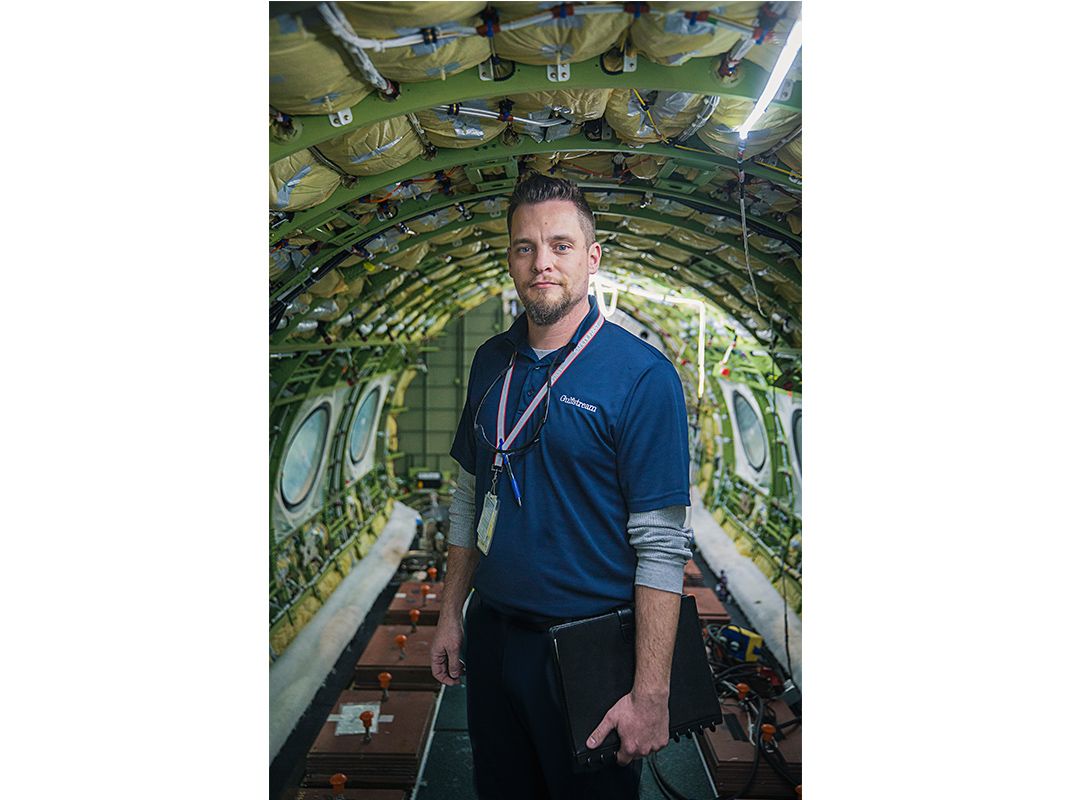 "There are thousands of components on an airplane, so there are going to be failures," says Jason Blatter, one of two aircraft coordinators who work the G650 line. "Our role is to make sure everything is working before an airplane leaves our department." Blatter works with a team of 24 aircraft technicians who test every system on a new airplane. "We don't start the engines," he says. "We don't fly it. But every mechanical system on the aircraft, we test."
It takes Blatter and his crew roughly two weeks to run through all the systems on a single G650, during which the team completes a lengthy checklist beginning with turning on the power for the first time. Some systems require 200 pages worth of individual test sequences. "As you go through every step and perform an action in sequence, you're looking for a very specific indication," he says. "Does a light light up when it's supposed to? A large part of what we do is simulate a condition or an atmosphere or a speed or temperature or icing condition and look for the aircraft's sensors to interpret the condition appropriately."
Blatter's team doesn't test just the flight controls and avionics, but the cabin accoutrements as well: Wi-Fi, the microwave oven, phones. And they test toilets, even though there's no water in them. "We do test the functionality of the valves and the functionality of the system without actually using the system," he says. "But yes sir, we do flush the toilets!"
Robert Stroud | Master Craftsperson, Upholstery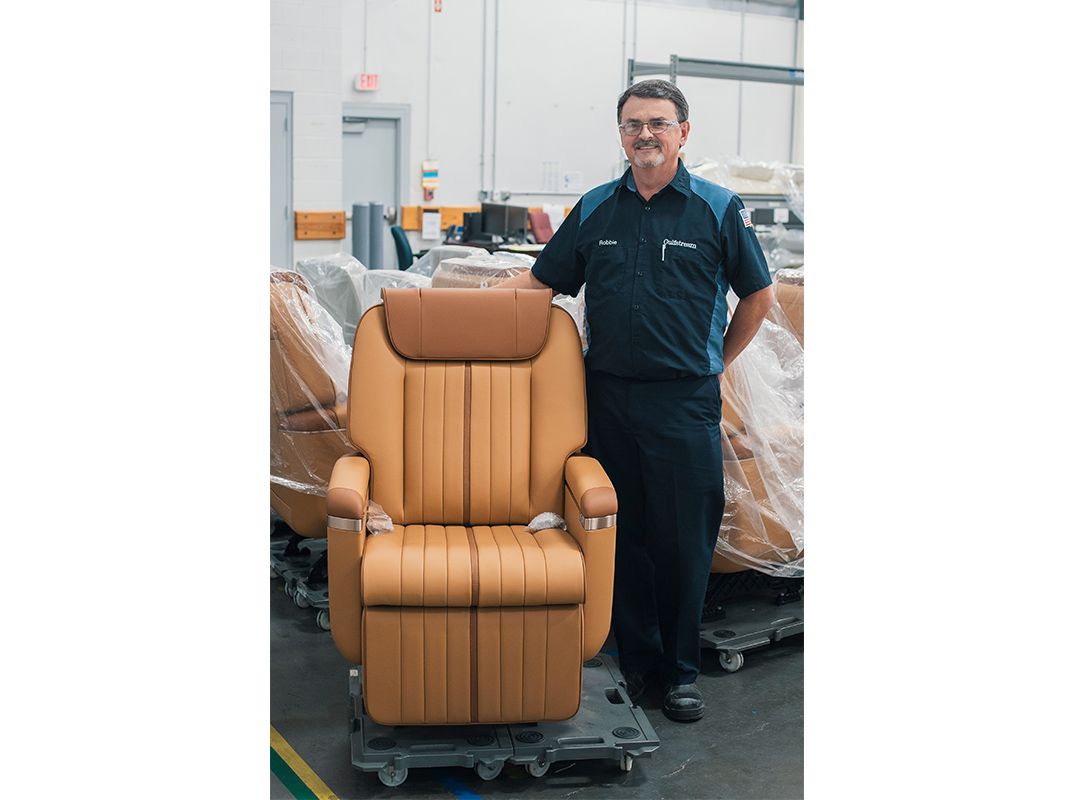 As a kid, Robert Stroud, who learned to sew from his seamstress mother, would fashion clothes for his dog, Puddles. "I would dress him up in little cowboy suits and make vests and hats and take pictures of him," he says. "I have pictures of him dressed up in all sorts of weird Superman costumes."
Stroud translated his early sewing experience into gigs fashioning upholstery for boats and then cars before arriving at Gulfstream in 1996. "All the leather was cut by hand with shears," he recalls. "The precision that is put into the seats now is so far above and beyond what it was before."
Each leather hide used to form the seats and divans gets inspected for blemishes and pre-treated with fire-retardant chemicals. Swatches are then sent to an independent lab for burn certification. "Thousands of dollars in materials get sent off just to get burned, but that's a necessary part of the job," says Stroud, who estimates that Gulfstream uses just 60 percent of the hides it buys, mostly due to imperfections in the material. (The rest are recycled.) "Everything has to be very smooth when finished," he says. "Anything will show up through the leather."
The hides that do pass muster are die-cut by a computer-controlled machine, sewed over foam padding, and stretched over molds and onto the frames. Workers then install pop-up monitors in the arm rests and life jackets in the headrests.
Stroud says only one thing bugs him about his job: the smell. "After 40 years, I don't even want leather in my car. You work on it all day. I've had my fill. I prefer fabrics."