Jay Leno's Airplane Engine Collection
He keeps them under the hood.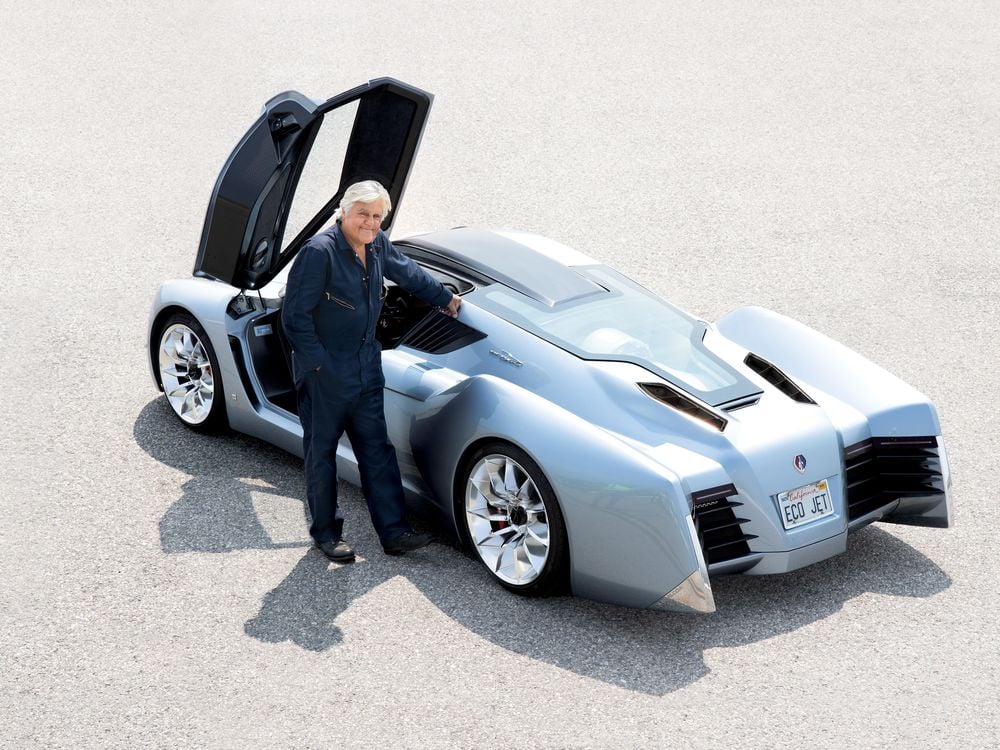 Jay Leno's stash of 199 cars and 168 motorcycles includes machines run by steam and by electric motors, but he has special affection for vehicles powered by aircraft engines. Given that Leno's garage in Burbank, California, was once an aviation technology hot spot, those engines are in a suitable environment. A few miles to the south is where Kelly Johnson's Skunk Works created the Lockheed Shooting Star, America's first jet fighter. An airport to the north is where the 18-year-old Norma Jeane Dougherty—later Marilyn Monroe—was discovered by an Army photographer assembling Radioplane drone aircraft. A hangar near Leno's complex was once occupied by Amelia Earhart.
Aircraft and automobiles came of age together—so it was inevitable that truly serious auto designers began bolting aircraft engines under their hoods. In pursuit of sufficient power, aviation engine manufacturers routinely combined colossal piston displacements with advanced design features that would improve volumetric efficiency (breathing)—overhead camshafts, four instead of two valves per cylinder, and supercharging—because they weren't constrained by cost concerns. Dual-ignition systems made these engines less likely to break down in flight. And since the power required for flight rises in direct proportion to weight, aircraft engine builders innovated the use of lighter aluminum, magnesium, and alloy-steel materials.
Leno neatly sums up his passion for aircraft engines: "There's no such thing as too much power or torque." He also reveres the Greatest Generation pilots who fought in a war by throttling engines similar to those in the cars he now drives.
And while Leno's collection isn't the world's largest, his seven aircraft-powered vehicles distinguish it as something special.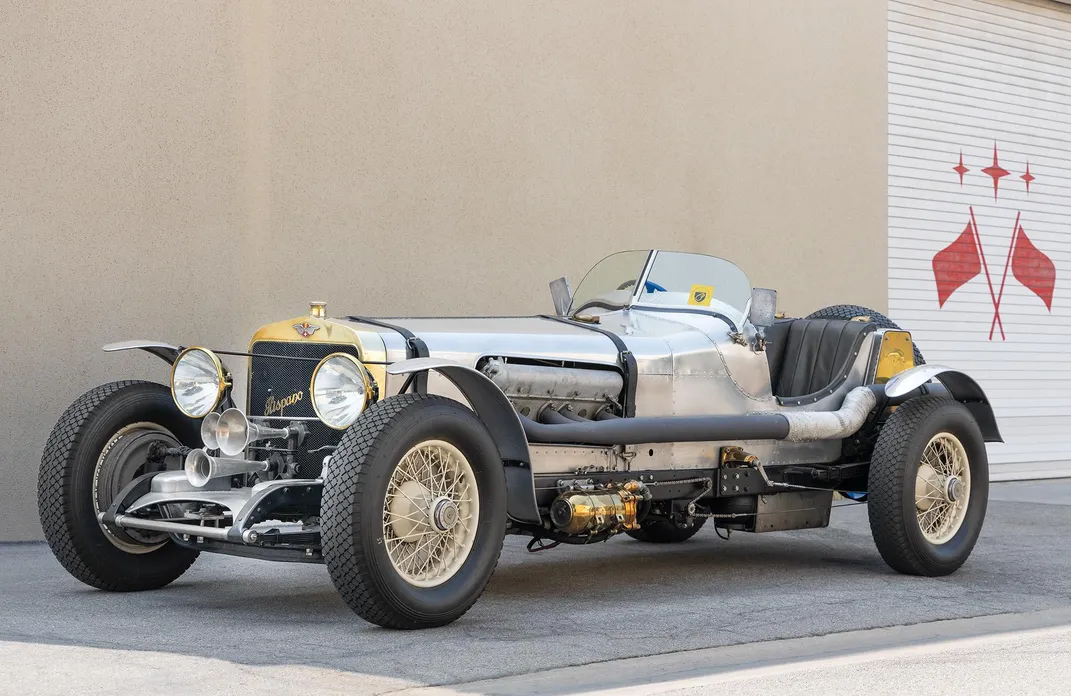 1915 HISPANO SUIZA
Experimenting with the best technology at its disposal, Spanish car and aircraft-engine manufacturer Hispano Suiza combined a 1915 chassis with its 8F aero engine, successor to the first V-8 (8A) to attack the sky. Designed by Marc Birkigt, the Swiss-born genius who founded the company, the 18.5-liter, 300-horsepower V-8 is constructed with a pair of assemblies consisting of four cylinders and one head integrated into a single aluminum casting. Steel cylinder liners provide durable wear surfaces. The two cylinder banks are bolted to an aluminum crankcase and the overhead camshafts are gear- and shaft-driven. The sound of its idle is classic V-8 syncopation with little valvetrain noise. The rumble out of each four-inch exhaust pipe is surprisingly polite despite the lack of mufflers.
An Australian mechanic discovered this engine in a burial pit some 40 years ago. He added a four-speed bus transmission and bolted the powertrain into a 1915 Hispano Suiza chassis. Leno bought the concoction in 1989.
This intrepid V-8, manufactured in 21 factories, was the most common World War I liquid-cooled engine found in French and British fighters. By 1946, Hispano Suiza had manufactured over 50,000 aero engines and 12,000 luxury cars. The company made the leap to license-built, turbojet engines after World War II and recently unveiled an electric car called Carmen it hopes to sell in small volumes.
1917 FIAT
Wealthy Argentine racer Adolfo Scandroglio bolted a 21.7-liter, Fiat A.12 inline six into a 1917 Fiat chassis, christening his creation the Botafogo Special after a successful racehorse. Fiat built over 13,000 such engines for nearly two dozen World War I Italian and British biplanes. Advanced features included four valves per cylinder operated by a single overhead camshaft, twin spark plugs, and dry-sump lubrication. It provided 245 horsepower at only 1,700 rpm.
According to Leno, Scandroglio never bothered with a transmission or brakes, instead using a hook to snag the barbed-wire fences that dotted the countryside during his off-road excursions in South America. In 1949, he was killed in a car crash, and the vehicle lay dormant for decades until it was discovered by restoration specialists at Pur Sang Argentina. After the original engine was mated to a fresh Fiat chassis, Leno bought this machine in 2011. Updates include a Lincoln front axle with disc brakes, rear drum brakes, and a four-speed Mercedes-Benz transmission between the mighty Fiat engine and the chain-driven rear wheels.
The "pre-flight" ritual involves hand-oiling the valvetrain's exposed rocker arms, priming what Leno calls a "toilet-bowl-size" carburetor, and stroking a hand lever operating the fuel pump. The short, two-inch exhaust pipes spit flaming explosions upon start-up. Waves of heat cloud the whole left side of the car. With the current gearing, Leno estimates a top speed of 146 mph, but he acknowledges his courage runs out around 100 mph.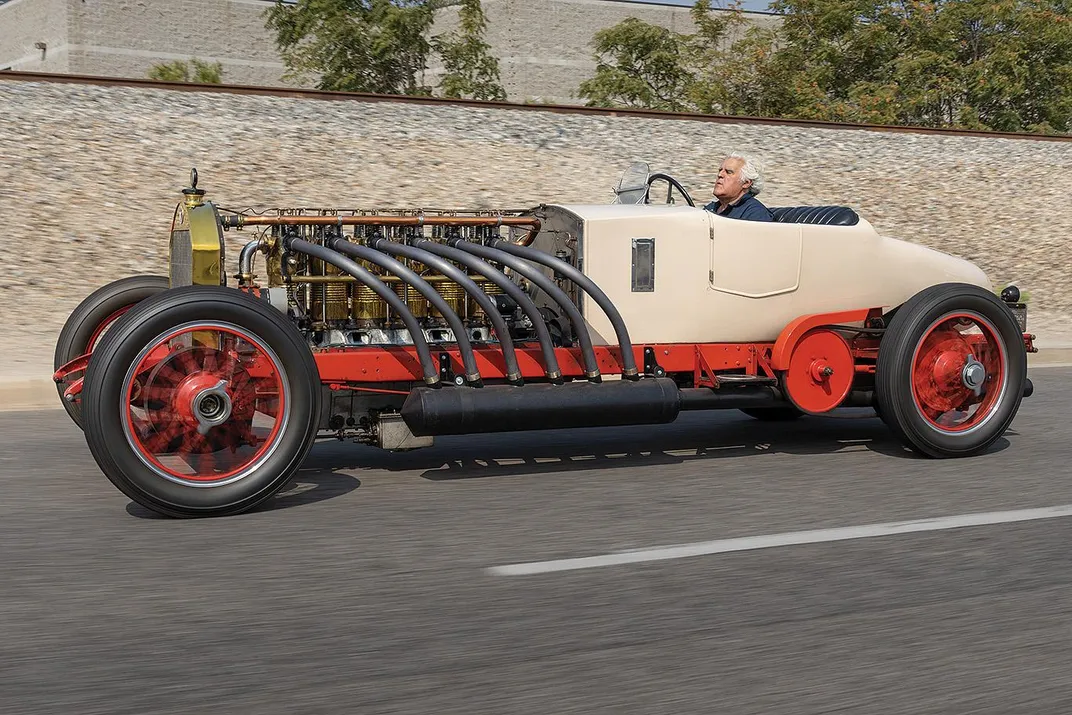 1921 BENZ-MERCEDES
While car builders Daimler and Benz didn't join forces until 1924, that didn't stop record chasers from combining components from those two brands in pursuit of speed. In 1921, E.T. Scarisbrick married a 1914 230-horsepower, 18.8-liter Benz aero engine rescued from a crashed fighter aircraft to a 1910 Mercedes chassis, achieving 113 mph at Brooklands, the world's first banked race track.
Leno acquired this car in 2010 and spent a decade rectifying issues. The inline-six-cylinder, 24-valve engine had integral cast iron cylinders and heads surrounded by sheet steel water jackets prone to corrosion and massive leaks. Replacing the jackets with hand-tooled brass components solved that problem, while adding sufficient luster so that Leno prefers driving this steed minus its hood so all can enjoy the hyperactive valvetrain topping the bright cooling jackets.
New disc brakes were tucked out of sight inside the original drums. Leno's technicians added electric starting and generating equipment. The original friction dampers and dual chain drives for the rear wheels remain along with the tongue-in-cheek inverted Mercedes star emblem created by artist Peter Helck, who owned this car in the 1960s.
Ample blue smoke accompanies the smooth rumble as it leaves the single, four-inch exhaust pipe. Leno admires this automobile's surprisingly light steering.
1934 ROLLS-ROYCE MERLIN
The Rolls-Royce Merlin 27-liter V-12 was World War II's most esteemed piston engine, thanks to its distinguished service in 40 or so British fighters, bombers, and cargo aircraft—including the Hawker Hurricane and Supermarine Spitfire. Packard's similar license-built V-1650 powered North American's vaunted P-51. More than 200,000 such engines were built until 1956 with well over 2,000 horsepower achieved with two-stage centrifugal supercharging and intercooling.
Steel-lined aluminum cylinders are topped by heads fitted with twin spark plugs and four valves per cylinder. A seven-main-bearing, forged-steel crankshaft is securely held within a two-piece aluminum crankcase that contains the lubricant, pumps, and filters. Gear-driven single overhead cams open the valves by rocker arms, and two concentric springs close each valve.
A lesson learned during development was that using the thrust provided by aiming the Merlin's exhaust gases rearward added 10 mph to the Spitfire's top speed. Unfortunately, the orientation of the exhaust pipes doesn't accelerate a car on the road.
British engineer Paul Jameson built three Merlin-engined cars in England in the 1970s and 1980s, one of which Leno obtained 30 years ago. Leno's 1934 Rolls-Royce Phantom II chassis is powered by a 27-liter Merlin from a 1944 de Havilland Mosquito. It lacks prominent Rolls-Royce trappings because the company has a habit of suing those who infringe their trademarks. This car's only brand identification is on the valve covers and hub caps.
Leno spent several years remaking his Rolls, constructing his own aluminum bodywork, including the wood-accents, the two-seat cockpit, and the distinctive radiator shell. His crew also upgraded the chassis with four-wheel disc brakes, stouter wire wheels, a modern six-speed manual transmission, and a tougher rear axle. Fuel delivery is handled by six Weber two-barrel downdraft carburetors attached to the engine via an intake manifold manufactured in Leno's shop using a 3D printer. A plate atop one valve cover states, "In memory of Thomas Lane Jr., Corporal US Army, 5th Corps of Engineers Special Brigade, died Normandy Beach June 6, 1944." That somber tribute is for a close friend of Leno's who was only two months old when his father perished in World War II.
Weighing 4,800 pounds, this Rolls boasts 60 gallons of fuel capacity and nine gallons of oil sustaining its estimated 1,000 horsepower, but it loafs along at 80 mph with the engine turning only 750 rpm with the six-speed transmission in top gear. An unusual hand-cranked, starting magneto delivers a shower of sparks to help the engine fire during start-up. This car has two batteries in series to provide the 24 volts required by the V-12 for cranking and running; one of the batteries supplies 12 volts to the lights and accessories.
1930 BENTLEY METEOR
Merlin engines deemed unsuitable for flight were stripped of their supercharger, renamed Meteor, and assigned to battle tank service. British constructor Bob Petersen married one such 27-liter V-12 to a 1930 Rolls-Royce Phantom II chassis. A contemporary Bentley supplied the cowl structure, steering, brakes, and radiator. Petersen's custom four-seat coachwork consists of hardwood body framing covered with padded leather exterior surfaces.
Modern touches include electronic fuel injection, a U.S.-made Allison automatic transmission, disc brakes secreted inside period Bentley drums, power steering, and turn signals. The finished car weighs about 6,000 pounds and has 650 to 700 horsepower, according to Leno.
On the road, this V-12 spins at only 1,100 rpm with the car cruising at 60 mph. Even though it lacks the poise of its Merlin-powered garage mate, Leno says it's "like flying an airplane."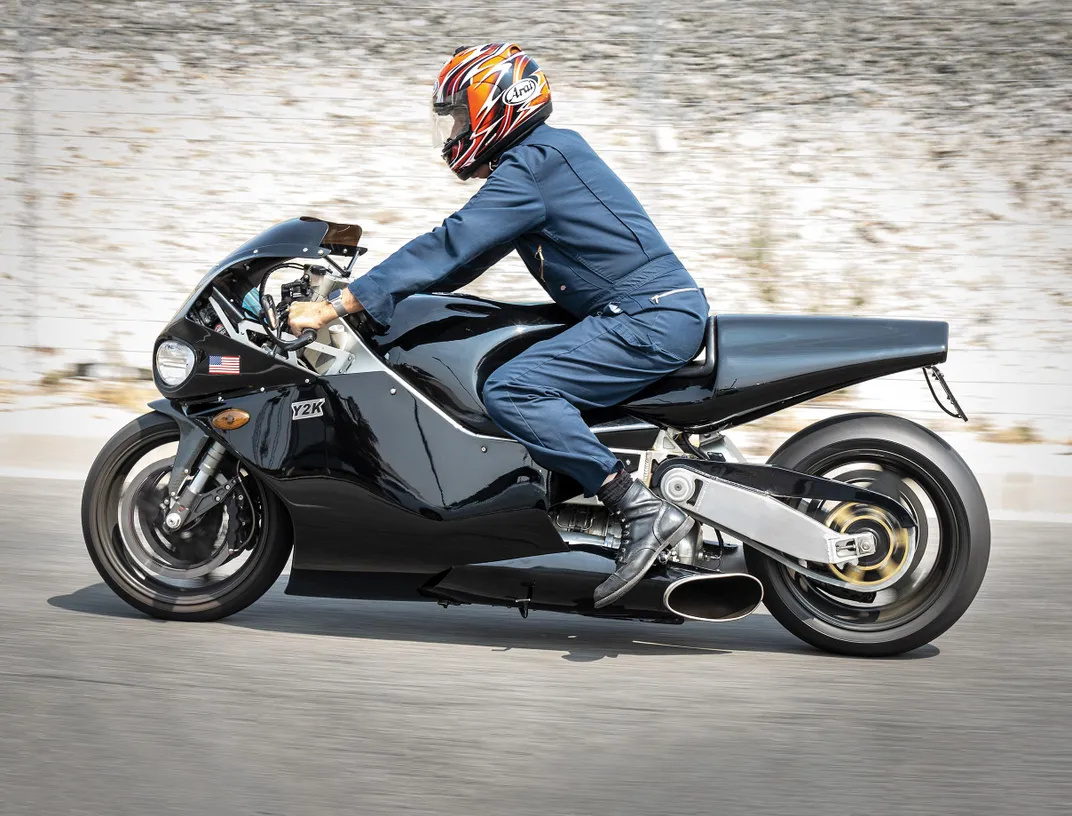 MARINE TURBINE TECHNOLOGies Y2K SUPERBIKE
Like the post-World War II speed-record chasers, Leno recognized the power potential offered by turbine engines and purchased this Y2K gas-turbine motorcycle when it was introduced in 1999. Marine Turbine Technologies (MTT) of Franklin, Louisiana, has been replacing piston engines in cars, trucks, motorcycles, boats, and generators with Bell helicopter turbines for more than 30 years—a gambit begun after MTT founder Ted McIntyre II met Ohio's Arfons brothers, whose jet-powered Green Monsters set three land speed records in the 1960s.
MTT builds the superbike's aluminum chassis from scratch to carry lubricants and eight gallons of diesel fuel. The Rolls-Royce 250 C-18 turboshaft engine produces 317 horsepower. An electrically shifted, two-speed transmission provides 100 mph in first, 227 mph in second, and acceleration from zero to 204 mph in 6.1 seconds.
With exhaust temperature topping 1,400 degrees Fahrenheit, these bikes are handy for clearing lawns of unwanted vegetation and one-upping Harley bikers. A red digital advisory beneath the license plate warns: Caution Jet Wash Extreme Heat Keep Back. While Leno has topped 150 mph, he adds, "I'm always relieved stepping off this machine."
2012 ECOJET
Leno recently constructed a turboshaft-powered sports car in his shop from scratch with the help of a few prominent benefactors. The Eco part of this car's name is a nod to environmental consciousness: It runs on a biodiesel fuel sourced from soybeans, and the cockpit is upholstered with Alcantara faux suede material in lieu of leather.
GM's design department contributed the exterior shape employing themes from the stillborn Cadillac XLR spinoff of the 2020 Corvette. Like the new 'Vette, the EcoJet has a mid-engine layout with the powerplant positioned just behind the compact two-seat cockpit accessed by diagonally hinged doors. Metalcrafters molded the body panels in carbon fiber, hoping to keep curb weight well below 3,000 pounds. The 650-horsepower Honeywell LTS101 helicopter engine—which, over the years, has powered the Bell 222, the Airbus BK117 and AS350, and the Avicopter AC311—is mounted atop a Corvette four-speed automatic transaxle that powers the rear wheels through an 8:1 gear reduction unit to drop the turbine's high rpm to a piston engine's range of operation.
An Alcoa-built aluminum spaceframe fitted with Corvette suspension components serves as EcoJet's chassis. To provide sufficient stopping power, huge Brembo carbon-ceramic rotors—each squeezed by six-piston calipers harvested from the front of a Corvette ZR1—are used at all four corners. Alcoa also crafted special 20- and 22-inch forged aluminum wheels with a special Dura-Bright surface that never requires polishing.
The turbine's exhaust exits through two high-mounted rear outlets. Since this engine delivers 200 horsepower at idle, the brakes must be applied below 60 mph. Fuel consumption at 70 mph is a horrendous five mpg. Thus far EcoJet has won its only drag race versus a Learjet on a local runway.
Faster! Faster!
Auto pioneers achieved a fourfold increase in maximum velocity in only 37 years.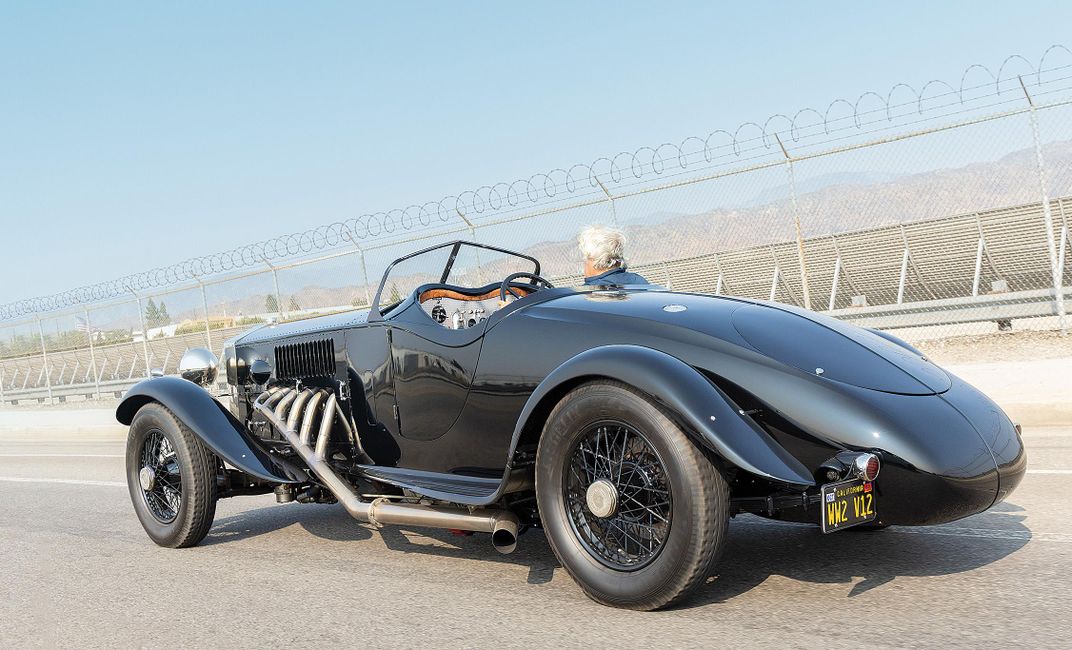 1910 Ford's Model T, the most common auto on Earth, was endowed with 20 horsepower and a top speed of 45 mph. At the opposite end of the velocity spectrum, Ferdinand Porsche's Austro-Daimler Prince Henry, which utilized Zeppelin airship engine technology, boasted over four times the Model T's power and an 85-mph maximum speed.
1913 British aircraft engine maker Sunbeam installed one of its nine-liter, V-12s in a car chassis to run 119 mph at Brooklands.
1922 Famed racer Count Louis Zborowski drove four car-airplane concoctions immortalized by Ian Fleming's Chitty-Chitty-Bang-Bang. The first version, a Mercedes chassis powered with a 23-liter, 300-horsepower Maybach 6 from a Gotha bomber, ran 113 mph at Brooklands.
1923 Racer Ernest Eldridge broke the land speed record with a 146-mph public-road run in Mefistofele, a Fiat chassis propelled by a 21.7-liter, 320-horsepower Fiat A.12 Bis inline-6 aircraft engine.
1925 Malcolm Campbell's Blue Bird, powered by a 36.7-liter supercharged Rolls-Royce R V-12, was the first automobile to top 150 mph.
1927 England's Henry Segrave was the first to crack 200 mph with his Sunbeam 1000 powered by two 450-horsepower Matabele V-12s.
1928 American Ray Keech seized the land speed record by running 208 mph in his White Triplex powered by three 27-liter Liberty V-12s.
1929 Segrave upped the ante to 231 mph with his new Golden Arrow, powered by a single 24-liter, Napier Lion W-12.
1931 Campbell used a more powerful version of the Napier Lion engine in a sleeker Blue Bird to run 246 mph at Daytona Beach, Florida.
1933 Campbell constructed a third Blue Bird powered by a 2,500-horsepower Rolls-Royce R from the Supermarine seaplane to top 272 mph at Daytona. Two years later, he would achieve 300 mph on the Bonneville, Utah, salt flats.
1937-39 Two Brits—George Eyston and John Cobb—began a three-year tag match for the land speed record. Late in 1937, Eyston ran 312 mph at Bonneville in his Thunderbolt powered by two Rolls-Royce R engines, upping the ante to 345 mph the following August. In September 1938, Cobb ran 350 mph in his Railton Special powered by two 480-horsepower Napier Lion engines. Eyston countered with 357 mph. The following year, Cobb lifted the record to 370 mph. That speed held until 1947, due to the World War II interlude.
1947 Cobb topped 400 mph in one direction at Bonneville and landed a 394-mph two-way record in his rebuilt Railton Mobil Special, the ultimate achievement for piston engines. The press dubbed Cobb the fastest man alive.
Following World War II, surplus turbine and jet engines took over from where pistons had left off. Royal Air Force pilot Andy Green broke the sound barrier in 1997, running 763 mph across Nevada's Black Rock Desert. His ThrustSSC was powered by two Rolls-Royce Spey jet engines with a combined 110,000 horsepower.Green was also part of the Bloodhound LSR effort striving for 1,000 mph with jet and hybrid rocket propulsion. Unfortunately, that project ran out of funds and is currently for sale.
Don Sherman has written for and edited more than a dozen automotive publications since 1971.