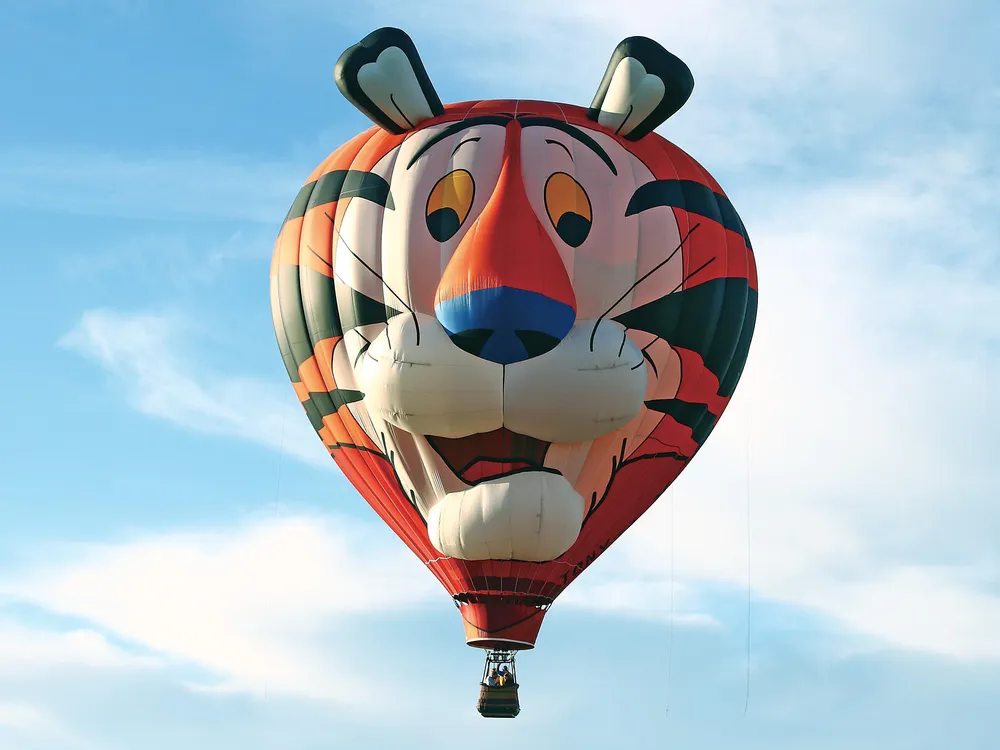 Many of you—pilots and non-pilots alike—share your love of aviation with your families. Whether it's chatting about a favorite airplane, passing on the joy of flight to the next generation, or taking a trip with family members, in this collection you'll find the connection between flying and family.
The Kindness of Strangers
My most memorable flight never got above 20 feet in altitude. What made it memorable was the kindness of the pilot, and the impression that he made on four strangers.
Dennis Floden, former World Hot Air Balloon Champion, designed "The Great Tony," a hot air balloon shaped like Tony the Tiger. Kellogg's hired Denny to take Tony around the world as an ambassador for Frosted Flakes cereal.
I met Denny in 1990 in Palm Springs, Florida. One evening, Denny was taking Kellogg's employees on tethered rides in the parking lot of our resort. As I was about to climb into the basket, Denny asked me to wait, and he addressed someone beyond the crowd. "Would you like a ride?"
Everyone turned toward a couple with two children, watching from the bed of a dilapidated truck. A sign in the truck's window said, "Need Work." They nodded, and cautiously approached.
Denny helped them into the basket, and asked the older child to "pull the tiger's tail," igniting the burner, and the balloon rose. Denny pointed out the sights, talked to them about the balloon, and slowly allowed the envelope to cool, settling them back to Earth, and back to their journey.
I had many rides with Denny over the years, but I never forgot the family whom I followed into the basket that evening, thanks to the kindness of a pilot who knew that there was more to flying than just going up and down. —Garry Ellis, Indianapolis, IN
Twins Who Do Everything Together
My identical twin brother Harold and I joined the Army Air Corps right after graduation in 1944. We were discharged soon after VJ Day. We knew we wanted to pursue a career in aviation so we enrolled in the Airframe & Powerplant course at Spartan College of Aeronautics in Tulsa, Oklahoma. We soon got a job frying chickens in the inflight kitchen for American Airlines. DC-6s enroute from New York to Los Angeles would stop in Tulsa for fuel and inflight meals. We made enough between us to buy a surplus Fairchild PT-23 for $382. It needed covering and I had just finished "dope and fabric," so we knew what we were getting into. While we were covering the PT-23, we were learning to fly at Harvey Young Airport, where we worked on the aircraft at night.
With Christmas break approaching, neither one of us had soloed but we didn't let that deter us. We had another Spartan student, a former B-24 navigator, teach us some navigation and draw some route maps. When the day arrived, we departed together mostly following railroads and reading water towers. When we landed on the family farm in North Carolina, there was a local man who wanted to go up and offered us $5. We flipped a coin and Harold won. We had our first paying passenger before we soloed!
We "soloed" together. When we got back to Tulsa, our instructor signed us off for solo. After a long career in aviation, this is still my most memorable flight. —Howard Miller, Clemmons, NC
Thanks, Dad
Nine Years Old—1970—Check. First Class from SFO to JFK to Heathrow—Check. Visit the cockpit and get wings from the pilot—Check. Pratt & Whitney JT9D engine failure with a six-hour delay at JFK—Check. 1960's-era musty, raggedy British European Airways Trident with a shaking bulkhead to Amsterdam's Schiphol airport—Check. Thanks, Dad, for starting my love and fascination for airplanes on that trip. I hear an airplane—look up! Drive by an airport—look at the airplanes! See an airplane museum—Stop!
Saw an elective biology class on the effect of flight on the human body—took it. When I went to Seattle for a job interview I made sure I visited Boeing Field, the Museum of Flight, and took the tour at the Boeing Factory in five hours before heading to SeaTac! Never gets old!
Getting late now, and I'm ready for my nightly dose of watching FedEx airplanes line up to land here in Memphis before I go to sleep. And Dad—I passed on our love of airplanes to your grandson Erik! Love you.—Kurt Gjertsen, Arlington, TN
A Familiar Voice
I was employed by Northwest Airlines for 30 years, and have many memories. This one is the best.
In the winter of 1990, I was on a midnight flight flying a 747 from Tokyo, Japan to Guam with a one-hour stop in Saipan. After leaving Saipan on the approach to Guam, I was speaking on the radio with the tower, when a voice came over the air and said, "Dad, is that you?" It was my son Brian who was employed by World Airways as a pilot, and he was departing Guam to the Philippines, flying a DC-10.
If you look at a map of the islands of Guam and Saipan in the vast area of the Pacific, they are just small dots in all of that water.
To be at that point at the same time—while my son is taking off—is unique to me. I did not know he was in the area in the middle of the night, so it was a pleasant surprise to hear "Dad, is that you?"
After that time, I was always listening for him and my other sons when they were flying. —Gene Robinson, Ocala, FL
Not Ready for Dad
In the summer of 1985, my future son-in-law, Mike, passed his exam for his private pilot license. He asked me to be his first passenger. I told Mike that maybe his father should be the first. Mike said that he would rather wait until he was more experienced before taking his father up.
I first thought I must be considered more expendable, but quickly realized that Mike might feel less pressure with me as his passenger. We took off in a Cessna 152 from Jefferson County Airport, located southwest of Denver, to fly north to Fort Collins. As we were somewhat north of Denver, Mike said, "We don't have any oil pressure, I'm going back!"
As we flew south, I was silent so as not to distract Mike, who was busy looking for landing sites to use if the engine seized. Fortunately, it didn't seize and we landed safely.
Later, when the aircraft was examined, it was determined that our excitement was caused by the failure of the oil pressure gauge, or the sender unit. —David Robert Bommer, Port Townsend, WA
Proud Papa
My story isn't historic or heroic. But it is special—for me anyway. I watched my son fly an airplane during a private lesson from the back seat of a Piper Cherokee last week.
I never learned to fly, although I always wanted to. I am the rare frequent flier who still asks for a window seat, devouring David Beatty or Richard Collins while munching on chips or a sandwich and enjoying the view.
Anyway, today's practice flight over Lake Apopka for my son Robert was exploring increasingly severe power-off stalls. Robert had just concluded his solo cross-country flight the week before, which I thought extraordinary for a kid who had substituted an "up" arrow on a GPS for real maps and a digital display for the common sense of dead reckoning his whole young life. Seeing him use pilotage—and later embrace VOR [very high frequency omni-directional range navigation aid]—was a breath of fresh air to this dinosaur dad whose son, up to this point, was never an enthusiastic student. We could finally talk situational awareness and vectors. Hell, we could finally talk North, South, East, and West!
More than that, I felt comfortable with him at the controls—which he never relinquished to Dave, his skilled instructor. I sensed he got it; he knew how an aircraft worked—he could feel it. And his growing self-confidence, while never cocky, was palpable. Goosebumps.
That short flight with Robert and his instructor was so much fun and so rewarding on so many levels. I will never forget it. —David Schneider, Mount Dora, FL
My B-25
When I was growing up, I learned from my father that the best airplane in the world was the B-25. Period. Dad spent World War II as a crew chief in the 1st Weather Reconnaissance Squadron, the first of its kind in the Army Air Corps. For three years, they flew routes between Canada and Great Britain, "reading the weather" of the North Atlantic, and then flying throughout the Caribbean chasing hurricanes. Their ship never let them down.
In 2016, 70 years after Dad's war and 11 years after his death, I finally fulfilled a lifelong dream. The Commemorative Air Force was touring the west with Maid in the Shade, a restored B-25 warbird, and was offering rides to the public. Learning the organization would be near Boise, I was one of the first to sign up.
The Maid 's two engines flung us into a crystal blue sky. We climbed and banked and soared over the Twin Falls countryside. Did the basalt cliffs of the Snake River canyon below us look like Iceland? Did those corn fields look like the sugar cane of Trinidad? What was it like to fly a seven-hour mission with nothing but water stretching to the horizon? A small patch of turbulence spurred another thought. What was it like to fly through the eye of a hurricane...on purpose? I closed my eyes. The incessant roar of the engines enveloped me. I breathed in the thick air with its pungent smell of oil and grease and fuel. I touched the cold bare skin of the fuselage and felt the vibration penetrate my bones.
The flight was over all too soon. We touched down and taxied to a stop. The engines fell silent. As I walked across the ramp, I glanced back at my B-25. I imagined Dad waving to me from a small window at the rear of the airplane.
We were both smiling. —Donald W. Watts, Boise, ID
Bring Your Family to Work Day
March 1978, Zaragoza Air Base, Spain. Me: a young Air Force captain winding down a three-year accompanied tour as hospital administrator. My good wife: Six months pregnant with our first child. Our spring fling: Catching a hop to England on a KC-135 tanker for a long weekend getaway. Our fellow passengers: A couple dozen military members plus a considerable contingent of their wives and children. The mission: Refuel a flight of FB-111 Aardvarks out of RAF Upper Heyford. Main memory: Watching my wife (balancing a wee bit on her tummy) on the mat alongside the young airman boom operator during refueling operations…not sure whose eyes were bigger. Subsequent memory: Trying to imagine the reaction of General Curtis LeMay if he could ever envision a cadre of dependent wives and military brats hitching such a ride aboard one of his Strategic Air Command aircraft. Total Force, indeed! —Tom Rupp, Springfield, VA
A Waco of a Certain Vintage
Flying and family belong together. While I was teaching at Howard University in the nation's capital, my dad organized flight instruction for me in a bright orange 1946 Taylorcraft on floats in the Willamette River in Portland, Oregon over my Christmas break. After my first dual lesson, he asked me how it went. I told him it was the most exciting flight of my life: "We flew under every bridge in downtown Portland!" He was incredulous: "That could not have happened! It's got to be illegal!" He was almost right. Federal Aviation Administration regulations forbid flying any closer than 500 feet to persons and manmade structures. You can imagine the look on his face when I flew him under every bridge in Portland after I got my seaplane rating. Back in the 1980s in Portland, that was legal—so long as you were landing and taking off on the water. I never asked my dad which flight with me made the greatest impression on him: That wild Willamette River ride or the loop over Rooster Rock on the Columbia River in a 1941 open cockpit Waco UPF-7 biplane coming back from a flight over Oregon's Mount Hood. But the grin on his face when he climbed out of the Waco at Evergreen Field in Vancouver said it all…. Flying brings family together. And my dad relished the fact that the blue Waco and I were born in the same year! —Charles Verharen, Washington, D.C.