Is Winning Everything?
For an air racing legend named Rare Bear, yes.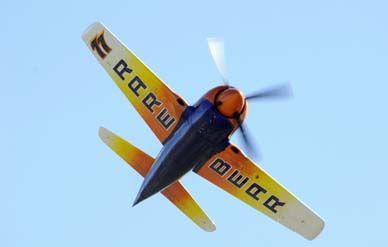 There would be no Hollywood ending. At least not for Rare Bear. Fans of the beefy Grumman F8F-2 Bearcat would have to find comfort in Rare Bear's second place finish in the Unlimited Gold division at the 2009 National Championship Air Races in Reno, Nevada, on September 20.
Everyone loves a comeback, and Rare Bear, which has won 10 Reno championships, was poised to make one after failing to even finish the race last year at Reno. The Bear has the support of a highly experienced race team and the financial backing of aircraft owner Rod Lewis, a San Antonio, Texas oil man. But their plans for another championship were derailed by Strega, a P-51 flown by 22-year-old Steve Hinton Jr., the youngest pilot ever to win a Reno Unlimited Gold race. "We couldn't do much about the fact that the kid is a good pilot and had a good airplane and had the power and lasted and beat us," says Pete Law, a retired Lockheed thermodynamicist who works as an engine consultant for the Rare Bear team.
What Team Bear had hoped to do, under the leadership of crew chief Dave Cornell, was overhaul its way to victory. Most of the aircraft that fly in the Unlimited division are piston-driven fighters manufactured during World War II, but they've been lightened, streamlined, and powered to fly far faster than almost anything seen during wartime. Rare Bear is one of the finest examples of an extremely modified warbird, starting with its hybrid R-3350 radial engine, which on a good day can generate more than 4,000 horsepower. To sustain such a high power output for the duration of an entire race, though, requires the best engine parts, and finding replacement parts for World War II-era engines is often a challenge. In this case, Cornell and his team couldn't find the right type of master rod bearing. Located deep down in the bowels of an engine, that's the critical piece that allows the crankshaft and the master rod to intersect and interact. "It is absolutely the heart of the engine, and we cannot take any shortcuts there," says Rare Bear team manager Alby Redick.
The team had hoped to harvest usable master rod bearings from existing engines or even buy new ones. But even if the right bearings could be found, they'd have to pass rigorous mechanical testing. Bearings with even the tiniest internal flaws could lead to a blown engine on race day. With time running out to get the hybrid R-3350 ready in time, crew chief Cornell made the decision to install Rare Bear's backup engine: a stock R-3350 of far less power than the hybrid R-3350. As race week approached, "they needed to get an engine in the airplane and get the engine and airplane flying as a unit," says engine consultant Law.
Even a stock R-3350 is a powerful engine, and those of us who were rooting for Rare Bear waited to see what the former champion would do during the qualifying race on Wednesday and in the two heats leading up to Sunday's final. Strega won the qualifying race and the first heat; in the second heat, the P-51 placed second. Rare Bear, flown by veteran pilot John Penney, finished in the middle of the pack during Wednesday's qualifier. In the next two Gold heats, the Bearcat finished sixth and fourth. Bear fans could only hope that Penney was holding back on showing what his aircraft could do, like a poker player trying to conceal a pair of aces.
On race day, Voodoo, a P-51 flown by Will Whiteside, had the pole position, with Strega starting second; Ridge Runner III was third and Rare Bear fourth. Before the first lap was completed, Strega had passed Voodoo, which continued to fly in the number two spot until Whiteside declared a mayday midway through the race and had to land. "From the start, I could tell we weren't going to catch Strega—if he remained healthy," says Rare Bear pilot Penney. "I wanted to make sure that Danny Martin in Ridge Runner III or Sherman Smoot in Czech Mate wouldn't catch us" (and challenge for second place).
Steve Hinton Jr., affectionately known as "Stevo," didn't just make history as the youngest person to win an Unlimited Gold race, he also set a new average race speed of 491.822 mph for the eight-lap course. "He didn't do that on purpose," says Law. "He just put it up to where he had to go to win, and it just happened to be a record. We don't plan for records. If we get them, that's fine. The idea is to win."
Rare Bear's average race speed over eight laps was 479.088—not bad considering the Bearcat was flying with its backup engine. In fact, Rare Bear's race speed for 2009 was faster than the Bear's winning speed of 478.394 in 2007. "This is a good testament to the drag-reduction efforts of the last few years," says Penney.
All things considered, Rare Bear's second place finish is impressive, but I can't help wonder what might have been if the Bear's hybrid monster of an engine had been ready on race day. "Every team out here in the Unlimited class wants to win," says team manager Redick. "Second place is not where any true race team would like to be. We truly believe that we could have beaten the pack with our hybrid race engine." Rare Bear's hybrid R-3350 would have added 15 to 20 mph to the Bearcat's race speed of 479.088, making it the fastest aircraft in the field. Of course even with the fastest aircraft, Penney would have had to find a way to get around Hinton's brilliant flying of Strega, but at least Penney would have had a better shot with a more powerful engine.
Redick says the team will continue flying and fine-tuning their aircraft during the off-season and that the Bear will be back next year: "bigger, badder, and faster." I don't know about you, but I haven't given up on that Hollywood ending.