The Inimitable Sean D. Tucker
In 1,300 performances over 42 years, one airshow star flew above the rest.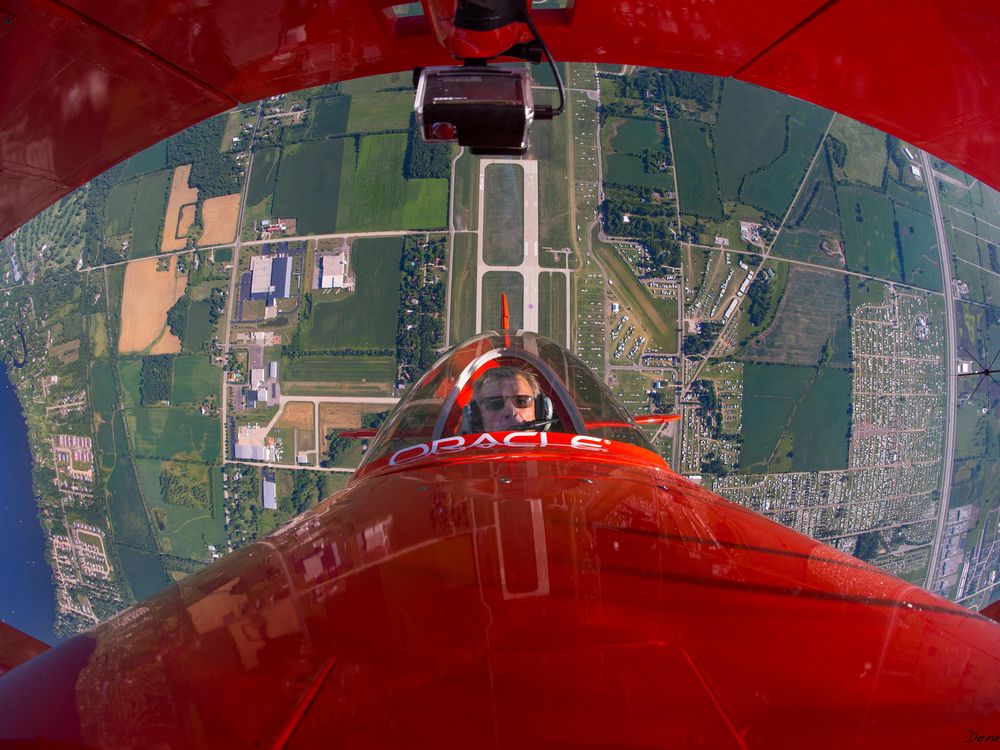 We wish it would never end—the mile-long coil of diving snap rolls that lead into the sledge hammer of opening acts—the Sean D. Tucker Centrifuge. Shoulder over tail, six, seven, eight times to the bone-pounding sound of whomp, whomp, whomp. His biplane beats the air as it winds tighter and tighter, faster and faster, violent as a tornado round its own right wingtip. Then suddenly it stops and flies straight, as if we were fools to think it should stumble after a dizzying spin like that. But a few maneuvers later, bam, bam, bam, at the top of a vertical line, it does flip forward, but flies off again, easy as a wink. This is no ordinary biplane. It is the Oracle Challenger III, with Sean D. Tucker flying his last solo performance, October 21, 2018, at the Wings Over Houston Airshow. Before that flight, I visited Tucker at the Team Oracle Hospitality Chalet where he entertains Oracle customers and displays this sparkling reddish-orange marvel.
He walks me around it, talks and touches a few things that make it the most highly evolved aerobatic biplane in the world. Everything either makes it stronger, cuts its drag, lets it fly faster, roll faster, maneuver at zero airspeed, or mimic a 3D model airplane. The 400-horsepower engine up front, plus the agile rudder and oversize elevator at the back, let it do cartoonish front flips, back flips, micro-mini loops, pinwheeling double hammerheads, then hover, poised like a dog dancing on its hind legs. The tapered wingtips and the eight ailerons along the trailing edge of its four wings let it whip around at 400 degrees per second at high speeds and still control at zero airspeed when nothing but the propeller blasts air across the inboard ailerons. The sleek windshield, the streamlined cowling, even the polished, flow-optimized cylinders make it fly faster. "Believe it or not," he says, "the air across the cylinders slows you down too. It's called cooling drag."
Then he climbs in the cockpit to show how its reclined seat increases his G tolerance with the forces pushing on his chest and stomach instead of on his neck and spine the way they did in his original Pitts S-2A, the one I taught him to fly in Riverside, California, back in the mid-seventies when I was an airshow pilot with Art Scholl. Tucker was a young, shaggy-haired crop-duster with 1,500 hours flying time, half of it taking everyone he met for free aerobatic rides—Just buy the gas!—because aerobatic flying had changed his life and it might change theirs. Or they might just have fun.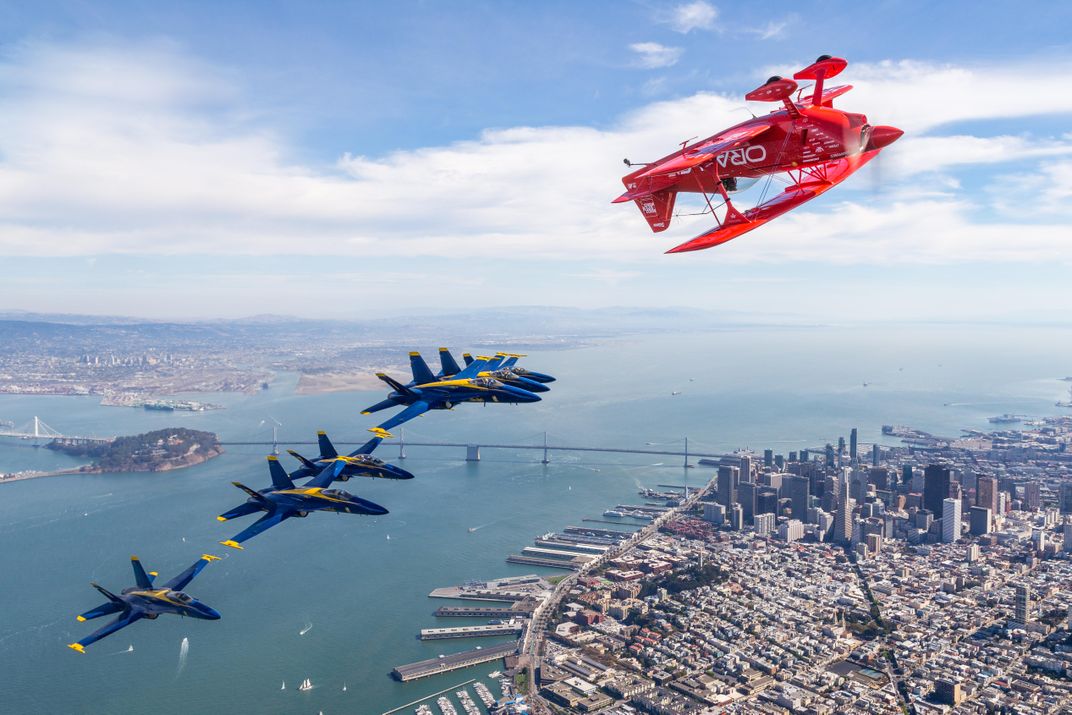 Tucker still has what long-time airshow announcer Danny Clisham, calls "24-hour enthusiasm" for including everyone in the sport he loves. In fact, he shouts out to the audience over the radio while he performs his whimsical, flat, inverted, Frisbee turn, with its rooster tail of smoke flying up behind him. Next, he laughs with the airshow announcer—his son-in-law, filmmaker Brandon Hess—then thanks everyone for the honor of flying for them, and God blesses America. The crowd loves it. They whistle, clap, and cheer. As he vertical rolls forward and up, then torque rolls backwards and down, now going 100 mph in reverse, he pays homage to his old friend and long-ago mentor, the late Charlie Hillard, who made the maneuver famous while winning the 1972 World Aerobatics Championship.
When Tucker was young, green, and aggressively making his mark, two other airshow greats took an interest in him. I see Leo Loudenslager's influence in Tucker's lines of snap rolls going one way, followed by fast rolls going the other, as if tangling and untangling a line. Loudenslager flew busy lines like that, and at airshows, he and Tucker practiced together. "Leo was seven-time U.S. and world aerobatics champion," Tucker says, "and he wasn't going to let some young kid out-practice him, so he'd say, 'Let's go flying.' "
Tucker has always been legendary for his own relentless practicing. Brian Norris, who managed Tucker's airshow logistics for 24 years, says people would ask, "Why does he practice so much? He's already the greatest airshow pilot in the world!" Norris would answer, "Well, he's the greatest airshow pilot in the world because he practices so much," meaning three to five flights a day leading up to each airshow.
In fact, when the Oracle Challenger was newly built for him in 2010, he flew a total of 800 practice flights before he felt he had mastered it. That level of commitment and seriousness is something he shared with Loudenslager, along with a fascination for designing a full-size aerobatic airplane that could hover, flip, and twirl like an RC model. Loudenslager died in 1997, following a motorcycle accident, before he completed the airplane that might have brought about his dream. But Tucker carried on, and now has the airplane, the Oracle Challenger III.
Another airshow master who helped shape Tucker's career is Bob Hoover. His aerobatic demos were graceful, thorough, and even a little playful. Tucker has that thoroughness too, in his repertoire of ballistic gyroscopic flourishes, and his sashay between ribbon cutting poles has a Hoover-like waltz to it.
* * *
After Tucker got that first new Pitts, he started flying shows, and he knew he had found his path in life, but he had some serious lessons to learn. As a teenager, he had been traumatized by a friend's death while they were learning to skydive. So, he turned to flying lessons, but that amplified his fear when it brought up memories of sorting files for his dad, an aviation trial lawyer. "I would see all these airplane crashes and dead guys' faces," he says. "And I had some really bad instruction from guys who instilled fear by insisting [flying] was dangerous. I would panic if I went past 45 degrees of bank. I closed my eyes if I went into a stall. I shouldn't have passed my private pilot check ride, but I just lucked out."
Then he went to Amelia Reid's flying school in San Jose, where she taught him aerobatics. Once he experienced the things he dreaded—rolling upside down, vertical climbs, spinning, diving at the ground—they lost their power over him. (He also conquered his fear of parachuting by taking out a student loan and doing more than 150 jumps.) Soon he was happily obsessed with taking everyone for rides.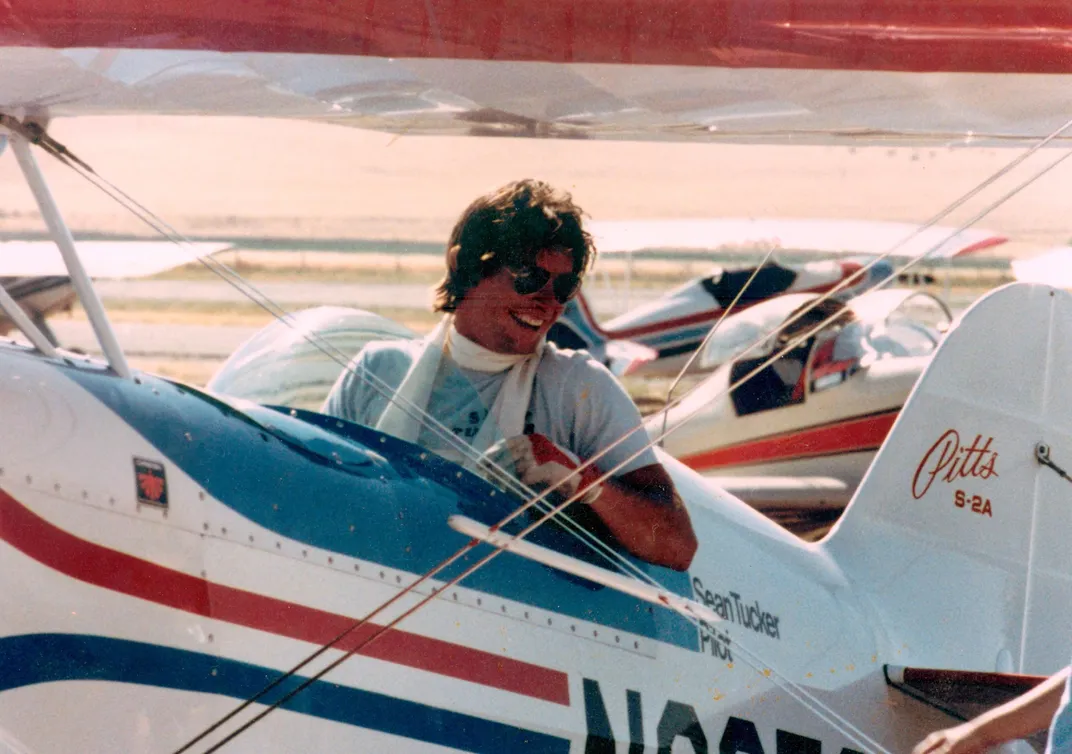 In 1974, one of these rides led to his lifelong friendship with Tom Dygert, who was at the time a recent Vietnam vet and car mechanic and is today a retired Lockheed quality-assurance engineer. Dygert became the man behind the scenes, who fixed what Tucker broke. Flying hard and experimenting got him into occasional trouble. Mechanical failures forced him to jump from three of his show planes: the first in 1979, a second time in 1984, and the third, 22 years later, when a link severed the control stick from the tail. The first two, only five years apart, nearly ruined his career. "Now, it's 1984 and I've just jumped out of my second airplane," he says. "There goes my reputation."
He needed a means to prove himself, and competition aerobatics seemed the only way. But with a wife, a house, two kids, and his own crop-dusting business, he could not afford a costly leisure sport. He pushed and sacrificed to compete, and in 1988, he captured the U.S. National Advanced Aerobatic Championships title. With it, he earned the credibility to become a sponsored airshow star. He joined the International Council of Air Shows (ICAS), a group of airshow professionals composed of show producers, performers, and all the groups that support the airshow industry. Within four years, he won both of the industry's outstanding showmanship awards, and landed his first major sponsorship, with Randolph Sunglasses. Later, MCI, then Oracle followed.
"When you look at the model established by NASCAR and all the major league sports for what an athlete is expected to do in return for a large sponsorship, it looks a lot more like Sean Tucker than it does a traditional airshow performer with their wing functioning as a billboard," says ICAS president John Cudahy. "Several people have used the model he established to get their sponsors and to keep them longer," Cudahy says. In Houston, Tucker not only dazzled Oracle customers at the chalet by performing and spending time with them, he also treated them to aerobatic rides in a two-seat Extra monoplane.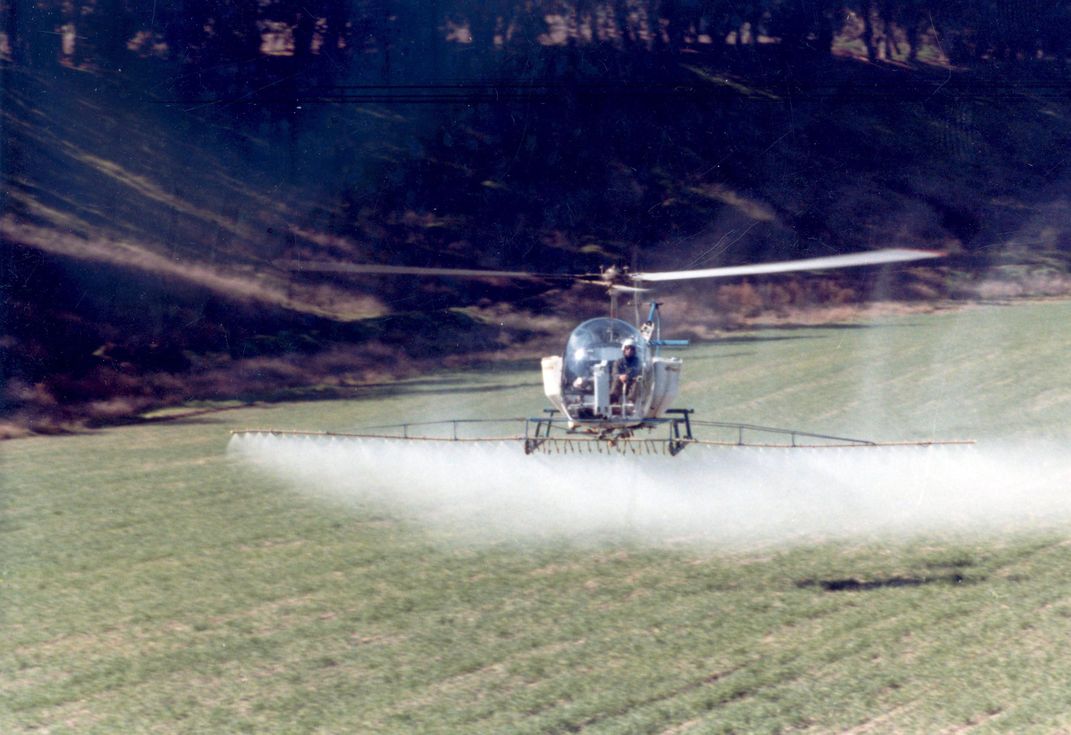 Meanwhile, in the 1980s and '90s, Tucker and another star, Wayne Handley, egged each other on, practicing, experimenting, challenging each other. Handley was particularly innovative and stumbled across ways to do new variations of gyroscopic maneuvers. One of them he called "the dink." Tucker, on the other hand, was especially good at fiddling around to sustain gyroscopic maneuvers, repeating them multiple times without their falling into outside snap rolls or inverted spins. Through practice, they became predictable figures, no longer the out-of-control anomalies people thought they were. He could sustain Handley's dink until it pounded the air whomp, whomp, whomp, 10 to 15 times in an arc, and he could fly straight out of it at the end. While in it, going around and round, centrifugal sideloads made him feel like a stone swung on the end of a string, so he named the sequence the Centrifuge.
In 1992, at the Experimental Aircraft Association's world-famous Oshkosh, Wisconsin airshow, when Curtis Pitts saw that maneuver in the airplane he created, he said, "He's definitely going to break that airplane. It was never meant to do that."
"Tucker did break it a lot," Wyche T. Coleman says. "Every year he broke something critical. It's a miracle that he lived through those years."
But thanks to the persistence of Tucker and Handley, gyroscopic maneuvers became a regular part of the airshow scene, and Curtis Pitts made changes to his airplane, such as beefing up the spar and adding more ribs, to keep up with the new, more aggressive style of flying.
Wyche Coleman was 11 in 1992 when he overheard Curtis Pitts worry that his airplane would break. In 2003, he became one of the 12 young airshow pilots Tucker mentored in his Stars of Tomorrow program in Oshkosh, workshops held in 2003 and 2005 that resulted in ensemble performances. In 2004, after studying everything Tucker had broken and rebuilt into the Oracle Challenger II, Coleman commissioned superstar Pitts-builder Steve Wolf to design and build the first Wolf Pitts Pro. After Tucker flew it, he had to have one too. With a few small changes, the second one became the Oracle Challenger III. Last July, Tucker announced he will donate the unique aircraft to the National Air and Space Museum at the end of the 2019 airshow season. It will eventually be displayed in a new gallery scheduled to open in 2021. "Having Challenger III suspended at the entrance of the Thomas W. Haas We All Fly gallery will push Sean Tucker's energy throughout the entire exhibit," says Museum curator Dorothy Cochrane.
* * *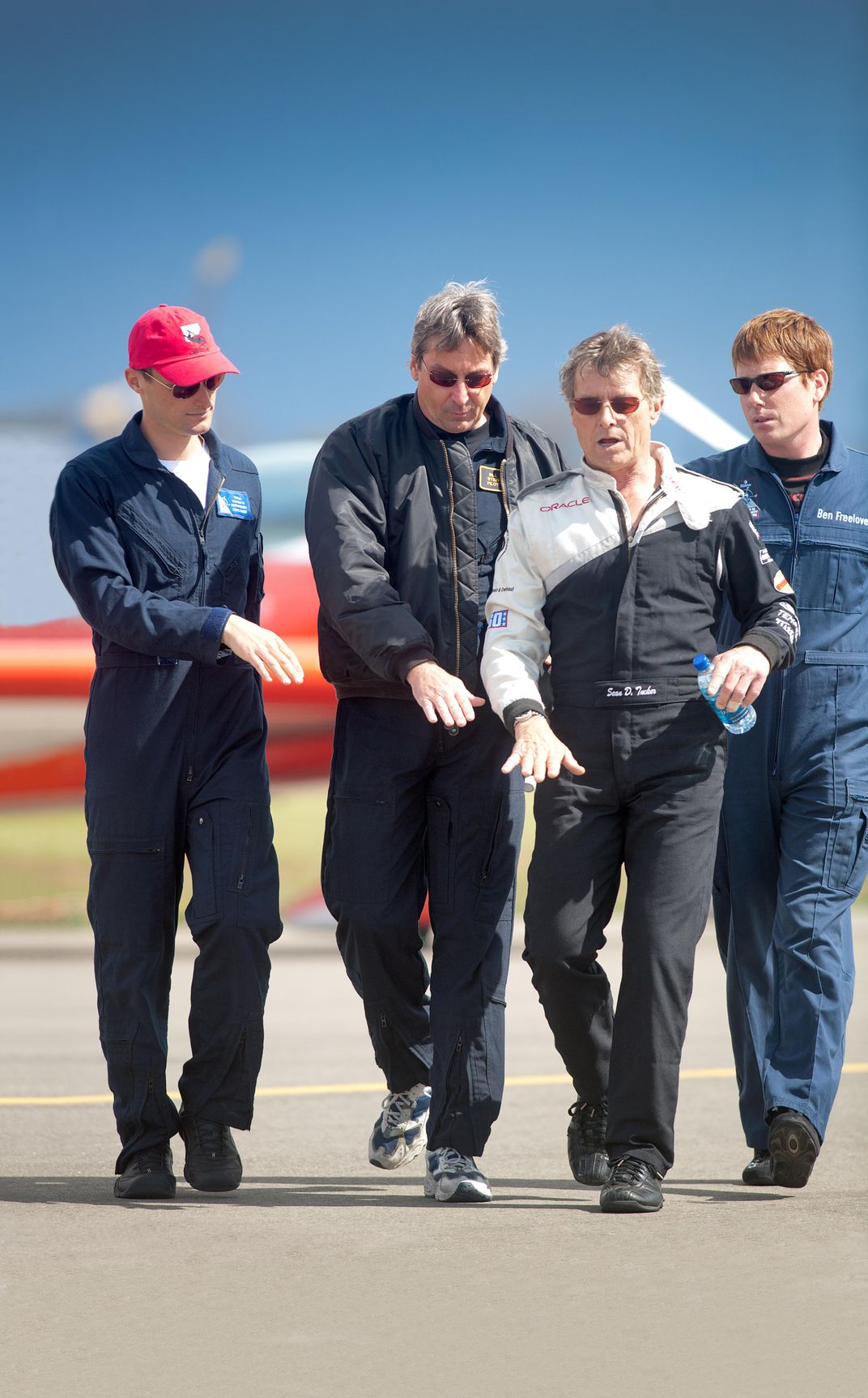 Tucker has so dominated airshow marquees, especially in the past two decades, that you might think other performers would resent, or at least envy, his stardom. Some do, while others, such as Steve Gustafson, a T-6 pilot on the AeroShell Aerobatic Team, admire his success and his generosity. In 1992, when Gustafson first saw Tucker's video, in his booth at the ICAS convention, he thought, "He's good, but he's a little wild. If he doesn't bust his ass, he's going to be a force to reckon with." Then he met him. "What I've always liked about him is his enthusiasm about the airshow industry, the airshow business, and the airshow people. His enthusiasm is infectious. He told us, 'You've got to remember who we are flying for out on that hot ass ramp. People sit there for three hours while we go up and do our deal. Remember that and have the right attitude.' It just fired us up. It motivated us." In 2001, Tucker helped Gustafson's team land their own major sponsorship, the one they have had with AeroShell ever since.
Teaching the business side of airshows, including returning value for sponsorships, was part of the Stars of Tomorrow program that Tucker started with fellow airshow star Michael Goulian. It showcased its young pilots at four airshows. One of its stars, Jessy Panzer, still performs and trains with Tucker. She says, "He really does want to help the people coming up behind him, because he has seen so many of his good friends die in this business." Tucker has chosen another rising young show pilot, Johnny De Gennaro, to be his wingman for his upcoming airshow season. De Gennaro, 27, who for the last three years has been Team Oracle's logistics and operations coordinator, has been watching Tucker performances since he was five.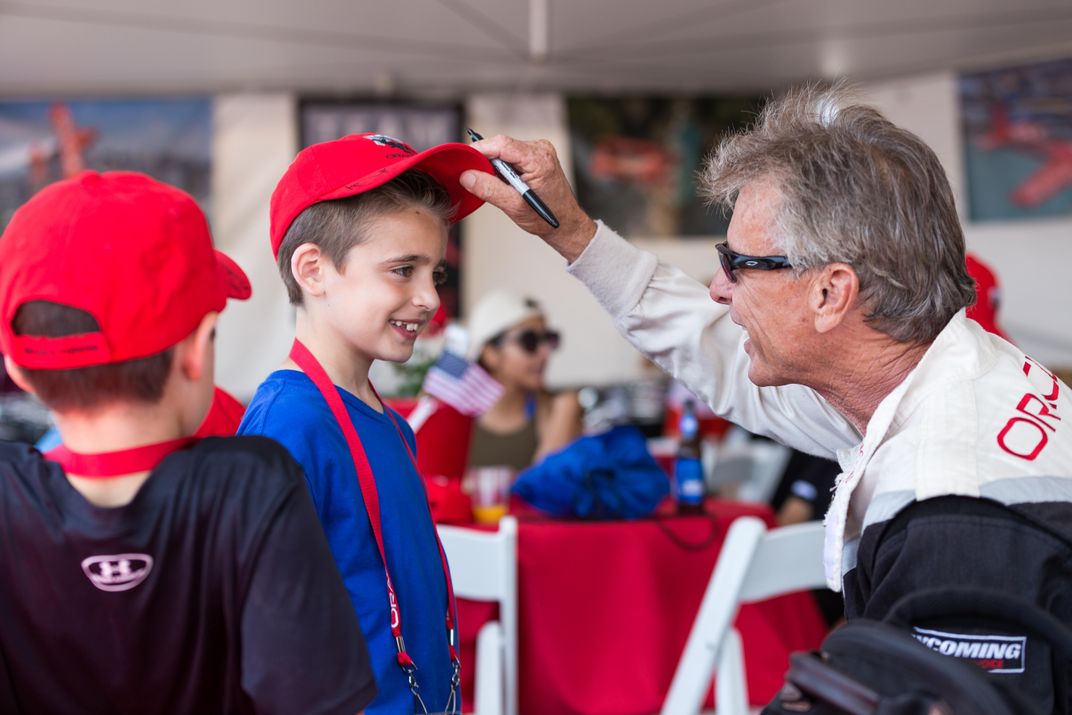 After the Houston show, Tucker explains why he's decided to end his solo career. "I have to go with what my gut tells me, and it said, 'I can't get any better at what I am doing right now.' I've reached the highest level of competence. The only other way you can go is toward incompetence." He laughs. "I never felt that way before. But I am not the least bit burned out. As a solo guy, I'm done, but I am moving forward with my new act, the two-ship formation with Johnny D." Longtime formation aerobatic pilot Bill Stein coaches them. "It feels like starting all over again," Tucker says.
"I had to get the notion out of my head that my worth is in my work," says Tucker. "My worth is in my life's work."
That life's work, which has always involved a lot of sharing and giving back, now includes the flight training program he and his son Eric (who flies a Cub comedy performance with an ambulance-top landing) run in Salinas, California, for at-risk and underserved teens. Called the Bob Hoover Academy, it is an accredited high school. Hoover, who died in 2016, was proud of Tucker's success and felt honored to lend his name to the program.
Let the second act begin.