India's Reincarnated Aircraft Carrier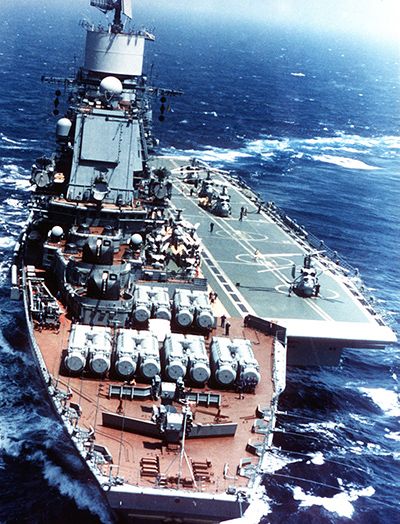 According to a report in Flight International, India's defense ministry is buying Russian-built MiG-29K fighters as "part of a 2004 order...that was incorporated into a deal for the aircraft carrier Admiral Gorshkov."

Wait—India has an aircraft carrier?

That navy workhorse, the aircraft carrier, has been around for 100 years. (Ok, nearly. While the concept was presented in 1909, the first ship, the Royal Navy's HMS Furious, didn't make its debut until 1917.) But after a century, very few countries still have carriers as part of their arsenal. The United States has the most by far, with a whopping 11. The United Kingdom, with its long naval history, has just two. Italy and Spain also have two carriers, while France, Russia, Brazil, India, and Thailand each have one.




That list doesn't include the number of carriers in development, however, nor does it say anything about the history of each ship. For instance, India's active carrier, the Viraat, is a Centaur-class carrier that started life as the HMS Hermes with the Royal Navy (and was built during 1944-1953). The Hermes, sold to India in 1987, was retrofitted from 1999-2000, and returned to the fleet in 2001.

In 2004 the Indian government purchased the Russian-built, Kiev-class Admiral Gorshkov, which was built in 1978 and commissioned in 1987. (It was put up for sale in 1996, but didn't find a taker until 2004.) Currently being upgraded, the Gorshkov (which will become the Vikramaditya, named for an ancient Indian king) won't be ready for service until 2014.

And, as reported by the Government of India's Press Information Bureau in February 2009, India has begun building its first indigenous aircraft carrier, making it one of only four nations with the capability to do so.