In the Museum: The Universe in 5,000 Square Feet
In the Museum: The Universe in 5,000 Square Feet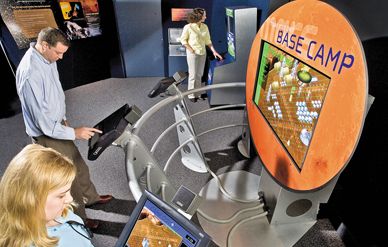 "I'VE LEARNED that there are three kinds of museum-goers: streakers, strollers, and searchers," says Roger Launius, senior space history curator at the National Air and Space Museum. The first kind, he says, fly through an exhibit, barely stopping to read anything. The second drag their feet, reading a display here and there. The third take in every panel, every graphic, every word. "Even I'm not in that last category," he says. "But we try to cater to all three types."
He's talking about "Space: A Journey to Our Future," an exhibit in the Museum that dovetails with NASA's 50th birthday, October 1, and runs through January 11, 2009. A traveling, private-sector show produced for entertainment giant AEG by Evergreen Exhibitions with NASA support, it celebrates space exploration, past and future.
At the gallery's entrance, streakers may tend to fade right, into the central, open area, which houses an array of interactive displays. But searchers and strollers will want to head into a passageway that introduces the most basic process in space exploration: how humans leave Earth. Murals detail how rockets obey Isaac Newton's laws of motion, and an interactive screen explains the term "launch window." Another mural reveals a little-known fact about one of the coolest heads in space travel, Neil Armstrong: Just before he and Buzz Aldrin set their lander on the lunar surface, with 30 seconds of fuel remaining, Armstrong's heart was hammering at 156 beats a minute. Space travel, it seems, gets the juices flowing.
Other elements will quicken the pulse of the armchair astronaut, such as a tire from a lunar rover and a 70-mm Hasselblad camera from Apollo 17. Stand in front of a well-lit photo-mural of a lunar landscape for an I-was-there pose.
The real crowd pleaser is a lunar habitat, offering toys, joysticks, and screens that let you put a lander down onto the lunar surface or operate a rover across a desolate landscape. Climb into a bunk, complete with an imaginary moon dweller's family photos from the home planet. In the center of the habitat, an authentic moon fragment beckons with a sign: "Please Touch This Moon Meteorite."
Next door, a 360-degree theater, the exhibit's largest element, puts on a dazzling light and video show about the universe, covering everything from the Big Bang to the formation of galaxies and planets. The narrator challenges each visitor with questions: "Who will be the modern Newton? The new Einstein? Who will unlock the deepest secrets of the cosmos?"
The exhibit can fill 12,000 square feet but usually lands in halls half that size. Launius, the exhibit's curator during its stay, distilled it to a little more than 5,000 square feet to fit in gallery 113 at the Museum's east end. With collaboration from NASA, where he was chief historian between 1990 and 2002, Launius added material on the Constellation program, aimed at sending humans beyond Earth orbit. A hefty, quarter-scale model of the Orion vehicle, which will carry astronauts to the International Space Station and eventually to the moon, hangs from the ceiling. In the corner of the gallery stands an imposing 1/34 scale model of the Ares I launcher, developed to lift Orion from Earth. Launius says it's the only Constellation material that the Museum exhibits. An innovative, horseshoe-shaped sensor acts as a computer air mouse; visitors can call up infographics about the program on a large video screen by waving their hands inside the sensor.
The gallery offers plenty of interactive ways to learn, from push-button displays on deep-space probes to scales that tally body weight on Earth, the moon, and Mars. Vivid touch screens fill the room and cover "Space on Earth: How Space Exploration Transforms Our Daily Lives," "Make Your Own Base Camp," and "Pack for the Trip to Mars," in which a computer-generated helper, Ruby Redstone, advises what to bring to the Red Planet: food, water, oxygen, a spacesuit. A few steps away, "The Infrared You" features a sensor that detects subtle differences in body temperature and color-codes visitors as they move about. Turn around to another display and learn more about how scientists use infrared radiation to study the universe.
"The interactives are the main strength of this exhibit," says Peter Rudetsky, a content developer who wrote the exhibit's 7,000 words. "I hope adults spend time doing them too. And we put the text in a format that wasn't arduous, so this isn't like an article. It's like a big picture book."
Lockheed Martin, ATK, and General Motors, all sponsors of the exhibit, agreed to forgo corporate displays to preserve the educational spirit of the show. This provided more room to portray the environment astronauts and robots have explored, and those that future ones will. Maybe one of those astronauts is a toddler who left little fingerprints around the exhibit today, and took home dreams of tomorrow.