In the Museum: High Flier
Restoring the Northrop YP-61 Black Widow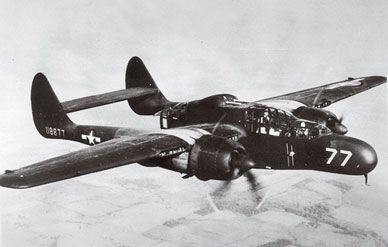 Dressed in layers to protect himself against frigid air, test pilot Donovan Heinle took off from California's Moffett Field in an unusual-looking twin-boom aircraft painted black. Headed south toward Edwards Air Force Base in the Mojave Desert, he took the unpressurized airplane, a Northrop P-61 Black Widow, to an altitude of 41,000 feet. As Heinle brought the P-61 over a bombing range, he released a swept-wing test body mounted underneath; while it fell, reaching low supersonic speeds, onboard instruments recorded flight data before air brakes and a parachute broke its landing.
From 1951 to 1954, Heinle and other pilots flew the P-61 as a mothership on some 50 flights, dropping recoverable bodies as part of a National Advisory Committee for Aeronautics program to research swept-wing aerodynamics. When the NACA Black Widow, a C model, came off Northrop's production line in the summer of 1945, it had a powerful nose-mounted radar and was armed with four 20-mm cannon and four .50-caliber machine guns. P-61 A and B models had moved unseen through night skies to shoot down enemy aircraft in the European and Pacific theaters of World War II, but with combat winding down, C models seemed destined to become museum pieces.
In October 1950, the U.S. Air Force donated a P-61C, serial number 43-8330, to the Smithsonian Institution's National Air Museum (it became the National Air and Space Museum in 1966), and the aircraft moved temporarily to the Museum's storage facility at Chicago's O'Hare International Airport. Before the Museum could make arrangements to ferry the Black Widow to Washington, D.C., however, the NACA asked to borrow it. In a letter addressed to Museum curator Paul E. Garber on November 30, the NACA's assistant director for research, I.H. Abbott, spoke of his agency's "urgent" need to obtain a P-61 to use as a high-altitude research craft. Garber agreed to an indefinite loan, which lasted until June 1954, when the NACA concluded its use of Black Widows to drop test bodies. NACA pilot Heinle made his last flight in the P-61 when he ferried it from Moffett Field to Andrews Air Force Base in Maryland, arriving on August 10. The Black Widow was stored there, alongside such other Museum artifacts as the Boeing B-29 Enola Gay and the Douglas XB-43, for seven years before being moved to the Museum's Garber storage and restoration facility in Suitland, Maryland.
In January, the Black Widow was moved into Building 10 so Garber's 19 restoration specialists, three conservationists, and three shop volunteers could focus solely on refurbishing the airplane for its unveiling at the Steven F. Udvar-Hazy Center on June 8; that day, a panel of former Black Widow air crew, including former Northrop test pilot John Myers, will speak about their experiences flying the aircraft.
Observing the restoration one day last April felt like walking through a crime scene, with dozens of dismembered parts—a wing here, an engine cowling there—strewn around various work stations in Building 10. ("If it's black, it's the P-61," says project manager Karl Heinzel.) The fuselage—minus engines, twin booms, and wings—is enormous (a fully loaded P-61C weighed 35,855 pounds). With a double-canopy in front for the pilot and gunner and a double-canopy in the rear for the radar observer/gunner, it's difficult to distinguish nose from tail on the brutish aircraft. "The P-61 was not a thing of beauty from the aesthetic viewpoint; but it was a beautiful ship to fly," wrote former Northrop test pilot Moye Stephens in a letter to the Museum. "It didn't have a wicked bone in its body, and would tolerate mishandling that would have proved fatal in other twins."
Years of sitting outside had taken its toll on the Museum's P-61, which had patches of corrosion; animals had also left nests and droppings ("Everything that lives outside gets inside," says Heinzel). Besides cleaning up the aircraft and arresting corrosion, the Garber team replaced the tattered fabric covering the control surfaces, restored the broken and incomplete instrument panel, and found a contractor to make replacement canopies because the plexiglass of the originals had yellowed and cracked.
During the P-61's tenure as a research vehicle (it also flew for the Flight Test Division at Wright-Patterson Air Force Base in Ohio), its armament and dorsal turret were removed to reduce weight, but the Garber team has no plans to return the aircraft to a wartime configuration. Heinzel defends the decision, proudly pointing out that the Museum's Black Widow made a "very early contribution to swept-wing supersonic research." So what if the Museum's P-61 never saw combat—it didn't need to.