In the Museum: Beautiful Goose
In the Museum: Beautiful Goose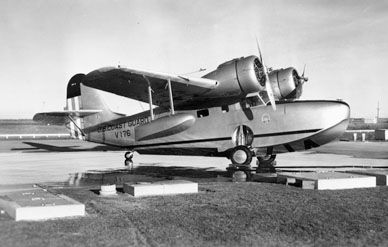 Affectionately nicknamed "Goose," the Grumman G-21 was the inspiration of 10 wealthy New York businessmen and aviators. Led by Wilton Lloyd-Smith, the group was seeking a replacement for the Loening Air Yacht they used to commuted from their Long Island homes to their offices in Manhattan. In 1936 they approached aeronautical engineer and entrepreneur Grover Loening, who had designed the Air Yacht. Loening declined to build a new airplane for them, but he suggested that the group contact the Grumman Aircraft Engineering Corporation, for which Loening consulted and which he had helped finance. Leroy Grumman accepted and immediately went to work with designer and company co-founder William Schwendler, as well as hydrodynamicist Ralston Stalb, to build a G-21 amphibian "air yacht."
The outline of the design of the G-21 emerged quickly: It would be a stubby yet graceful aircraft. Constructed of 24ST Alclad aluminum, the Goose was an all-metal, high-wing monoplane powered by two 450-horsepower Pratt & Whitney Wasp Junior radial engines mounted on the leading edge of the high-set wings. The deep fuselage served also as a hull and was equipped with hand-cranked retractable landing gear. The cabin had room for four to six passengers and a flight crew of two. Depending on the level of comfort desired by the customer, the G-21 could be fitted with galley and lavatory. Floats were suspended beneath each wing, and a conventional cruciform tail section was installed.
On May 29, 1937, the G-21 completed its first test flight, piloted by Robert L. Hall and Bud Gillies from Grumman' Bethpage, New York factory. Flight trials went smoothly, and after a lengthening of the hull step to improve performance on water, aircraft production was readied. The performance of the G-21 was praiseworthy for its time, rivaling commercial airliners in service. With a cruising speed of 180 mph, the G-21 had a range of 800 miles.
On July 3, five weeks after its maiden flight, the first G-21 to leave the factory was delivered to customers Wilton Lloyd-Smith and department heir Marshall Field III. Soon other affluent owners were enjoying the exemplary flight characteristics and handling of the Goose: financiers Henry H. Morgan and E. Roland Harriman, C.W. Deeds of United Aircraft, Colonel McCormick of the Chicago Tribune, Sikorsky Aircraft test pilot Boris Sergievsky, and Britain's Lord Beaverbrook.
Orders also cam in to Grumman from foreign customers. KNILM, the Dutch East Indies subsidiary of KLM, acquired two G-21s and operated them from 1940 until early 1942, when the last one was shot down by the invading Japanese. The outbreak of World War II prevented airline adoption of the Goose on a wider scale.
The Royal Canadian Air Force was the first military service to recognize the abilities of the Goose, ordering one in June 1938. This purchase was soon followed by orders from the U.S. Army and Navy, as well as the Peruvian air force and Portuguese navy. During World War II, the U.S. Army was the first to order a substantial quantity, operating 26 as OA-9s and OA-13s. The U.S. Navy and Coast Guard operated 169 Gooses, designated JRFs, in utility, transport, and anti-submarine capacities. France flew at least 15 in combat in Indochina, where several JRFs wer armed with bombs and machine guns. By October 1945, when production ended, a total of 345 G-21s had been produced, and the craft were serving the air forces and navies of 11 nations.
After World War II, most G-21s were quickly phase out of military service, but the Goose renewed its career as an airliner. Uniquely adapted for travel in virtually any environment, the Goose saw widespread service with small airlines in the Caribbean, California, and Alaska. Among those flying the G-21 were Reeve Aleutian Airways, Alaska Coastal Airlines, Chalk's Flying Service, and Mackey Airlines. Antilles Air Boats was particularly noted for flying the Goose around the Caribbean from its base in St. Croix in the Virgin Islands. Avalon Air Transport (late Catalina Airlines) competed for a while with Catalina Seaplanes, connecting souther California with Catalina Island.
The Grumman G-21A in the National Air and Space Museum's collection was built in 1938 for the Venezuela Oil Development Branch of the Asiatic Petroleum Company. It was delivered on December 10 without luxury appointments, but it was outfitted with special cactus-proof tires for operation in remote areas. It was later sold and flown in Ecuador until 1951, when it was returned to Grumman and refurbished with sound proofing, a camera door, and new paint. For the next 20 years, the G-21 was flown as an airliner. It became part of the Museum collection in 1983.
The Grumman Goose still flies today, both in its original form and with turboprop engines added for increased performance. For over 50 years, the rugged and versatile G-21 has performed its daily tasks, providing much-needed service carrying passengers and freight throughout the world.
--F. Robert van der Linden
Adapted from Aircraft of the Air and Space Museum, edited by F. Robert van der Linden, Smithsonian Institution Press, 1998.