In the Museum: Airplane Meet 'n' Greet
A Staggerwing wows the crowd on "Become a Pilot" day.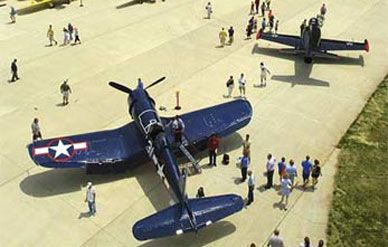 In the darkness of an early Saturday morning last June, we met at Culpeper Airport in Virginia, the home base of my friend Charles Maples' restored 1944 Beech D17S Staggerwing biplane. Charlie and I pushed the aircraft out of its hangar and into the fresh air, and after a quick preflight, we were ready to fly to Washington-Dulles International Airport, where the National Air and Space Museum's Steven F. Udvar-Hazy Center was hosting a fly-in as part of its "Become a Pilot" Family Day. Charlie was one of more than two dozen pilots invited to the fly-in, and I was excited to be his passenger for the 35-mile hop.
At 8:30 a.m. we took off into the summer haze, and, a few vectors and 25 minutes later, we were over Dulles, the sky now bright. I had flown into Dulles many times via airliner, but this time I was arriving in style. Transportation Security Administration and airport authorities were all smiles and waves as the yellow Staggerwing passed through the security gate stationed between one of the airport's taxiways and the tow road leading to the Udvar-Hazy Center. Waving back to everyone from the Staggerwing's right seat, I felt like a movie star from the 1940s.
More than two dozen aircraft had already arrived and were parked outside the center's main hangar, including a U.S. Marine Corps Harrier vertical-takeoff-and-landing jet, an Aero Vodochody L-39 jet trainer, a Lancair, a North American Navion, a Globe Temco Swift monoplane, and a World War II-era Vought F4U Corsair gull-wing fighter. Visitors had the opportunity to enter the cockpits of many of the airplanes and ask questions of the pilots. Volunteers from the Civil Air Patrol and the Girl Scouts of America kept the aircraft display area free of litter and watched over airplanes when their pilots wanted to go inside but did not want to leave their aircraft unattended.
The Staggerwing received a steady stream of visitors who wanted to see the regal biplane up close. Charlie refers to the Staggerwing, first produced in 1933, as the "Learjet of the '30s" because of its popularity among corporate executives of the day, who fancied the biplane's 200-mph cruising speed. They probably also liked the luxury of the craft; the Staggerwing's back seat can seat three abreast (it's like "something out of a '56 Buick," says Charlie). A 450-horsepower Pratt & Whitney R-985 engine provides the Staggerwing with robust propulsion up to 15,000 feet.
Event organizers had set up an array of activities for all ages inside the hangar. Adults could listen to curators talk on various artifacts while children learned about the parts of an aircraft from Museum docents, who took turns dressing up as television cartoon character Jay Jay the Jet Plane. By day's end, more than 5,500 people had stopped by, and the inaugural event was deemed so successful that fly-in organizer Margy Natalie, who is the Udvar-Hazy Center's aerospace educator-in-residence, says that a second "Become a Pilot" Family Day has been planned for June 17 (for more information visit the Museum web site or call 202-357-2700).
Visitors who stayed until the end were rewarded by the sight of the fly-in aircraft departing Dulles along with scheduled airliners. By 2:30 p.m., Charlie and I were back in the Staggerwing, and we took our place in line with a few United Airlines Boeing 737s and several Independence Air Bombardier CRJ-200s. We had a long, slow taxi to the runway, but after getting clearance for takeoff, we broke ground and as we climbed to 2,500 feet, we found ourselves with a lovely view of the center. How many of the visitors will return in June with a few flying lessons under their belts? I know I will.