In the Museum: A la Cart
In the Museum: A la Cart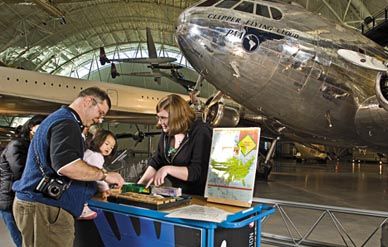 The pig was part of the flight demonstration.
Perhaps inspired by the old saw "When pigs fly," an educator had assembled a plastic pig, a sheep, a dragonfly, a butterfly, two airplanes, and a boat. They were all perched atop a cart for National Air and Space Museum volunteer Bob Greene to use to introduce a four-year-old visitor to the principles of flight. The Museum's youngest visitors are encouraged to find similarities between airplanes, birds, and insects, and to separate them from, well, the pig. Using other objects at the station, Greene familiarizes adults with the concepts of pitch, yaw, and roll.
Greene has volunteered since 2003 at various Discovery Stations—a series of portable carts that feature hands-on activities related to aviation, space exploration, astronomy, and planetary geology. He's a pilot with more than 3,000 hours flying Bell UH-1H "Huey" helicopters during two tours in Vietnam. Today at the Steven F. Udvar-Hazy Center in Virginia, his cart is parked next to a reproduction of the Wright Model B, but Greene talks easily with a visitor whose father flew a World War II Lockheed P-38J Lightning, much like the one a few feet away.
Education and curatorial staffs develop the stations to help explain the more complicated concepts in an exhibition. "With the Wright brothers exhibit," says Beth Wilson, who coordinates the Discovery Station program on the National Mall, "it's difficult to understand wing warping unless you either have a lot of knowledge about it to begin with, or there's someone there explaining it to you. It's the same thing with our Black Holes Discovery Station. You can read a label about a black hole, but if you have someone there describing it, it really helps." (The objects used to demonstrate this challenging concept? A magnet, glass marbles, and a steel ball.)
Dan Grünberg, a junior at the University of Maryland, has worked at the Museum for almost three years. Today he's staffing the "America by Air" Discovery Station, which accompanies the exhibition of the same name. His cart is covered with models of the aircraft in the exhibition, a passenger window from a Boeing 747, and other bits and pieces that help illustrate the story of commercial flight.
Grünberg points to the Ford 5-AT Tri-Motor hanging from the ceiling at the Museum on the Mall, its corrugated aluminum exterior glinting in the sunlight. "This is one of the first planes to carry people commercially," he tells a group of young visitors. "The plane ride was very bumpy, and the bolts in your seat had to be tightened every once in a while, so your stewardess would carry a wrench in her pocket.
"Now, a lot of people hadn't been on planes before," he continues. "So people wanted to look out the window." Those who didn't have a window seat, he says, would go to the door to look out that window. "The problem was, there's no safety on the door," says Grünberg. "You could literally just turn the knob and open it."
The children look at each other, impressed by the thought of a door opening at 5,200 feet.
"So they had to put up a sign," Grünberg tells them, "saying 'It is dangerous to open up the airplane while it's in motion.' You guys think that would be common sense, but believe me, common sense isn't so common."
While the Discovery Stations sometimes include computers and other electronics, they're more likely to feature items from aerospace history: an astronaut's spacesuit, a space shuttle thermal tile, fabric from a vintage aircraft's wing.
"People are curious," says Wilson. "If we can show visitors the real thing and they have the opportunity to touch something and hear the story behind it, it's an added benefit to their visit."
As Bob Greene prepares for the next group of visitors to approach, he says, "It's a tough thing—and I think an important thing—for the Museum to appeal to children. And it's hard sometimes, particularly at Hazy where it's mostly just airplanes. So it takes working one-on-one to get kids to see what's going on. That's what's nice about the Discovery Stations. They really add something to the Museum."
Grünberg remembers one seven-year-old girl, an avid Harry Potter fan, who approached his station wanting help with a secret project. "She wanted to design a broom that flies. She whipped out a drawing with labels everywhere, and she had all of these concepts she wanted to know about. We talked for 15 minutes about her idea." He pauses, remembering the encounter. "You know, maybe she won't design a broom that flies. But she might become an engineer."