On Patrol at the World's Biggest Fly-In
What it's like to put on the orange vest at Oshkosh.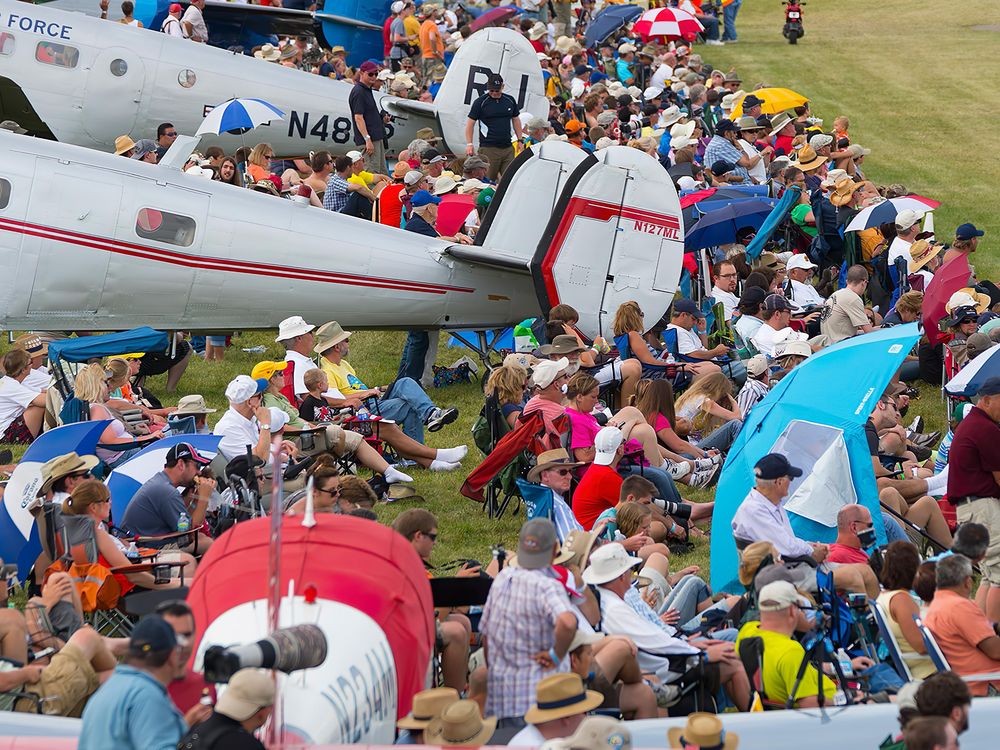 Riding my moped, I dodged a half million people at AirVenture 2018, the annual fly-in of the Experimental Aircraft Association in Oshkosh, Wisconsin. This is the ecstasy and the agony of Oshkosh: Nowhere else can you be around so many people who share your excitement about airplanes, and because of that, it can be hard to move. But my toughest day was the day almost no one was there. It was my first day—a rain-soaked orientation for a security temp—during which I learned why only golf carts patrol the 12,300 campsites of EAA's campgrounds. I also learned that a moped turning a corner in mud will fall over.
When crowds grow as big as they do at Oshkosh, a security detail's main task will undoubtedly be missing persons. I helped half a dozen EAA visitors find the ones they came with and, in the process, I learned something else—or, rather, relearned it. People from Wisconsin are nice. One, an amiable lady in her 80s on a four-wheel scooter, told me earnestly she "didn't know she was lost." Her husband had reported her missing after she—knowingly or not—had given him the slip. Obligingly, she stayed with me until they reconnected.
The great thing about working missing persons at Oshkosh was that most of the "yikes-where's-ma?" moments and the happy reconnections happened less than a football field away from the plaza where a couple billion dollars worth of aircraft were parked—among them, helicopters owned by the Army (an AH-64 Apache) and by the Coast Guard (the MH-60T and 65D); a C-5M Super Galaxy and its airlifter cousin, the C-17 Globemaster; a B-1B Lancer, the only U.S. bomber that can bust the Mach; and a shiny new F-35 Lightning II jet fighter.
I got to hang around these airplanes (ever watchful for people who looked lost) after answering a call from EAA earlier that summer for "limited time staff." Assigned to security, I told my wife that I'd been given the call sign 0014 because I was twice as cool as James Bond. This was partly a lie—my real call sign was Patrol 205—and I later regretted telling it, as I uncoolly wiped mud off my pants. But there were plenty of unquestionably cool moments, like moped-ing at night between aircraft parked in the EAA plaza near the flight line, each one drenched in floodlights, the plaza eerily empty of the throng that had swelled hours earlier.
And then there was Alphonse, a pilot from Mexico, who said he had planned to sleep under the stars. Alphonse had not realized that AirVenture was known for rain.
I met him one stormy night, sitting in a makeshift version of a Milwaukee restaurant—a metal-framed, plastic-wrapped eatery in EAA's North 40, so named because it is on the northern fringe of the grounds. The night airshow had been canceled due to weather, and I was looking for something to do. The restaurant was five minutes from where I had been assigned, and I still had more than a half hour left on my shift.
I spied Alphonse in the eatery at 9:50 p.m., as an announcement came over the PA speakers to "seek shelter" from the oncoming storm. This was about the time 40 mph winds were whipping the plastic walls. My supervisor arrived soon after.
The eatery manager had kept the place open an hour longer than she had planned. (Wisconsin. Nice.) But now my supervisor and I had to find Alphonse another shelter. We escorted him about 50 yards (in the hammering rain) to a spot under the overhang of the communal showers building frequented by North 40 campers. There we stayed until, after more than an hour of phone calls, a miracle happened, and anyone who has ever been to Oshkosh knows why I call it that: We found a vacant hotel room.
We communicated the good news and specifics to Alphonse through a long-distance phone call to Mexico, where his English-speaking friend translated. We made several such phone calls that night, first to understand Alphonse's circumstances, later to update him and his friend.
This was my one experience with a lack of language skills at AirVenture. What I saw more often was a lack of common sense. There was the time, while patrolling the flight line, that I had to tell a man to extinguish his cigarette—moments after a fuel truck had filled one of the aerobatic aircraft that taxied in to get gas. On the nights when my assignment was to direct vehicle traffic at the edge of the EAA grounds after the airshow finale and fireworks, I spent as much time directing pedestrians. Using the light saber of traffic cops everywhere—a flashlight with an orange-plastic pointer—I guided them from the middle to the sides of the road and may have kept a few from a too-close encounter with a car. Over the course of the fly-in, I scolded several visitors for brandishing beer cans. One woman turned her can upside down to show me it was empty. I pointed her to the nearby dumpster. (Nobody screws with Security, I thought, as she threw it away.)
But I couldn't stay miffed.
I was in the land of the airplane. More than 10,000 of them had come to Wittman Regional Airport and other airports in east-central Wisconsin. The magic of Oshkosh was clear in the early evenings, when pilots and crew spoke with aviation enthusiasts by their aircraft; when thousands cheered the arrival of Vietnam veterans on an American Airlines Yellow Ribbon Honor Flight; when 1,160 homebuilt aircraft, 1,094 vintage airplanes, 377 warbirds, 185 ultralights and light-sport aircraft, 75 seaplanes, 22 rotorcraft, 52 aerobatic aircraft, and 14 hot air balloons took to the sky over the course of the week.
Also I had the satisfaction of helping people. Like the boy, barely in his teens, who on the second-to-last day of the show made a wrong turn on the plaza and lost sight of his guardian. Feeling lost can be scary. But this is Wisconsin! Home of nice people. We soon found the boy's chaperone, and, after proving his identity, the man and his charge disappeared once more into the crowd.
Another case solved, I relished. And it was time to get back on patrol…back to the people—and the airplanes.