Lessons From the Aerospace Life: Networking is Important, Too
Chris Gabriel Lara, Structural Analyst, The Boeing Company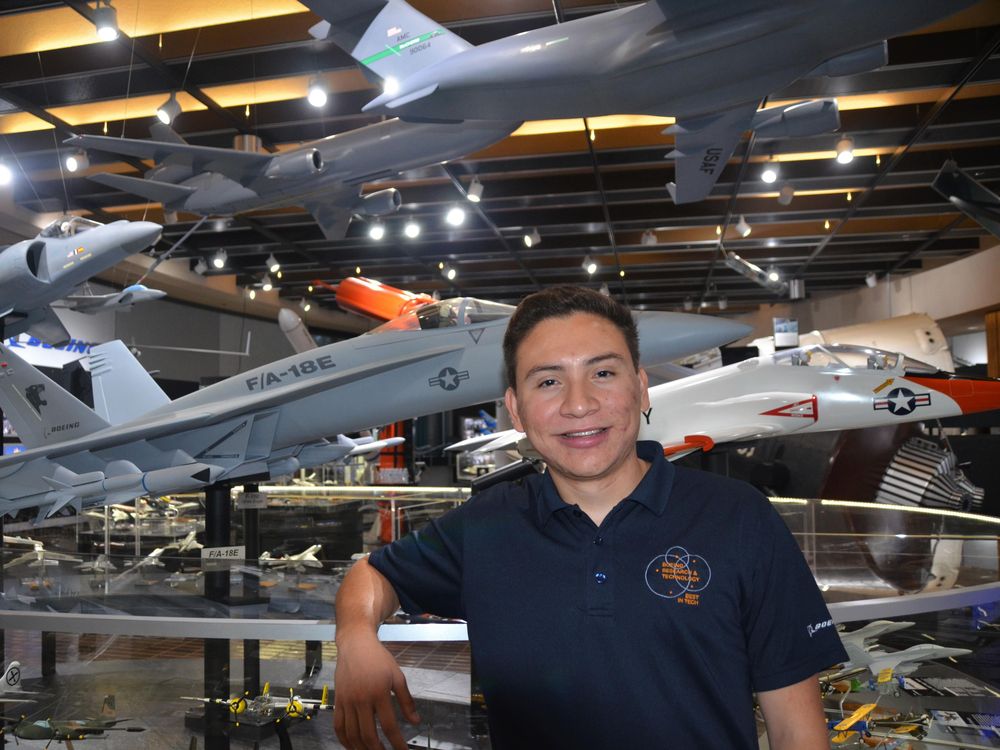 The job: Lara works in the Boeing Research and Technology (BR&T) structures department at the company's St. Louis facility, where he investigates materials and composites for building lighter and stronger aircraft. Lara has also worked on the electric-powered unmanned Cargo Air Vehicle (CAV), a prototype now undergoing flight tests, and Boeing's T-X, which is set to replace the U.S. Air Force T-38 Talon advanced trainer beginning in 2024.
The path: Lara attended Miami's Florida International University, where mechanical and material engineering students can take introductory courses in flight mechanics, the design and analysis of aerospace structures, and propulsion systems. The university offers a minor degree program in aerospace engineering, and Lara found ways to expand his studies. A friend suggested that he check out the Society of Automotive Engineers (SAE), which provides prospective aerospace, automotive, and commercial-vehicle engineers a chance to mix with industry experts and to compete in collegiate design competitions. When Lara spotted a drone flying outside FIU's engineering facility, he talked to the Aero Club member piloting it. Soon, he was helping design and build FIU's entry in the Lockheed Martin SAE Aero Design Competition. Before his sophomore year, Lara sought leadership roles in engineering organizations in aeronautics, including the American Institute of Aeronautics and Astronautics and FIU's Edge Lab, an advanced 3D printing and scanning lab.
Typical day: Lara compares data about composite materials against a variety of stress and failure scenarios—particularly compression tests under hydraulic presses and tests that measure a material's ability to withstand being pulled apart. Designers confer with Lara about which materials will perform best under given conditions. Lara blends assumptions, data, and the expertise of his colleagues to provide answers.
Best part of the job: "My group is a good mixture of young and experienced engineers, a combination of young and old, and it's great when it comes to working on projects," he says. "We go through a huge flow chart. Once we know our plan of attack, that's where we go the rest of the day. And once we make a part, we do the structural testing."
Advice for aspiring engineers: "Join professional clubs such as the Society of Hispanic Engineers (SHPE), Society of Women Engineers (SWE), or National Society of Black Engineers (NSBE). These clubs can help you network with professionals and meet alumni who were in your shoes and who can guide you to pursue your dream company." Through SHPE, Lara also learned how to market himself at conferences attended by thousands of engineering students looking for internships and jobs and key aerospace firms looking for the best talent. "It isn't all just technical," Lara says. "You have to be able to communicate everything that you've done."
The future: Lara hopes to finish a master's in mechanical engineering in the next five years "and hopefully take lead on projects," he says. "I'm also trying to get back into the 'space race,' so I will be looking for opportunities in Boeing Space." He shares the optimism of his architect father, who, he says, taught his children they can solve any problem and achieve any goal.
This edition of A+S NEXT was published in cooperation with Florida International University's College of Communication, Architecture + The Arts (CARTA).