Hurry-Up Satellites
These Pentagon mavericks want to launch spacecraft within a week of taking the order. Wish them luck.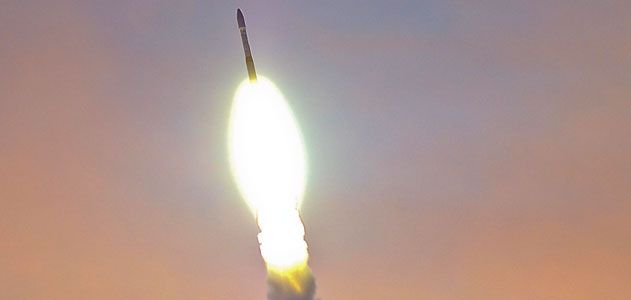 In June 2005, Lieutenant Michael P. Murphy was hunting down a Taliban leader in the mountains of Afghanistan when enemy bullets tore into the rocky crags around his Navy SEAL team. Forced into a ravine, they fought back, but they needed help. The surrounding ridges blocked their access to the geosynchronous satellite used to communicate with base. Murphy climbed to open terrain to get a better line of sight.
The call went through. But it cost him his life.
Could a different type of satellite—tailor-made for the particular demands of soldiers fighting in the Afghan mountains—have saved him from being gunned down? Peter Wegner thinks so.
Wegner directs the U.S. military's Operationally Responsive Space office at Kirtland Air Force Base in New Mexico. For the last five years, ORS has focused on building and launching small, cheap spacecraft on seemingly impossible schedules—within days or weeks of a sudden request, rather than the years it takes now. The office was instrumental in launching the Navy's TacSat-4 spacecraft, which rose into an Alaskan sunrise on September 27, 2011, and now carries a radio on a roller-coaster of an orbit, enabling communications in valleys where the sun hardly shines—the kind of place where Michael Murphy was killed.
In five years, however, Wegner's office has launched only one satellite that it can truly call its own, and now, having been zeroed out of the Pentagon budget for next year, is fighting for its political life. Congress may restore funding, but if it doesn't, the office will close at the end of September, bringing the quicksat revolution—or at least this particular attempt to bring it about—to a premature end.
Quick-launch spacecraft are not impossible. In 1982, the Soviet Union, wanting to spy on the Falklands War from space, launched 29 satellites in 69 days. "It's something the U.S. couldn't do then and couldn't do now," says James Wertz, president of Microcosm Inc. in Hawthorne, California, and founder of a long-running series of conferences on responsiveness in space.
Massive spacecraft with big solar panels, antennas, and sensors can, of course, do things that smaller birds can't. But they take years to develop, and if something breaks, years to replace. As mass grows, so does cost, says Lieutenant Colonel George Nagy, who leads Air Force Space Command's operationally responsive space division at Schriever Air Force Base in Colorado. "Someone designing a Boeing 787 will tell you the same thing," he says. So will the architects of the Pentagon's perpetually delayed Space Based Infrared System (SBIRS), who are placing a network of multi-ton early-warning satellites in orbit, for a price tag that has ballooned from $4 billion to $17 billion.
The idea of ORS originated within the Pentagon a decade ago, early in the war against terrorism. Suddenly there was a new class of customers for satellite data: officers too low in the food chain to be trusted with the keys to billion-dollar giants. In May 2007, the ORS office opened with a mandate from Congress to make satellites more responsive to the immediate needs of battlefield commanders.
The ORS office at Kirtland is beige with brown trim, like every other building on base. It's the size of a small-town community center, but here, if you lack security clearance, strobe lights flash in the hall. The street dead-ends at a chain-link fence topped with barbed wire, beyond which the seemingly infinite flightline spreads. Somewhere, helicopter blades beat the air.
In a conference room of another, smaller building, posters with titles like "Space-Based Plug & Play" are on display alongside an unerased whiteboard, a worn laser printer, and a leftover placard from the office's debut. During my visit last fall, this is where Wegner and his colleagues explained what they're hoping to do.
The ORS office isn't trying to invent spacecraft so advanced they can spot dandruff on a terrorist's shoulders or so capable they can eavesdrop on underground bunkers. ORS is about process—perhaps the most yawn-inducing word in the English language. For a certain class of small spacecraft, ORS wants to replace the traditional, multi-year, customized process of spacecraft development with one that enables near-instant gratification.
The speed will depend on the nature of the need. The ORS office would like to be able to reconfigure spacecraft or instruments already in orbit within hours of a commander's call for help—a capability they call Tier 1; launch new, cookie-cutter spacecraft within a week (Tier 2); or build and launch a customized spacecraft within a year (Tier 3).
None of those jobs is easy, says Wegner, a 42-year-old civilian with close-cropped hair and a salt-and-pepper goatee. The 60 people on his team are mostly engineers and scientists, plus a handful of administrators and contracting specialists. Budgets have been tiny by national security space standards—$111.5 million in 2012, down from $134 million in 2010, and a fraction of the $64 billion the U.S. government spent on space that year. Of course, the satellites conceived at Kirtland are supposed to cost less. But the team spends more time working out strategies than launching actual quicksats into space to demonstrate that it can be done.
ORS-1, which got the go-ahead in October 2008, was supposed to be that hardware. The idea was to put a U-2 spyplane sensor—a SYERS-2 multi-spectral camera—on a half-ton satellite. Goodrich Corporation, which makes the U-2 sensor, had pitched the idea, according to Charlie Cox, the company's special projects director. ATK would build the satellite bus. The aim was to finish the spacecraft in two years, as opposed to the three to five years a typical program needed.
The team shipped the ORS-1 spacecraft to the Wallops Island, Virginia launch site in 30 months and launched on June 29, 2011—not quite rapid response, but faster than most procurement cycles. The total cost: $229 million, including launch and two years of operations.
Standardization and simplification helped to shorten the production cycle. The ORS-1 team developed a one-size-fits-all payload interface, and modified the conventional U-2 ground receiving system so a new one didn't have to be designed from scratch. To operators in U.S. Central Command, the satellite camera works very much like the airborne sensor, Wegner says. The team also saved time by skipping certain tests, or running them concurrently instead of in sequence.
Mostly, though, what accelerated the program were changes in behavior. Typically, satellite buyers specify what they want, then make sure the contractor delivers. With ORS-1, the customer got whatever the satellite could provide. Pace, not perfection, was paramount. Technical reviews were cut way back. The ORS office told military organizations accustomed to exerting control over bigsat development to back off. "I don't have time," Wegner told them. "I don't have the budget."
Meanwhile, the ORS team was very hands-on with the contractor. Rather than popping in for occasional reviews, they resided at ATK full-time, building trust and speeding up decisions. With ATK and the program officials working side by side, it was easier to resolve such matters as how to handle contracts and security.
ORS-1, if not a true ORS spacecraft, was at least a beginning. And according to General William Shelton, who heads Air Force Space Command, field officers were pleased with the imagery it returned. "It was a war-fighting advantage, no question," he testified to Congress in March.
Now Wegner's office is focusing on a program called T2E, which stands for "Tier 2 Enabler." The roughly $200 million mission, also known as ORS-2, kicked off in December 2010. With T2E, the office aims to design and build a modular radar-surveillance spacecraft that can be placed on the shelf, waiting for a battlefield commander's call. When it comes, Wegner will start the clock; a week later, T2E will be in space. That's the idea, at least.
For spacecraft-in-a-week to happen, most of the work has to be done in advance—sometimes well in advance. One reason, says Wagner, is that the fabrication of some satellite components just can't be rushed. Radios, for example, use crystal oscillators tuned to different frequencies, and the crystals can take months to grow. "There's not a lot you can do" to speed up the process, he says, which is why the trick to rapid-response spacecraft increasingly looks to be storing key components ahead of time.
The ORS office envisions two basic types of plug-and-play spacecraft: one for reconnaissance sensors (visible, infrared, radar—it doesn't matter) and another for communications. The goal is to have payloads plug into the spacecraft bus in the same way that printers, cameras, and thumb drives plug into a computer's USB ports. The ORS team also plans to make the satellite body itself modular, using aluminum panels of standard shape and size. Wallis Laughrey, director of advanced concepts for space and directed-energy systems at Northrop Grumman, which is building the T2E bus, says this alone can shave months off the build time.
The ORS program's sole bit of industrial infrastructure is its Rapid Response Space Center, nicknamed Chile Works (a nod to Lockheed Martin's famed Skunk Works and the local delicacy). A short walk from the ORS office, it's Lilliputian by aerospace standards—roughly 1,300 square feet of a converted hangar. Inside a glassed-in clean room is a hexagonal mockup of T2E, its body panels the color of brass, and a facsimile of a synthetic aperture radar made of gray-painted wood and aluminum tubes. Everything here—from the desk chairs to the clean-room enclosure itself—is on wheels for quick reconfiguration.
Reconfiguring is, unfortunately, something the ORS team is all too familiar with these days. There's no guarantee now that T2E will even fly. The Department of Defense budget request for 2013, released in February, eliminated the office, instead giving a few million dollars here and there to larger projects like the SBIRS missile warning satellites to incorporate the lessons learned from ORS. "The concept of ORS is not going away," Shelton insisted at a Congressional hearing. "It's just that we won't have a dedicated office."
While the ORS faithful hope Congress will restore funding (a few lawmakers stuck up for the program during the hearing), they concede that's a long shot. They've always known that their aim of speeding up spacecraft development is "an affront to many," as Wegner puts it. If they seem like rebels or cowboys, he adds, "it's just that we really, truly believe that some of these kinds of capabilities can be built pretty quickly and pretty inexpensively and can save lives."
Brigadier General Kevin McLaughlin started the ORS office, and is now director of space operations for the Air Force in Washington. He thinks that dividing the program's objectives into three tiers—all of them challenging—caused political problems. "To be honest, I think what has hurt the program has been that lack of objective at senior levels."
The lack of hard results has been another mark against ORS. While unmanned aerial vehicles and other new tools were proving themselves on the battlefield daily, ORS spent a lot of time thinking through procedures. Even though "they've stretched not much money a long way," says McLaughlin, it was never clear whether the office "should start doing these Tier 1-2-3 tasks the next day, or whether this was a 20-year journey."
To realize savings down the line, the ORS concept requires up-front investment—never an easy sell in times of tight budgets. Millions of dollars' worth of plug-and-play sensors, radars, radios, and other equipment will have to be stockpiled—and wait months or years on shelves in Albuquerque. Right now, "the government doesn't have the stomach for things on a shelf," says Brendan Regan, ATK's vice president for space mission systems.
But there remains a need for what ORS is selling, says Colonel Carol Welsch, acting director of the Air Force space development and test directorate. The imperiled program shows promise not only in making short-order satellites possible, she says, but also in moving new technology from the lab to the battlefield more quickly. "If [ORS] went away," asks Welsch, "will there be some other way we could do that?"
Todd Neff is a Denver writer and author of From Jars to the Stars: How Ball Came to Build a Comet-Hunting Machine (Earthview Media, 2010).