Hunting Zeros
Finding an airworthy Zero is not easy these days. In fact, you can count them on one hand.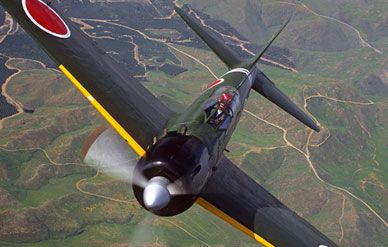 Finding Mitsubishi A6M Zeros that remain able to fly is a rare thing these days. Time and American airpower made the Zero, a staple of the Japanese air force during World War II, a highly endangered species. Nearly 11,000 Zeros have dwindled to only two airworthy specimens: The Commemorative Air Force flies one, and the Planes of Fame Museum in Chino, California, flies the other.
"From the late '30s right up to maybe 1943 in the Pacific Theater, we couldn't really compete against it, until our F6F Hellcat," says Steve Barber, wing leader of the Commemorative Air Force World War II museum in Camarillo, California. Barber pairs the American and Japanese fighters in mock dogfights at airshows. Despite original landing gear, cockpit, and most instruments, the museum uses a Pratt & Whitney R1830 radial engine.
"Of course, the first ten Zeros which flew had American engines," says Barber. "Since we were nice enough to sell Japan some Pratt & Whitney engines, they turned around and essentially copied them, which is why the parts are nearly interchangeable today."
He marvels at the Zero's nimble moves, yet he compares them to tin foil. "You can just touch the Zero and then the Hellcat, and see the difference in philosophy," Barber adds. "The Japanese government didn't care if the pilot survived. They were looking for climbability and maneuverability."
The Zero had no bulletproof glass. Japanese pilots only had a single piece of armor plating behind him, affording little protection. Even more dangerously, a Zero's fuel tanks were not self-sealing. "If you hit it a Zero with a tracer, they'd almost always catch fire," Barber says. ("The Niiahu Zero," July 2007)
The Mitsubishi A6M5 Zero No 61-120 at Chino flies with its original 1,200-horsepower 14-cylinder Nakajima Sakae 31. Though stripped of working weapons, its paint and markings are the same as the day it defended Iwo Jima. The Zero was among 12 captured on Saipan Island in June 1944 by U.S. Marines.
No 61-120 was shipped to the Naval Air Station at Patuxent River, Maryland, where it was evaluated by 25 test pilots. Today the Zero flies only once a year, at the Planes of Fame air display each May.
At nearby Van Nuys Airport, Ted Thomas may soon double the population of flyable Zeroes. David Price of the Santa Monica Museum of Flying had sent three Zeros to a Russian contractor for restoration, one of which went to the Commemorative Air Force when Santa Monica closed for renovation. The two sister Zeros are now held by Thomas at Van Nuys. One is destined for the collection of Microsoft billionaire Paul Allen. Thomas has nearly completed the other restoration, which will debut on the airshow circuit. Like the CAF Zero, however, the pair wear re-skinned fuselages and will fly with Pratt & Whitney engines.
Fantasy of Flight in Polk City, Florida, displays a Zero largely as it was found as a jagged and corroded wreck at Rabaul, in the South Pacific, but director Kermit Weeks calls it "the basis for a flyable aircraft." Bloggers for the factory museum at Mitsubishi Heavy Industries in Komaki, Japan, say its display Zero should not be considered permanently grounded either.
There's several impostors flying, such as the last of 25 U.S. AT-6 Texan "Zeros" crafted in convincing-enough detail to fly in a blockbuster or two, though bloated when compared to the svelte original Zero. And the Canadian version of the AT-6, the Harvard Mark IV, which Japanese Zero Airshows cast as an A6M2-21 Zero right down to the 7.7 mm machine guns, Zero-style tail hook and retractable tail wheel in the 2006 History Channel documentary, Days That Shook the World.
Deterioration of the CAF's previous flyable Zero drained the resources to keep it aloft. It is now a static display at the Pacific Air Museum.