How to Be a Space Tourist
Beth Moses, the chief astronaut instructor at Virgin Galactic, will train the people who want to fly on SpaceShipTwo.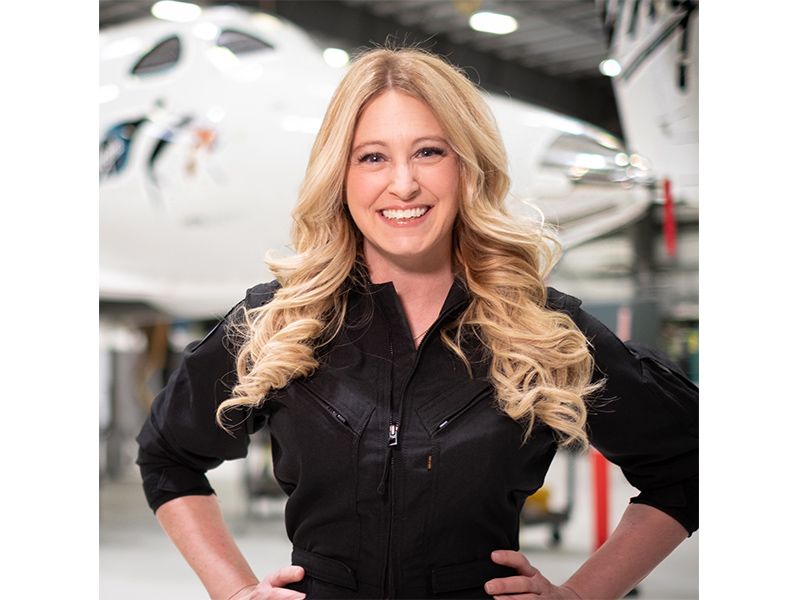 On February 22, 2019, Beth Moses embarked on her first test flight aboard SpaceShipTwo, which was flown by David Mackay, Virgin Galactic's chief test pilot, and Mike Masucci, the company's lead trainer pilot. The successful launch gave Moses the distinction of becoming the first female commercial astronaut. "It happened because I dared to dream big," says Moses.
As Virgin Galactic's chief astronaut instructor, Moses is responsible for designing the training program, equipment, and facilities at New Mexico's Spaceport America to prepare space tourists to journey aboard SpaceShipTwo. Moses is also responsible for developing cabin procedures and leading the cabin test system. These duties require her to blend engineering with ergonomics, and her test flight provided her with the empirical data to refine the curriculum. Karin Leperi, a writer and photographer with bylines in over 150 outlets, interviewed Moses in May.
Leperi: How did you get your current job?
Moses: One day while working for NASA [as the extravehicular activity system manager for the International Space Station], I heard that Virgin Galactic was hosting a movie premiere at Spaceport America [in southern New Mexico] and seeking volunteers to tidy up the building, which was still under construction. I had been following the commercial space industry, and was thrilled at a chance to see Spaceport America before it was open. So I signed up for the event, took vacation, and did odd jobs [there] for a few days. I clearly recall one moment on the second floor, looking over the runway: I had a vision of the spaceport in full bloom, launching people to space regularly. I was hooked. One night, I searched online for job openings at Virgin Galactic. I spotted chief astronaut instructor. I applied that night, and was ultimately hired. The hardest day of my career was leaving NASA, but the best day was being hired by Virgin Galactic [which aims to be the world's first commercial passenger spaceline before the end of the year].
Tell me about your February 22 test flight to suborbital space.
I was privileged to be the first person selected to fly to space, unstrap, and evaluate all aspects of the SpaceShipTwo cabin. I constructed that test and trained myself for it alongside several independent, expert observers—a first test of both our commercial training program and a preliminary bare-bones version of our cabin.
The idea was to safely unearth any surprises associated with flying in the cabin, unstrapping, and strapping back in. The test went like clockwork. Thankfully, there were no showstoppers, but there are many small improvements that can be made. I'm rolling those into upcoming cabin tests, and I hope to reduce the total number of tests needed before commercial service.
Can you describe the passenger experience for future space tourists aboard SpaceShipTwo?
On launch day, you'll arrive around sunrise with your fellow astronauts. You'll take your seat, check your comm, and get comfortable. The cabin is roomy and bright, with 17 large windows. The mothership will take off from the runway like a normal airplane and carry you up to launch altitude, where you'll hear a countdown—"3, 2, 1, release." You'll freefall for a moment. Then the rocket motor lights, and you are pushed backwards in your seat as SpaceShipTwo goes supersonic. The cabin turns a murky purple as you leave the atmosphere, and then you are lying on your back riding a rocket going up and up. The motor stops, and everything is silent. You are now weightless. You can unbuckle and float around and find your favorite window while the spacecraft coasts upward until it reaches apogee, where you can see Earth's curves and the sky is darker than black. Slowly, you begin to descend, and the pilots will ask you to float back to your seat. You'll be pressed down slightly as the ship enters the atmosphere. The sky turns blue again, and you glide back to the same runway you launched from.
Are there any height, weight, or age restrictions?
Nothing drastic. We aim to open space to all. There is no upper age limit, but due to [Federal Aviation Administration] regulations those signed up at a younger age must wait until they are 18 to fly. The seat has an upper weight limit too, but you are unlikely to be too heavy unless you are a sumo wrestler.
Did your trip to space give you a new perspective about life on Earth?
I have found an increasing sense of relaxation: Does it really matter if someone is being prickly in this meeting? Nah. We're all just people. My trip to space has also given me a new sense of belonging. I am a human on the Earth—that's huge and amazing. I am a human on the Earth—that's tiny and insignificant. I am simply—gratefully—a human on the Earth. We all are. And we all belong.