Home on the Plains
Gus Grissom's Mercury capsule settles down in Kansas.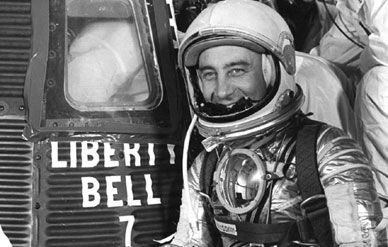 Seven years after it was fished from the bottom of the Atlantic Ocean, Gus Grissom's Liberty Bell 7 capsule takes up permanent residence this week at the Hutchinson, Kansas museum where it was painstakingly restored.
The Mercury-era capsule, once dubbed the "lost child" of the space program, has been on a six-year nationwide tour at museums in Boston, Cape Canaveral, Florida, Chicago, Denver, Phoenix and St. Louis. Now it finds a home – at last – in the Kansas Cosmosphere and Space Center, starting September 19.
"It's like welcoming back an old friend," says Jeff Ollenburger, the museum's president and CEO, who expects 225,000 visitors to see the exhibit over the next year. "There are so many fascinating angles to this story that spans four decades, from the original flying of it, to the tenacity to look for it, to the difficulty of restoring it."
Piloted by Grissom, Liberty Bell 7 spent only 15 minutes in space. Launched on July 21, 1961, from Cape Canaveral, it splashed down 302 miles away in the Atlantic. It began to fill with water when its hatch, with explosive bolts, blew off – inadvertently, Grissom insisted and NASA eventually determined. Grissom was rescued, but the capsule sank to the ocean floor.
It wasn't until July 1999 that the capsule – minus its hatch – was found and recovered on a Discovery Channel-funded expedition led by marine engineer Curt Newport, of Potomac, Maryland, who develops and operates robotic underwater vehicles.
Restorers at the Cosmosphere then spent eight months getting the capsule ready for its national tour. They sifted through more than 50 gallons of debris in search of missing spacecraft components and removed, cleaned and replaced more than 25,000 parts. Grissom – or someone – had stashed plenty of souvenirs; restorers found cigarette butts, a disposable plastic cap, a motel-room bar of Dial soap, five $1 bills and 52 Mercury dimes.
"The toughest part was making sure the original pieces were disassembled and cleaned," says Ollenburger. "Seawater is incredibly corrosive and we were risking long-term damage if we weren't careful."
The national tour began in April 2000 and ended September 16-17 with a stop at the Kansas State Fair in Hutchinson. For the next few months, museum visitors will see the capsule inside its traveling plexiglas display case, which helped protect it during the national tour, Ollenburger says. An official unveiling, with the capsule on permanent mounts, is planned for early next year.
With the addition of Liberty Bell 7, the Cosmosphere joins the National Air and Space Museum in Washington, D.C., and Space Center Houston as the only museums with flown manned Mercury, Gemini and Apollo spacecraft in a single location. The Cosmosphere also houses the Gemini 10 and Apollo 13 capsules.