Helicopter Missions: Vietnam Firefight
The incredible story of how two Huey pilots and an engineer saved more than 100 South Vietnamese troops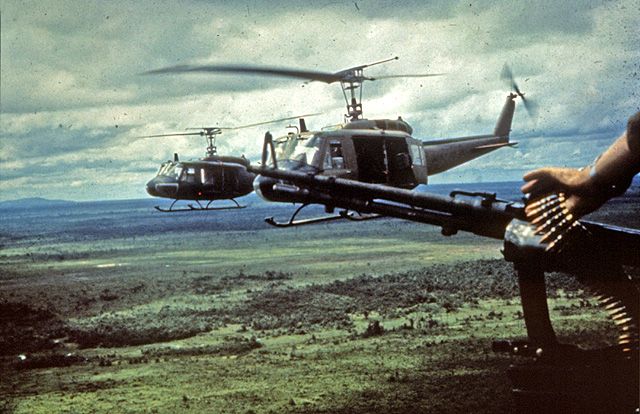 In 1966, Second Lieutenant Larry Liss was on the Czech-German border during a snowstorm, freezing his varlata off, when he saw something beautiful. It was a Bell UH-1 helicopter, still on the ground. The pilot—who was wearing short sleeves and drinking a cup of coffee—took one look at Liss and shook his head. "He said, 'You're such a jerk'—he used other words; I'm trying to keep it clean—" recalls Liss more than 40 years later. "I said 'Why?' He said, 'Look at you. You're freezing your ass off, it's snowing, look at me, I'm warm. You should sign up for helicopter training.' " So Liss did.
Four days later he was stateside. Because of a pilot shortage, the U.S. Army had created an accelerated training program: Four months primary instruction at Fort Wolters, followed by advance training at Fort Rucker. The first five hours were spent learning how to hover. "My whole class," says Liss, "was able, after a couple of hours, to take the helicopter up to a hover. I was already in the ninth hour and still couldn't hover. And you have to solo in 10 hours. So I'm beginning to panic." Out of 84 pilots, Liss was ranked 82.
But this self-described "really bad pilot," along with pilots Tom Baca and Jack Swickard, and engineer Al Croteau, went on to save more than 100 South Vietnamese troops ambushed by the North Vietnamese Army—using an unarmed VIP Huey. Their heroic story is the subject of the Smithsonian Channel film "Helicopter Missions: Vietnam Firefight."
It was May 14, 1967, and Baca had just 12 days to go in-country when he and Liss get the call about a group of soldiers that needed rescuing. "We were the only helicopter there," says Baca, "and they needed our help. We were not going to say no." When they got to the coordinates, they realized there was no landing zone; tall bamboo covered the area where they were meant to set down. Baca and Liss decided that the lack of a landing zone wouldn't slow them down: they decided to use the Huey's rotor blades to slice through the bamboo canopy. "We were a lawnmower, basically," recalls Baca. Fully aware that damage to the underside of the rotor blade could cripple their helicopter, the two carved out a landing zone and set down. They picked up six casualties and headed back to camp. On the 15-minute ride, they got another desperate message: The remaining men were pinned down by a battalion of 600 men, and the entire company needed rescuing. It took Baca and Liss, along with a second helicopter piloted by Swickard and engineer Al Croteau, 11 hours to evacuate the men. On their final run, the defense perimeter was under the rotor blades.
In the film, the men return to the scene of their amazing rescue four decades later.
"Helicopter Missions: Vietnam Firefight" is available on demand from the Smithsonian Channel. Check your local listings to learn more.