Have Jokes, Will Travel
Backstage stories from Bob Hope's USO tours.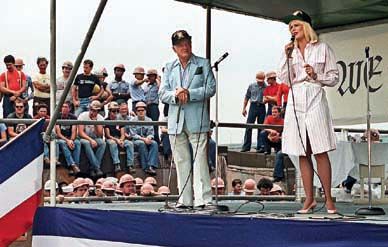 In 1941, Bob Hope was asked to perform his popular radio show at March Field, an Army Air Corps base in Riverside, California. As Hope wrote in his 1974 book The Last Christmas Show, the opportunity was too good to pass up. "A captive audience with military police guarding the gates so they can't get out? I said yes and it was one of the happiest yeses in my life."
Hope would spend the next 49 years entertaining the troops, in the U.S. and overseas, reaching hundreds of thousands of people. His trips called for extensive planning, and required the help of hundreds of pilots and crew chiefs, mechanics, wing duty officers, and many others. We'd like to hear from veterans who helped take these USO shows on the road.
Got your own story about Bob Hope? Drop us a line using the comment form below.
Al Iller was a 34-year-old captain with the 62nd Aviation Company when Hope visited Vinh Long in 1964. Iller returned to Vietnam for a second tour of duty in 1967, and retired from the Army in 1978.
I was the executive officer of the 62nd Aviation Company. There were two aviation companies and attachments stationed at Vinh Long. We were told that Bob Hope and his troupe would arrive there on Christmas Day [1964], so naturally there was a lot of planning, security, and so forth.
The day was very bright and warm, and there were big billowy clouds in the sky. It was a perfect setting. Part of the security was to have some gunships aloft during the performance and through the departure of Bob Hope's troupe. Those gunship crews weren't able to see the show except from way up above.
These were armed UH-1 aircraft. They carried eight-shot rocket pods on each side, plus flexible machine guns, two of which were mounted on each side; the guns could be moved up and down, and right and left.
There were at least two aircraft airborne at all times. It was classified as top secret at the time for security reasons; it was very hush-hush.
Bob Hope worked a joke into the show referring to [Major] Tom Anderson. During Bob Hope's general banter with Janis Paige, Janis commented, "These guys are so lonely for girls that the MPs searched our aircraft for stowaways. They found two Marines and Major Anderson!" Naturally there were hoots and hollers from the crowd. Bob Hope replied, "Major Anderson is so due for a leave his oak leaves rustle!" (Major insignias are gold oak leaves.) Hope then turned to the crowd and said, "For colonels I say their eagles flap their wings."
At the conclusion of the show, Anita Bryant sang "Silent Night," and I don't think there was a dry eye in the crowd.
Gary Arney was a star-struck 19-year-old Private First Class when he served as security escort to comedienne Phyllis Diller on board the USS Bennington in 1966.
I heard about Bob Hope's visit the day before from a sergeant. He wanted to assign people [as security escorts] who weren't going to be on duty at the time. I happened to get Phyllis Diller, which was an honor. She was one heck of a nice woman.
She was really funny all the time, always cutting up. She treated everybody with a lot of respect. She was just great to be around. And that laugh of hers…I can't get over that.
I took her from the wardroom to the stage and then back to the room she was staying in, down in Officers' Country. I stood by in case she needed anything and to make sure no one bothered her.
When Bob Hope came out on the stage he saw the first two rows or so were officers. He looked down at them, and he told them to get up and get to the back, and for the enlisted men in the back to get in the front, and then he'd start the show.
Another time, the officers had a wardroom set up for him to have dinner with them and, well, he refused and went down to the mess hall with the enlisted men and had dinner and signed autographs. He said, "This show was for the enlisted, with all due respect."
He was a great man. I don't think he's gotten enough recognition for what he's accomplished and done in his life.
In 1966, A.E. "Al" Rowley was the supply officer on board the USS Bennington when Bob Hope and his troupe paid a holiday visit.
The USS Bennington was an anti-submarine carrier. There were probably 3,500 to 3,600 men on board. Of course there was not a submarine threat in the Vietnam War, at least not one we were concerned about, but we were constantly training for that mission.
Our planes were anti-submarine patrol aircraft, which were used to survail the shipping that was going in and out of Haiphong Harbor. Our station was about 35 miles away, and our planes were just minutes away; they could get there in just six or seven minutes, so we had aircraft over Haiphong Harbor 24 hours a day, 7 days a week.
Our helicopter squadrons were used as search and rescue aircraft. The attack carriers were further out; they were about 125 miles off the coast. They were the ones that were flying raids over North Vietnam. Every time there would be raids going over North Vietnam, our attack helicopters would be in the air, on station along the coast, so that if any of the attack aircraft or reconnaissance aircraft were shot down, the pilots would attempt to get out to the coastline.
We were going to be in the South China Sea over the Christmas holidays, and we learned that Bob Hope was coming to the Bennington. So it was going to make that holiday kind of special—very special. Senior officers with staterooms had to give them up to the stars of the troupe. A list was sent out of who was going to be giving up their staterooms. I gave up my stateroom to Miss World 1966, Reita Faria, for three nights. She was a very quiet, very dignified lady.
Singer Vic Damone was in the ship's navigator, Harry Irvine's stateroom, and I had a chance to spend some time with him. He was very charming and open, but it was an absolute obsession of his to make sure that nothing would happen to cause him to lose his voice. He was constantly spraying his throat with a little atomizer, and there was a fan in the stateroom, one of those oscillating fans mounted on the bulkhead. He wanted to make sure he wasn't in the air blast of that fan. I think he might have even asked to have it turned off. He really guarded his throat.
After the troupe departed, I thought, Well, wait a minute. I'm going to have the steward that takes care of my stateroom fold up the sheets and save them. I had them stenciled "Miss World Slept Here," and they were auctioned off at the next Navy Relief Fund Drive.
Grant Anderson was a 20-year-old corporal when assigned the enviable duty of guarding Joey Heatherton when Bob Hope's troupe came aboard the USS Bennington for a three-day visit.
Our First Sergeant called all of us in, and he said, "OK, I have assignments for you guys," and he started reading them off, and when I heard I was going to be Joey Heatherton's security escort, I said, "Wow! How did that happen?" Here I am in Vietnam and I'm getting this type of assignment. It was the highlight of my time in the military, being assigned that type of duty.
Joey Heatherton [was a little bit airsick]. She wasn't used to flying in a helicopter, plus the ship kind of rocked and rolled too. It could be pretty rough at times. She was very quiet. One night she couldn't sleep and she came out and we just sat there and talked. She wanted to know if I could get her a Coke somewhere, and I said I might be able to get you a Coke, but I certainly couldn't get you any ice. I did get her a Coke from the mess hall, and she was better at that point.
I stuck to her like glue. Everywhere she went, I went. I stood guard outside her cabin, I walked with her wherever she went throughout the whole ship, I even stood by the stage and waited for her to finish and walked her back to her cabin.
I had to keep 2,000 or so sailors and Marines away. That was very hazardous duty, especially when the officers tried to use their authority to get by me. They would give me all these silly reasons as to why they needed to talk to her—that they were part of the show, they wanted to set up a schedule for eating arrangements, and I said, I'm sorry, my orders are that nobody is to contact her directly, and that means nobody. A Marine takes his duty very seriously and I did.
After they left it was back to business. Back to doing our war thing.
When Bob Hope's troupe was scheduled to perform at Cu Chi in Vietnam in 1967, they got a little help from Robert D'Agostino, a 33-year-old warrant officer with the U.S. Army.
It was Christmas 1967. I was sitting in the Thunderbird Lounge, our little club at Cong Ly Villa, having a couple of beers with Charlie Prather. The Commanding Officer came in, and he was kind of upset, and we asked him "What's up?"
He said, "Oh, I've gotta get up at 4 o'clock and transport Miss America from this forward firebase to Cu Chi in time for the Bob Hope show."
So I spoke up and told him, "Well, you just need a couple of good warrant officers to take care of that. We can do it better than a commissioned officer." So he said, Ok, you've got the mission.
We were flying a UH-1. We left about 4 a.m. out of Bien Hoa to fly up to the firebase. It was pre-dawn when we got there. Miss America, Jane Jayroe, had stayed overnight with some of her people—you know, the entourage that goes along with her: the runner-up, a couple of other beauty queens, publicity people, and a cameraman. We waited until sun-up to take her from the forward firebase to Cu Chi. We had to be at Cu Chi at a certain time because the show was starting. She and her crew got on, and we took off and gave them a brief discussion of what kind of area we'd be flying over, and don't get upset if you see some flashes or something, we're high enough that small arms [fire] will not get us.
We landed at Cu Chi, dropped them off, and left. We didn't get to stay there and chitchat or anything, we had to report back.
You know, I was there for two years in Vietnam, and Bob Hope visited both years I was there, and I didn't get to see either of his shows.