Göring's Nephew
A bizarre case of mistaken identity almost cost a World War II B-17 commander his life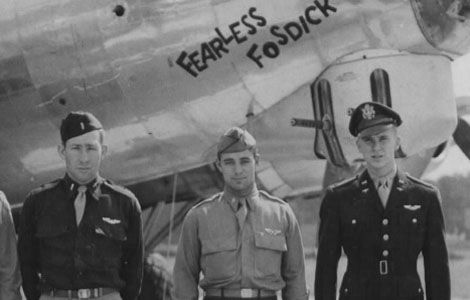 Was Hermann Göring's nephew a B-17 commander with the U.S. Army Air Forces during World War II?
USAAF Captain Werner Goering certainly thought he was related to the infamous Commander-in-Chief of the Luftwaffe. The American Goering was born in Salt Lake City, Utah, in 1923, shortly after his family emigrated from Germany. His father, Karl, often boasted to the local German-American community and to his family that his younger brother Hermann was a World War I fighter ace and adviser to Adolf Hitler.
According to Stephen Frater (whose new book, Hell Above Earth, St. Martin's Press, 2012, tells Werner Goering's bizarre tale), when the United States entered the war in December 1941, Werner enlisted, completing flight training in Santa Ana, California. But his military career stalled when intelligence officers realized the implications of having a Goering in command of a B-17.
After an FBI investigation, Werner was allowed to serve—under one condition, which was kept hidden from him. His co-pilot, First Lieutenant Jack Rencher, had orders to kill Werner should the B-17 be forced to land in Europe. Under no circumstances could Werner be captured alive, for fear that he would be used for propaganda purposes by the Nazis.
The men were assigned to the 303rd Bomb Group, Eighth Air Force B-17 squadron based at Molesworth, near Cambridge, and bonded during training, eventually becoming best friends.
The crew's B-17, Teddy's Rough Riders, was nearly shot down on November 21, 1944, over the Leuna chemical complex in eastern Germany. Hit hundreds of times by flak, with two engines gone, the aircraft slowly limped home. Rencher waited for Werner to give the command to bail out; once he did, Rencher would have to assassinate Werner and take control of the aircraft. At the last possible moment, the men spotted the English Channel. They had made it.
In the course of writing his book, Frater discovered that Hermann Göring and Werner Goering were not related after all. It seems that Karl Goering's kinship claims had been nothing more than a way to gain recognition in Salt Lake City's German community, and he would never know that his false claims almost cost his son his life. When Frater learned that there was no relation, he immediately called Werner. "His response was calm, muted, and, I believe, profoundly grateful," he recalls.