Museum's Only Surviving Aircraft From Pearl Harbor Is Now on Display
In 1941, this cargo plane went into combat.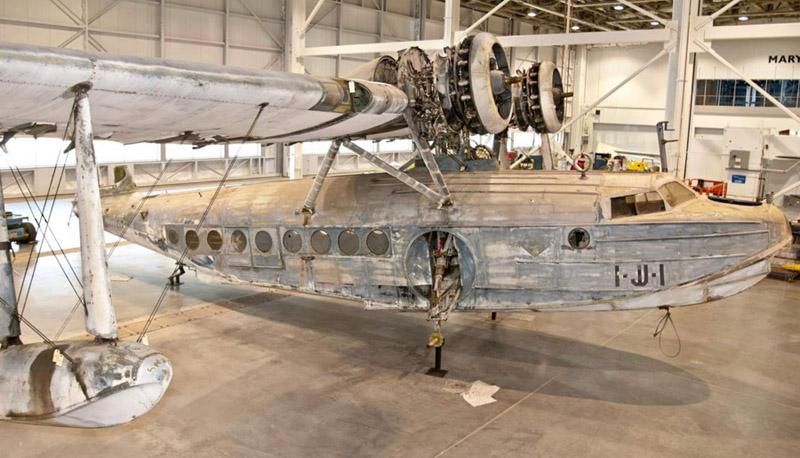 It was the station wagon of its day. The Sikorsky JRS-1 "did all the boring jobs that needed to be done," said National Air and Space Museum curator Laurence Burke, in a talk given yesterday at the Museum's Steven F. Udvar-Hazy Center. Among the mundane tasks given to the amphibious transport were delivering the mail, shooting aerial photography, and towing targets for anti-aircraft practice from battleships and cruisers. And it may have been the JRS-1's pedestrian duties that saved its life when the Japanese attacked Pearl Harbor on December 7, 1941.
The first wave of the surprise attack aimed to destroy as many parked aircraft as possible, concentrating on combat aircraft. The second wave targeted battleship row. And by 9:50 a.m., just five minutes after that second wave hit, the big Sikorsky was in the air, heading north in search of the Japanese fleet. A copy of the flight log shows that the JRS-1 went out with a crew of four: a pilot, co-pilot, a radioman, and a fourth passenger that the Museum has not yet identified. Because the aircraft wasn't meant for combat, it carried no ordnance; as the men boarded the aircraft, they were handed two bolt-action Springfield rifles. "Just imagine that," said Burke quietly. "You're going after multiple Japanese aircraft carriers with very good fighter planes, and you've got two guys sitting in the back doors, armed with World War I-era rifles."
The JRS-1 is the sole survivor of its type, and the only Pearl Harbor-related aircraft in the Museum's collection. Until recently it was on display in the Mary Baker Engen Restoration Hangar at the Udvar-Hazy Center. Because the aircraft's final treatment plan—the decision on how it will be conserved or restored—won't be finalized until after 2020, the JRS-1 was moved to the floor of the Boeing Aviation Hangar, where visitors can now see it up close. You can watch Burke's entire talk, below.