Glenn Curtiss Slept Here
Has Hammondsport, New York, done right by its most famous citizen?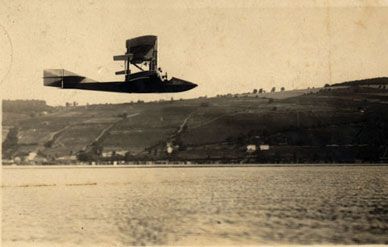 The autumn sun has set. Paul Geisz Sr. and I have spent about 20 minutes trekking through the thick brush along the south shore of Keuka Lake, in upstate New York. Behind us, bulldozers sit silently after another day of work demolishing the old Garrett Warehouse in preparation for 26 new lakefront condos. Nothing looks particularly historic here; there's no sign telling visitors that on March 12, 1908, on the frozen surface of this lake, the Red Wing, the first U.S. airplane designed and built by someone other than the Wright brothers, took off on its first flight.
Wetlands block our way ahead, so we double back to my rental car and head south. We turn into the Hammondsport Junior-Senior High School parking lot. Now we're surrounded by parkland; about 100 feet from us is the lake. By this time it's dark, and the rising moon flickers on the surface of the water. Here, at least, there are a few signs of resident Glenn Curtiss' accomplishments. You can make out an airplane mounted on a pole several feet from shore. It is a model of the Curtiss A-1, the U.S. Navy's first airplane. Next to Geisz and me is a short flagpole in a black, angular stone base about four feet tall. Carved in it are Curtiss' major accomplishments, along with the dedication date: July 4, 1978, exactly 70 years after Curtiss flew the third airplane he designed, the June Bug, and won a Scientific American trophy for making the first public flight of at least one kilometer. The base also notes Curtiss' 1906 speed record on a motorcycle (136 miles per hour), his invention of the floatplane and more.
"It's not much of a monument," says Geisz, a former cop from Philadelphia in his late 60s who moved here after he retired.
"Well, the Wright brothers were first," I reply. At the spot where they made their 1903 flight, atop Kill Devil Hill in Kitty Hawk, North Carolina, there is a grand 60-foot-tall Art Deco monument, paid for by the U.S. government.
"He flew a kilometer," Geisz says—almost 3,300 feet. "They flew yards."
"But they did it five years before he did."
"The one who really flew first was Langley. Did you ever see his airplane?"
"Not up close."
"The shot of him flying."
"Where?"
"Into the Potomac," he says.
"Oh yeah, I've seen that one." It dates back to 1903, just before the Wrights' first flight. Smithsonian Secretary Samuel Langley's Aerodrome arcs off its houseboat catapult and goes right into the river. That's not flying; it's more like plunging. But never mind.
There's no use arguing about it. The Curtiss people always think they're right. I'm a Wright guy.
---
Keuka Lake lies on the edge of Hammondsport, New York, the quiet village where in 1878 Glenn Hammond Curtiss was born. (Though he was not a descendant, he was named after village founder Lazarus Hammond.) Curtiss was raised here and in Rochester, and it was in Hammondsport that he built and rode motorcycles, designed and constructed early airplanes, and now lies buried alongside his wife and sons. But unlike Kitty Hawk or Dayton, Ohio, where images of the Wright brothers are everywhere, little in Hammondsport indicates Curtiss' presence. At the Glenn Curtiss Museum, which is located outside of town, executive director Trafford Doherty says: "Hammondsport could have done a little more for the favorite son. Not even a statue" pays homage to Curtiss in the village. The grade school bears his name, but it's nowhere on or near the building. The city's phone directories are mostly filled with listings for all the wineries in the valley. This is New York wine country. That's what brings tourists to Hammondsport every summer. Not Glenn Curtiss.
Now a group wants to change that. For starters, Curtiss supporters hope to fly the museum's replica of the June Bug in 2008, on the 100th anniversary of that flight. But beyond that, the group, the Friends of Hammondsport, wants to build an 11-acre Glenn H. Curtiss Memorial Park along the southern shore of Keuka Lake. They envision erecting a wrought-iron gate at the entrance, as well as a wall with the names of Curtiss, his family, and the people who worked with him and flew his machines in those early days of aviation. Something substantial. After all, the lake is where Curtiss and his team made history.
Carl Slater, an 82-year-old Hammondsport native, says his father (born in 1894) would ride his bicycle down to watch men tinker with an early airplane. "Curtiss needed a part from his shop," Slater says, "and he had no transportation, so he asked Dad if he could borrow his bicycle. He borrowed it and rode it up there. Here is a master of all transportation, and he has to borrow a bicycle from a local kid. Curtiss asked Dad if he liked to swim and Dad says 'Yes,' and he said 'You can come down to the dock anytime you want to,' and my dad took him up on it."
The 11 acres the Friends want to transform is owned by the H&B Railroad, which was built around the turn of the last century to transport wine grapes from Hammondsport to Bath, a small town seven miles south. An abandoned train depot sits on the land, as does a garbage dump.
The railroad wants to sell the acreage; it is required to offer it to the village first. It's asking $1.35 million. So far the Friends have raised 10 percent of that ($5,000 came from the surprisingly still-extant Curtiss-Wright Corporation, which now manufactures stuff like nuclear power plant valves—it's gotten out of the aircraft and engine business). The Friends have until July 31 to raise the other $1.2 million.
---
Hammondsport's Village Tavern, the proverbial clean well-lighted place, sits just north of the town square. On the walls hang pictures of Curtiss and protégé Blanche Scott, and lots of Curtiss aircraft imagery. A pusher propeller, on loan from the museum, is on one wall, while from the ceiling hang models of Curtiss airplanes. Paul Geisz, the ex-cop, is the tavern's most recent owner.
Before the lunch rush, Geoffrey Grimsman sits just inside the door at a round table. A motion picture set designer who has a vacation home in Hammondsport, Grimsman is blond with intense blue eyes. As we drink coffee, he brings up a recent visit to Gettysburg, Pennsylvania. He says the Friends' park fight is a lot like that. Not like the battle itself, but the more recent dispute between those who want to leave the battlefield as it has been preserved, and those who want to surround it with strip malls and hotels.
The Friends recently tried to raise the money through a referendum, which was voted on in July 2004. "The cost per taxpayer would amount to a 12-pack of Pepsi or Coke a month," he says.
"For how long?" I ask.
"Twenty years," he replies.
That's a lot of soda.
A little more than 800 voters cast ballots, and the measure was defeated by 43 votes. The same people voted funds for a new library. ("In the age of the Internet?" Grimsman asks.) "A park would be somewhat instrumental in leveling the historical playing field," he says. Curtiss' contributions to making the airplane practical—the seaplanes, the engines, the formation of the Aerial Experiment Association with Alexander Graham Bell, the World War I Jenny JN-4 trainer—all have been eclipsed by the accomplishments of the Wrights, say supporters.
Grimsman notes that Curtiss was more open with his inventions than his competitors were: "The Wrights said, 'Let's see if it works and then we'll tell everybody.' Curtiss said, 'Let's tell everybody and see if it works.' "
Now, the way I see it, the Wrights weren't that secretive. They recruited a few local lifeguards to witness the 1903 first flights. And the brothers did not object when sightseers would watch them fly at Huffman Prairie in Dayton in the early years of their experimentation. Once they even invited members of the press to come out and witness a few launches. The first published account of the Wrights making a powered flight appeared in 1905, three years before the brothers' first official flight. But as I said, I'm a Wright guy.
Later that day, I meet another one of the Friends, Marcia States, who's short and sturdy and blonde. She picks me up at the tavern in her dilapidated 1993 Ford Escort station wagon, which is filled with campaign signs (she's running for county legislator; I find out later that she lost) and drives me north. She turns right by the remaining pillars of the Garrett Warehouse, then right again, and parks in front of the village hall. It's an old building, but not a charming one. It was once a school and looks like it. Curtiss himself used to attend classes here. There's no sign saying that, of course. But later Carl Slater tells me that his father went to school there too, maybe a decade after Curtiss. "Once, as he walked down the street, he saw three men coming the other direction: Curtiss he knew by sight; the other was Alexander Graham Bell, and then Henry Ford."
Today the ancient classrooms contain mostly village government offices. One houses the soon-to-move library, which is packed to the rafters with books.
I get to talking with Town Supervisor Richard Gardiner, a retired math teacher with thinning gray hair and glasses who is wearing a white short-sleeve shirt and tie. I ask why the Glenn Curtiss Museum had moved out. "The building's too restricted in space," he explains. "They couldn't display the airplanes with their wings on."
Today the museum is located half a mile south of Hammondsport. It has a 1912 Curtiss pusher, a 1917 Jenny and two flying boats: a 1913 Model E and a 1919 Seagull. It also owns a handful of aircraft from the Curtiss-Wright company. Director Trafford Doherty says the museum is not involved in the Friends' efforts. "We had Marcia States in the museum for the first time about five, six weeks ago," he says. "We had a nice talk; she's very interested in local history. None of the other [Friends] have been here. They're interested in their park."
Gardiner and I turn to the failed park referendum.
"My hope is that people will re-vote it," Gardiner says. "I believe this time it will pass. They'll see the [Garrett Warehouse] coming down at the lake and so now they've seen a part of the lake they've never seen before." The warehouse had blocked the view since the second decade of the last century.
States and I get back in her car and head for the exact place where Curtiss flew the June Bug that day in 1908. Along the way she drives through an area that once held the Curtiss factory, a building that evokes the fondest memories for the people who were alive back then.
"I never met, never saw Curtiss," says George Winters, 89, who now lives in nearby Bath, where he worked during World War II building aircraft parts for machinist Henry Kleckler. "He practically worshiped Glenn Curtiss," says Winters. Really, Winters shouts it, because he's nearly deaf. "Kleckler worked for Curtiss before World War I. He was the man who designed the OX-5 engine [which powered the Curtiss Jenny]. Curtiss went broke and he had to lay off his help. Kleckler was more interested in the work part than the pay part, so he kept on working and Curtiss kept on giving him his worthless stock. But the war came along and Curtiss got a big contract and the stock became very valuable. Kleckler, he made a lot of money from that 'worthless' stock."
Near where the factory once stood, now a parking lot and playground, is the site of Curtiss' home. The house burned down in the 1960s, but 84-year-old Marcel Rouin Jr. remembers it well. "I saw him when I was 9 years old," he recalls. "There was a tree right next to his house where he used to live. He was very famous then. A bunch of his friends were in the house; we were up in this tree eating cherries. He came out with about four of these men and watched us eat. Didn't bother them a bit."
States and I arrive at the gates of what was once the Mercury Aircraft Company; now it's a company that makes computer covers, doors, frames, and no aircraft whatsoever. We can't get too close because we're on private property, States explains. So we remain inside the idling station wagon, ready to burn rubber if someone sees us, while she points out items of interest.
"That's the barn you see in the background of the photograph," States says, nodding to the red barn up ahead, which appears in a classic image of aviation history: the June Bug making the trophy-winning one-kilometer flight.
At the foot of Kill Devil Hill, builders used the Wrights' pictures as references to erect a replica of the brothers' camp as it stood in 1903: the shack they slept in, the Flyer's hangar and the wooden rail they used for launching. Here, by contrast, only grass sprouts from the now-plowed-under racetrack from which Curtiss took off. There used to be a New York State Historical Marker nearby, but it went missing a short time back. Under a shade tree sits a wooden picnic table with flaking paint.
The barn is also visible from Michael Doyle's office in the Pleasant Valley Wine Company. Doyle, tall with dark brown hair, is the winery's president, and he also owns the 26 condominiums being built on the banks of Keuka Lake, and the H&B Railroad, which means he is the one who owns the 11 acres of land that the Friends of Hammondsport want to buy. Doyle is unmoved by the Friends' campaign. "The hill across from the museum is owned by the town," he says. "It's 180 acres, part of the original farm sold to the museum. They could name that for Glenn Curtiss." (Later, I ask Marcia States about this suggestion; she says that this piece of land already has the town barn and a bus garage, plus "it's not easily accessible. … There's a road but it's very difficult to get to. It's land that is not usable for a park.")
Doyle continues: "There are so many parks around for the 2,400 souls who live in the town of Urbana [to which the village of Hammondsport belongs], I don't think we need any more." Doyle says he wants to hold on to the land, maybe build a new railroad of some kind. "Just to kind of keep it in play," he says. "I'd like to re-create some kind of passenger service on it."
Geoffrey Grimsman has a different vision. "Perhaps we can let another person stand on the bank and stare out at the lake and dream of great things," he says.
States and I drive to Pleasant Valley Cemetery and get out to pay our respects at the shady Curtiss grave site. There is a large family stone bearing the name "Curtiss," but the inventor's headstone is of modest size. Very few folks in Hammondsport have any memories of the day Curtiss was buried, 76 years ago. "I was 6 years old in '30," says Carl Slater, "and my brothers knew that Curtiss had died. They assumed he was going to be buried in Hammondsport Cemetery. We started out walking to the hill to watch the funeral and when got there we found out that he was to be buried in Pleasant Valley."
It was not long after the cherry-tree incident, but Marcel Rouin can just barely remember the burial. "I remember seeing things dropped from airplanes," he struggles to recall. "Maybe it was Lindbergh or somebody else, a message or something. I can't remember what the day was like—I think it was in the spring or summer." It was late July. Ten airplanes circled the cemetery, and each swooped down and dropped flowers.
States drives us back into Hammondsport, past the unmarked house in which Curtiss was born and where he lay in state after his death following an appendectomy, at the age of 52. A later owner screened in the porch and painted the place dark brown.
I ask States if she thinks the Friends of Hammondsport will ultimately prevail, and will manage to raise the additional $1.2 million needed in the time they have left.
"I hope so," she says, and pauses. "My grandmother called him 'Our Glenn Curtiss.' She loved him. Couldn't stand his motorcycle though." She lets out a breath. "I rue the day this all gets developed."