Gil Cohen: Aviation Artist
A new illustrated book brings aviation history to life.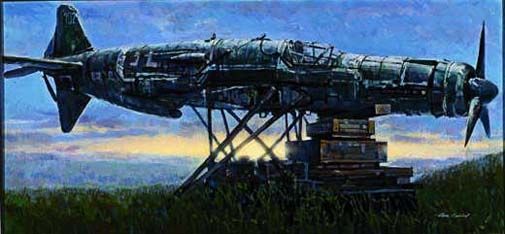 Philadelphia-born Gil Cohen launched his career as a 10-year-old sketch artist on the boardwalk in Atlantic City, New Jersey. He went on to spend four years at an art school, then earned a journeyman's reputation producing cover illustrations for everything from men's adventure magazines and paperback thrillers to Harlequin romance novels. As the title of his new book (Gil Cohen: Aviation Artist, Boston Mills Press, 2009) suggests, however, the role that has always been closest to Cohen's heart is that of aviation artist.

All artists of this genre pride themselves on accurate depictions of flying machines in action, and Cohen is no exception. What sets him apart from other masters, however, is his focus on the human element. Not content to simply depict Hurricanes and Spitfires in the air, the artist gives us "Gentlemen, As You Were," catching Air Chief Marshal Hugh Dowding in conversation with young fighter pilots at a Royal Air Force base. And rather than showing massed bomber formations, Cohen provides an intimate view of a Lancaster crew over Germany at night as seen from the wireless operator's station ("We Guide to Strike").

At his best, Cohen brings history to life. In "The Wrights at Huffman Prairie," Wilbur and Orville look up from their work on the world's first practical airplane as sister Katharine arrives with a picnic basket. The sun is shining on the prairie grass. Purple coneflowers dot the foreground. It is as though we are there.

Cohen is a master illustrator. This is a volume that will find a place on my bookshelf, rather than migrating to the nearest used bookshop.

Tom Crouch, a senior aeronautics curator at the National Air and Space Museum, oversees the Museum's collection of aviation and space art.

Pictured above: Valhalla. Acrylic on gesso panel, 1971. The sun sets on an abandoned Dornier Do 335, a German fighter-bomber that was put into operation late in World War II.

See the gallery below for more of Cohen's paintings.
We Guide to Strike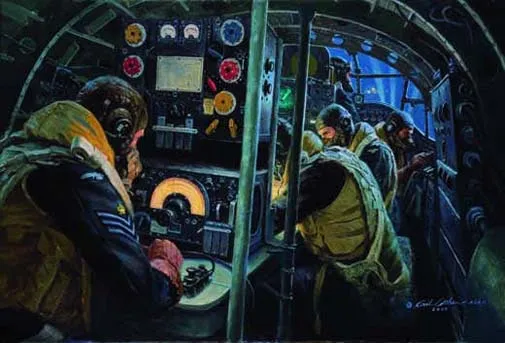 Oil on linen, 2006. A Lancaster bomber crew flying through flak during a nighttime mission over Germany.
The Ditching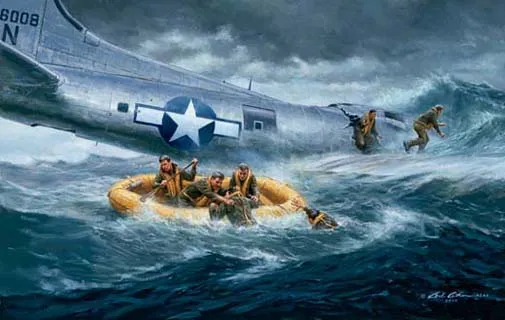 Oil on linen on board, 2000. Unable to return to its base in England, a B-17 makes an emergency landing in the North Sea.
The Mighty Eighth/The Russian Shuttle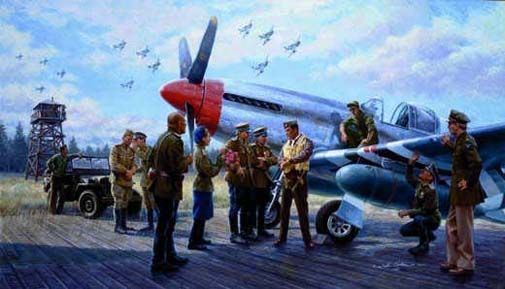 Oil on linen on board, 1993. Allied P-51 Mustangs are assigned to an air base in the Soviet Union in 1944.
Staying Power—Berlin 1948–49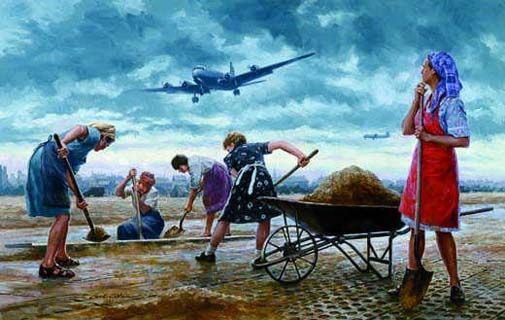 Oil on linen, 1997. During the Berlin airlift, German civilian women helped maintain the airfields, which took a beating from U.S. cargo airplanes.
Taegu Air Base, Korea—December 1951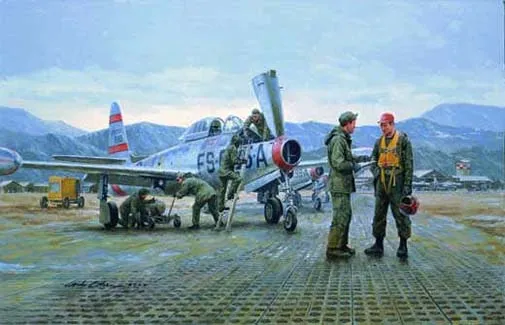 Oil on linen, 2000. A pilot with the 158th Fighter Bomber Squadron of the Georgia Air National Guard reviews the maintenance checklist of his F-84E with his crew chief before taking off on a ground-attack mission against enemy troops and supply lines.
Zero Gravity on ISS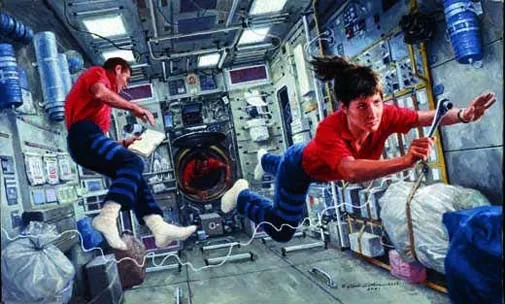 Oil on linen on board, 2001. Astronauts work inside the International Space Station's Zvezda Service Module.
The Wrights at Huffman Prairie—1905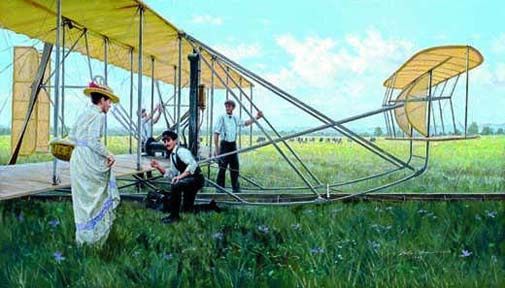 Oil on linen, 2003. The Wright brothers found the farmland outside of Dayton, Ohio, a good place to test their airplanes.