In George Clooney's The Midnight Sky, the Crew of a Planetary Exploration Mission Faces an Impossible Choice
Actors David Oyelowo and Demián Bechir discuss their roles as astronauts investigating a potentially habitable Jovian moon.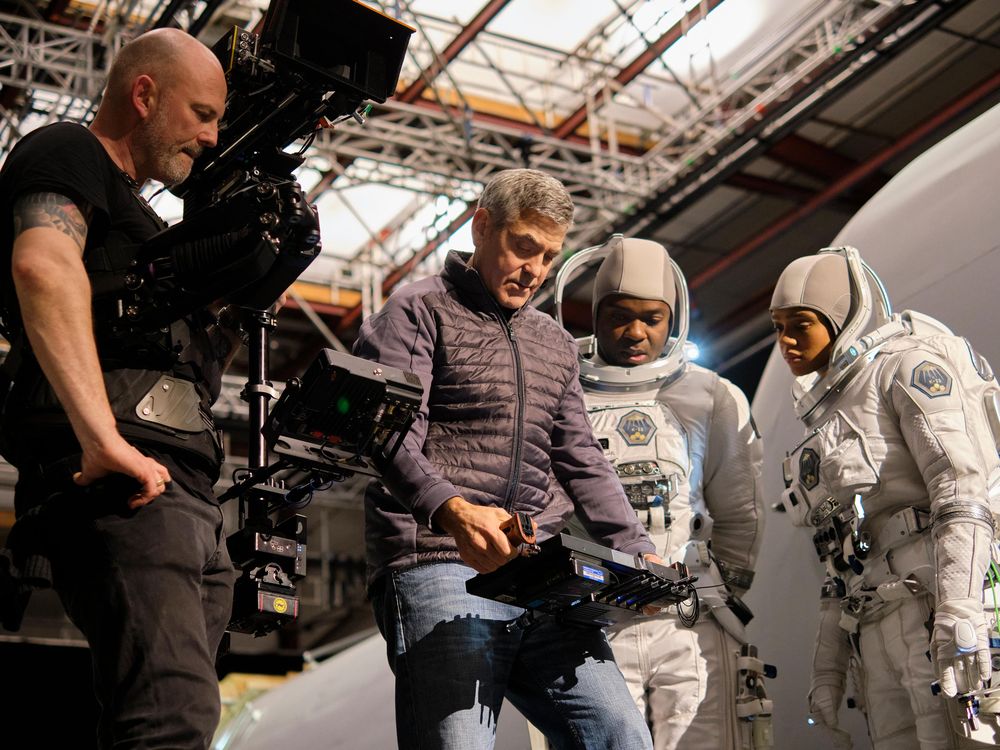 George Clooney's new Netflix movie is a long way from feel-good holiday fare, but it speaks to the year we've all lived through in ways its makers could not have predicted when it went into production eons ago, in 2019. In The Midnight Sky, Clooney, who also directed, plays the solitary occupant of an evacuated Arctic research outpost a few decades in the future, when an atmospheric calamity has rendered Earth all but uninhabitable. Meanwhile, the crew of the spacecraft Aether are on their way home after a multi-year mission to survey a potentially habitable moon of Jupiter. Lacking a suitably powerful antenna to speak to the Aether as its approaches Earth, Clooney's character must find some other way to warn the explorers not to return.
Somber stuff. But the film, which screenwriter Mark L. Smith adapted from Lily Brooks-Dalton's 2016 novel Good Morning, Midnight, also has moments of high adventure, and an elegaic quality that prevents it from being just too sad to endure. Clooney, sporting a bushy beard and hollow eyes, keeps his easy charisma tamped down in favor of something more soulful. And as a director, he elicits equally stirring performances from his entire cast, which includes Felicity Jones, David Oyelowo, Kyle Chandler, Demián Bichir, and Tiffany Boone as the crew of the Aether, and eight-year-old Caoilinn Springall as a little girl left behind in the evacuation of the Arctic laboratory.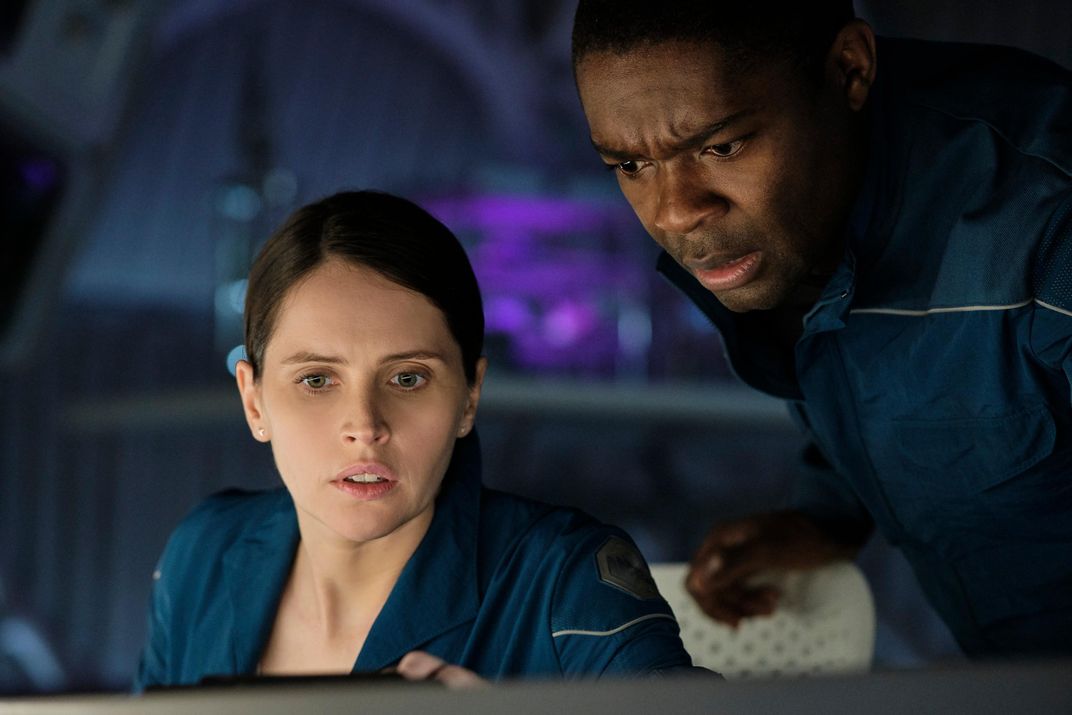 I spoke with Oyelowo and Bichir about their roles as astronauts on a long-haul mission. In particular, I wanted to know if actors, who tell a story by conveying emotion, find their job more complicated when they're playing characters who've been selected for a mission in part because of their ability to suppress their emotions. Oyelowo, a busy 44-year-old Englishman probably best known for his portrayal of Martin Luther King, Jr. in Ava DuVernay's 2014 Selma, summed up the challenge: "It's about not leading with my emotions. It's about leading with my training, whilst still being a human being."
Midnight Sky's most elaborate set piece is a spacewalk to repair a damaged communications array, but the film also has shots of the crew floating around in microgravity, which were achieved by the tried-and-true method of hanging actors from wires. Oyelowo says that the three months of physical training he put in prior to arriving at London's Shepperton Studios last year helped him get into character.
"George has obviously done films like Gravity and Solaris where he played an astronaut," Oyelowo says, and the director told his actors how to get themselves ready physically. "The trick is the sheer amount of effort you have to put in to make it look effortless. George said, 'Your mind and your mouth can move as fast as they are now, but your body has to move half as fast.' These are things you forget when you're doing a high-octane, emotional scene. It was the thing that we spent the most time trying to get right."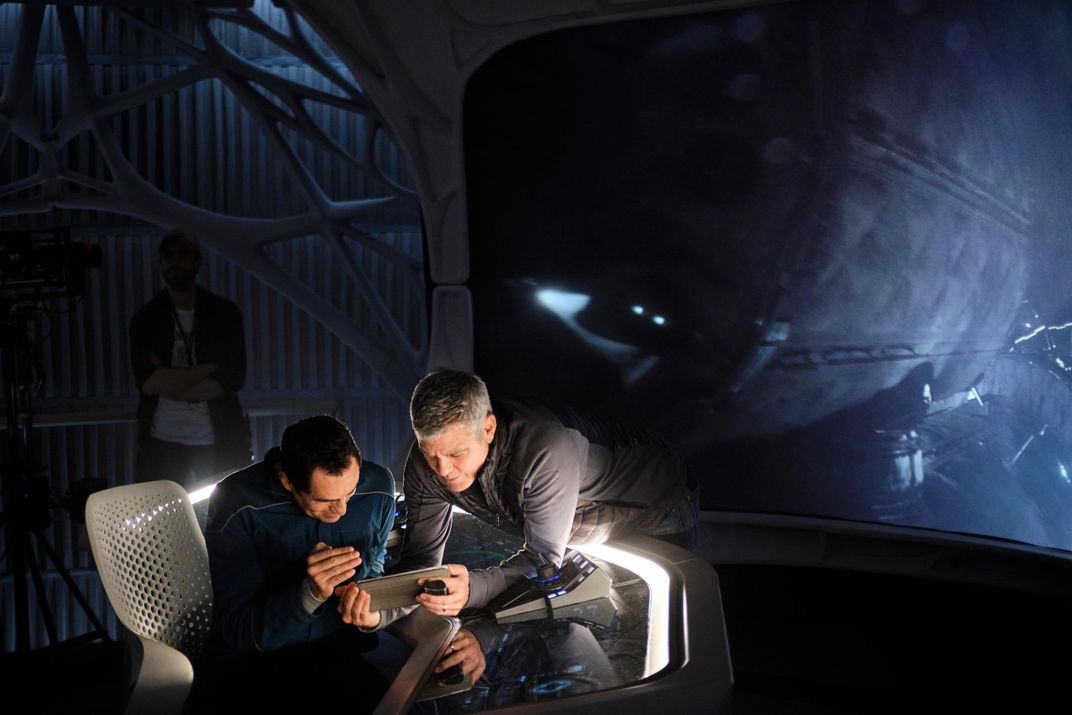 Oyelowo says the elaborate and convincing three-story-high set of the Aether that production designer Jim Bissell constructed made it much easier for the actors to imagine the circumstances of the movie. Bissell is a Hollywood veteran who has created environments for dozens of films in the 38 years since he designed the highly ornamental alien spacecraft seen in E.T., the Extra-Terrestrial. His concept for the Aether borrowed freely from the real-life inflatable-modules concept pioneered by Bigelow Aerospace while adding in some futuristic creature comforts for its occupants, such as holographic recordings of their loved ones back on Earth. "The job is to do all of that work so that [the audience] won't have to think about it," Oyelowo says. "They just go, 'Whoa, they're in space.'"
Bichir, a 57-year-old who got his start in Mexican telenovelas in the late 70s, appeared as Fidel Castro in Stephen Soderbergh's 2008 bio-epic Che, and was nominated for an Academy Award for his performance in Chris Weitz's 2011 drama A Better Life. In the years since, he's had high-profile parts in Quentin Tarantino's The Hateful Eight and in Ridley Scott's Alien: Covenant. Though he played an interplanetary colonist in the latter film who meets a grisly end (as supporting players in the Alien series generally do), he says his attraction to off-world roles—noting that he'll appear again with Oyelowo in Chaos Walking, an action-adventure set on another planet that will be released next spring, barring further COVID-related delays—come from a lifelong interest in astronomy. "I'm always looking up the sky at night," he says. "George's character has a line in the movie: There's a solar system for every star that we can see," he says. "That's a beautiful thought."
It's even mostly true.
The Midnight Sky premieres on Netflix Wednesday, December 23.