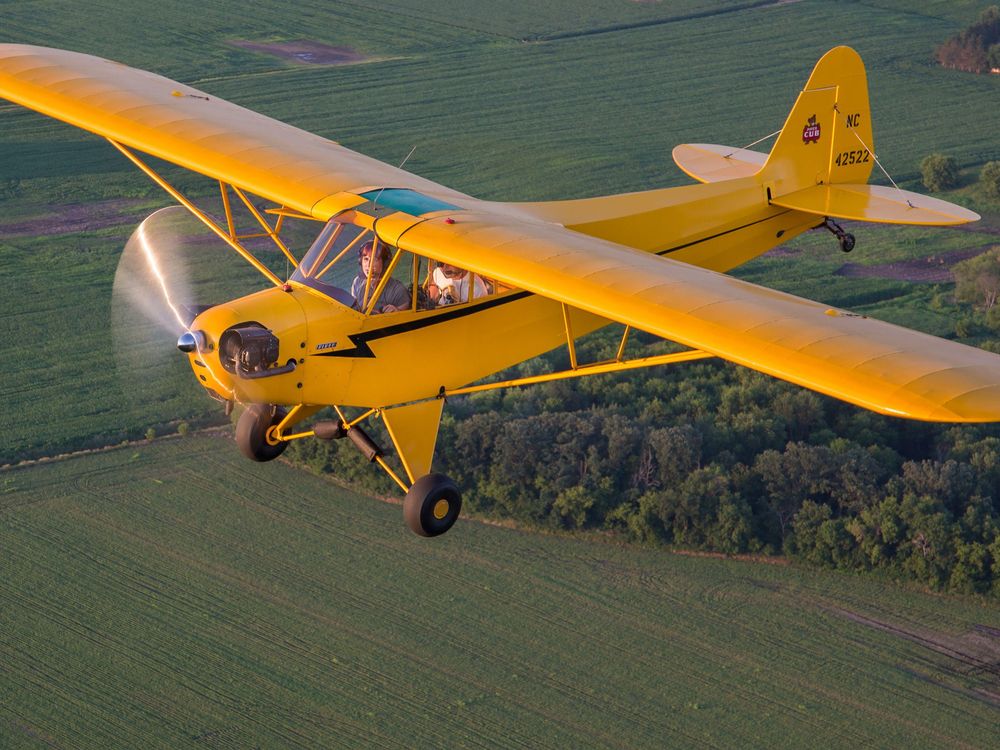 It started with Orville and Wilbur, and today it happens mainly at fly-ins and small airports. Somebody with a cool airplane offers to take somebody else for a ride—not to go anywhere, just to fly.
Enchanted by a Cub
"Hey kid," he yelled as he walked across the grass runway of the local flying club. "Didya ever see your house from the sky?"
With that, an excited boy got his first ride in an airplane. Still only a pre-teen growing up in the early 1960s, I couldn't have been more thrilled than when the pilot said, "Get in. I'll help you with the seat belt."
The encounter with the pilot of the yellow J-3 Cub wasn't entirely accidental. A resident of a small upstate New York village, I often walked the highways and byways throughout the area, and those travels sometimes included following a pair of railroad tracks that directly passed a rural airport—really little more than a mowed field, a couple of hangars and a handful of light aircraft. Often peering in wonderment into those cockpits, I was spotted on one of many afternoon visits by one of the flying club pilots and, instead of scolding me, he offered me a brief flight over my community.
When I finally returned to my home and told of my adventure, my family was surprised, but also happy to hear of my day of riding into the blue.
I'm now a retiree who never became a pilot, and over the years, I've flown many times, sometimes even in Huey helicopters over Vietnam. But I'll always remember that summer afternoon when a kind stranger introduced me to the pathways of the sky. —Bruce Squiers, Salem, NY
Inverted Over St. Paul
My uncle, Will Martin, had a P-51D Mustang (El Gato Rapido—tail number N12700) that he had brought back from Nicaragua and restored. He replaced the radio gear with a jump seat behind the pilot, and I got to fly with him when I was in my early teens.
We flew up to Oshkosh a couple times, and local airshows around the Chicago area. In the summer of 1977 or '78, we flew up from Chicago to northern Minnesota for a vacation. About halfway there, the sun and noise got to me, and I fell asleep. Will, being the prankster that he was, barrel-rolled the Mustang, and I woke up, upside-down, right over the Twin Cities! Yes—I was the kid who fell asleep in the back seat of a hot warbird. Never lived that one down!
Postscript: My uncle wrote a book about bringing the airplanes back from Nicaragua: So I Bought an Air Force. It's a great story. My father and my uncle bought the Nicaraguan air force—Mustangs, a B-26, a P-47 and others. —Andrew Martin, O'Fallon, MO
One Good Turn Deserves Another
My most memorable flight was a ride in a P-51D. I did a small favor for a contractor, Ted Contri, who owned a P-51, and when he offered to pay me, I said, "A ride in your Mustang would do fine." He had just returned from Crescent City, California, on the coast north of Eureka, and had left his briefcase there and had to return to pick it up. He was flying his P-51 that day, May 29, 1992, and the Collings Foundation was at Murray Field also with their B-17 and B-24 four-engine bombers. They were leaving northbound and so were we, so we all flew together about 500 feet above the ocean until they turned east. The north-west wind was so strong that as we were landing, Ted was having a little trouble keeping the tail down. We were using up the runway pretty fast!
When we stopped, Ted said, "I hope that I didn't scare you." I said, "I am not a pilot so I just enjoyed the ride." As we were about to return to Arcata/Eureka, someone said "How about doing a flyby?" Ted said, grinning, "Do you want me to get in trouble?"
So we took off, and he turned back toward the airport. He went into a dive and leveled out on the deck, pulled up, and that was the first time I had ever felt G force. We returned to Arcata/Eureka and Ted flew back to his home in Reno, Nevada.
What a ride that was! —Rusty Moore, Eureka, CA
Don't Tell Mom
With my newly minted observer wings from the Civil Air Patrol, I was eager to gain familiarity with our squadron's T-34B. So I jumped at the chance to accompany our commander on a 30-minute flight returning the aircraft from the former Hamilton Field in California to its home base in San Carlos.
A series of small delays in pre-flight led to a takeoff after dark. About 10 minutes into the flight, the cockpit started filling with smoke. We slid back the canopy, and as the problem seemed to be electrical in nature, the commander disconnected the generator and battery. The smoke cleared. The aircraft seemed airworthy but had no electrical power. No nav lights? Small problem. No radio? Bigger problem. No landing gear? No problem. (Thank you, hand crank.) No flaps? Problem. (No hand crank.)
The commander diverted to Napa, and the airplane barreled onto the runway. As we slowed, the pilot veered off the runway into the grass. It was left to me to walk over to the tower and explain our abrupt arrival. I never told my mother about that flight. —Tom Sliter, Washington, D.C.
No Sweat. They Got This.
In 1970, I was a passenger on a U.S. Air Force C-47 flying to Clark Air Base, Philippines. We were at about 6,000 feet when the starboard engine made loud noises, quit operating, and spilled oil over the wing just like in the movies. The aircraft crabbed badly as the pilot compensated for unequal thrust. Just then, the crew chief came aft to refill his coffee cup from the ubiquitous urn bolted to a rear bulkhead. When I told him about the non-functioning engine, he looked out a starboard window at the now feathered propeller, then looked out a port side window and calmly said, "We got another one," walked back, refilled his cup, and went back to the cockpit. After an uneventful landing, I understood that a skilled, unflappable air crew was the best thing to have onboard in a flight emergency. —Ed McCall, Irmo, SC
Beauty Queen
My best friend Dick Steinberger and I had turned 16 in January 1945 and were both aviation nuts. Had we been a few years older, we would have joined the Army Air Forces and become heroes in dark green "Ike" jackets. Instead, we joined the Civil Air Patrol. We could get flying lessons for half price: $20 for half an hour. The airplane we were flying was an Aeronca Champ, a taildragger with maybe seven or eight instruments.
One day we got to the airport for our lesson, and there on the flight line sat the most beautiful airplane ever built: a bright silver Ryan ST. Dick and I looked at each other and with hardly a word decided there would be no lesson today.
We worked a deal with our instructor—traded our lessons for a ride. There was one condition, the flight could not be straight and level. I'm not sure which one of us went first, but I put on my leather helmet and goggles and climbed into the front seat and away we went. All of a sudden, I was upside down at 3,000 feet, hanging onto my seat belt! AND IT GOT BETTER! —Jim Middaugh, Bend, OR
Wish Upon a Warbird
Dad worked at North American Aviation during World War II, so I grew up hearing stories of the P-51s and B-25s he'd helped build. My interest in warbirds never waned. In 2017, the graph lines of my finances and dreams finally crossed, and I bought a ride on the B-17 Madras Maiden out of the Salt Lake City airport. Four big radial engines announced the airplane's arrival even before it taxied into view. She rolled to a stop and shut down so the crowd could hear a brief history of the B-17. After I climbed inside, the engines roared to life again. With engines thundering, we lumbered down the runway and lifted into the air. The engine noise was incredible! At cruise altitude, I walked the narrow catwalk in the bomb bay. I stood up in the top hatch to look out at the top turret and back at the tail assembly. I wished for time to stand still. —Paul S. Jaroscak, Riverton, UT