From Pilot to President
Do aviators make better leaders?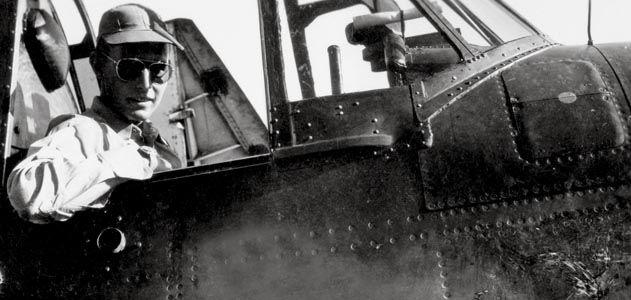 These pilots flew high in the cockpit, and then in politics. Some reached their positions of leadership through the democratic process, others got there through royal birth, and some, of course, simply seized power. A few crashed and burned in both jobs.
Few countries have produced as many flying commanders-in-chief as the United States. The first to earn a pilot's license was Dwight Eisenhower, who soloed in 1937, when he was a lieutenant colonel serving in the Philippines. But he never qualified for Army wings.
When it came to the right stuff, which of these leaders—and the list is by no means complete—were legit as aviators? Here are their qualifications:

It is George H.W. Bush, president from 1988 to 1992 and one of the youngest naval aviators of World War II, who has the most impressive record of America's pilot-presidents. Not quite 19 upon receiving his wings, he flew TBM Avenger torpedo bombers from the carrier USS San Jacinto in 1944. It was said that Bush was "one of Grumman's best customers," having ditched one Avenger with engine trouble and parachuted from another. On a mission over the Bonin Islands, Japanese flak set Bush's Avenger afire. He remained airborne long enough to reach open water. Though his two crewmen perished after bailing out with Bush, the future president was rescued by submarine. After the war, told that the Japanese army routinely cannibalized captured fliers, Bush quipped that he was so thin he would have made a poor meal. For his 58 combat missions, Lieutenant Junior Grade Bush was awarded the Distinguished Flying Cross and three Air Medals.
Addendum: His son George W. Bush, president from 2001 to 2009, briefly flew Convair F-102 interceptors while serving in the Texas Air National Guard from 1968 to 1974, but didn't see combat.

Britain's royal family's got air cred. Though George V, king from 1910 to 1936, was photographed in Royal Air Force uniform with only honorary wings, three of his heirs earned pilot ratings. His second son, Prince Albert, saw combat in the Royal Navy, then entered the fledgling RAF in 1918 as a non-flying officer. Shortly after World War I, he trained to fly. Albert's older brother Edward and younger brother George also became skillful pilots.
Edward inherited the throne in 1936 and established the King's Flight at Hendon, where he became Britain's first reigning monarch to fly as passenger and pilot. When Edward abdicated to marry an American divorcee, Wallis Simpson, Albert succeeded with the name George VI. Baby brother George died in the 1942 crash of a Sunderland flying boat.
More recently, Prince Charles earned his wings in 1971, then qualified in helicopters in 1974. His son, Prince William, has flown in the RAF and the British army, primarily as a pilot on search-and-rescue choppers. Charles' brother Andrew flew Sea King helicopters from HMS Invincible in the 1982 Falklands War, and continued flying until 1996.

Ian Smith, prime minister of Rhodesia (now Zimbabwe) from 1965 to 1979, was based in Egypt in October 1943 when he crashed on takeoff in his Hawker Hurricane. He broke facial bones, a leg, and a shoulder, and bowed his spine.
After reconstructive surgery, Smith was recertified and, owing to damage to his left eye, offered an instructor's post. He declined, preferring combat, and flew Spitfires with No. 237 Squadron out of Corsica. In July 1944, strafing German forces in Italy's Po River Valley, Smith was hit by flak and bailed out. He spent five months with the underground, helping coordinate Allied air operations, before embarking on a 23-day trek over the Alps to safety. He died in 2007 at age 88.

King Hussein bin Talal of Jordan formally ascended the throne in 1953 at age 17. He learned to fly his grandfather's De Havilland Dove, and reportedly escaped two Syrian MiGs with low-level evasive maneuvers over Syria in 1958, just before his 23rd birthday. Hussein relied upon Britain's RAF for early training, and with his guidance, the Royal Jordanian Air Force improved. But it lacked the skill of Israel's air force, which decimated the RJAF on the ground in the 1967 Six Day War.
When making state visits, Hussein often took the controls of his Boeing 707, though with a full crew aboard. And he established a flight demonstration team with Americans Dave Rahm and Steve Wolf, which later became all-Jordanian. Flying Pitts Specials, the duo appeared in 1976, but Rahm was killed the next year in a performance in Jordan with Hussein in attendance. Hussein pressed ahead, and the Royal Jordanian Falcons debuted in 1978, sponsored by Jordan's national airline.
Hussein remained an avid flyboy until his death in 1999. His son, Abdullah, who took over the throne, is also a pilot.

Egyptian president Hosni Mubarak graduated from the country's military academy at age 20 in 1949. He entered the air academy and took the standard curriculum of flying, along with scientific and technical studies. With a bachelor's degree in aviation science, he flew fighters, then bombers.
Egypt got much of its operational training from the Soviet Union, where Mubarak qualified on Il-28s (NATO name: Beagles) and later Tu-16 Badgers. He became an instructor and unit commander, and in 1964 headed a military delegation to Moscow. At home he earned a reputation as a crack operations officer and planner.
After the 1967 war with Israel, Mubarak rebuilt the air force with an emphasis on training. As air force commander he waged the far more successful October 1973 war with Israel. Under his watch, in 1979 the Egyptian air force received its first F-4 Phantoms. Today the EAF inventory is about 30 percent American, including F-4s, F-16s, C-130s, E-2 Hawkeyes, and Apache helicopters.
After Anwar Sadat was assassinated in 1981, Mubarak became president, declaring an open-ended state of emergency that continues.

Israeli Ezer Weizman entered the British Army during World War II and flew in France and India. He studied aeronautics in Britain and returned home to fly in Israel's 1948 war of independence. He also flew in a 1949 skirmish pitting Israeli Spitfires against RAF counterparts. Weizman commanded one of Israel's first jet squadrons, then rose to lead the air force from 1958 to 1966. His role in planning the spectacular 1967 war against Egypt, Jordan, and Syria cemented his pilot credentials.
Weizman was far from politically correct, and once told a woman who wished to enter flight training that females were better off darning socks. She appealed to Israel's high court and received permission to take the air force's pilot entrance examination, but failed her medical tests.
Elected president in 1993, Weizman resigned in 2000 amid charges of unreported income. His peace efforts with the Palestinian Authority did not help his case among hardliners in his conservative Likud party. But he remained a pilot's pilot, and flew his shiny black Spitfire after most of his fellow jockeys had retired. Weizman died at age 80 in 2005.

South Vietnam's Nguyen Cao Ky trained to be a pilot in France and North Africa in the 1950s, attended the U.S. Air Command and Staff College, and, in 1964 became head of Saigon's air force at age 34. Often sporting a lavender scarf and aviator sunglasses, as well as a pearl-handled revolver on his hip and a cigarette in his mouth, he flew Douglas A-1 Skyraiders. His young wife attracted equal attention in a form-fitting black flightsuit that matched his.
In 1963, Ky supported the Kennedy administration's coup that overthrew Prime Minister Ngo Dinh Diem and was rewarded with promotion to air marshal. He was later appointed prime minister and remained head of the air force through 1967. In 1975, he moved to the United States, settled in Los Angeles with his glamorous third wife, and opened a liquor store, prompting wags to opine that he had realized the dream of aviators everywhere.

Certainly the most junior airman to lead his country was Flight Lieutenant (the equivalent of U.S. Air Force first lieutenant) Jeremiah "Jerry" Rawlings of Ghana, whose titles include "Twice Head of State" and "First President of the Fourth Republic." In 1967, he enlisted as a flight cadet in Ghana's air force, and was later selected for officer training. An accomplished airman, Rawlings received the Speed Bird Trophy in 1969 for top flying grades in his class.
Rawlings was no less accomplished on the ground. In 1979, concerned about systemic corruption, he overthrew his government for the first time at age 32. During the first coup, Rawlings was most often seen wearing a flightsuit and air force hat, though by then the extent of his flying experience remains questionable. Ghana's air force seldom numbered more than 30 aircraft at any time, none of which was combat-capable.
Rawlings toppled his successor in 1981, got himself elected in 1993, and finally left office due to term limits in 2001.

Bolivia's René Barrientos Ortuño, a career military officer, learned to fly in 1945. He owned a Cessna 195 and enjoyed buzzing passenger trains in a military AT-6. In the 1940s, he gravitated toward the Revolutionary Nationalist Movement, and took part in the Bolivian revolution in 1952. He flew Victor Paz Estenssoro, the revolution's leader who had been in exile in Argentina, back into the country, and as a result was given command of Bolivia's air force.
In 1960, during a public air force parachute demonstration, three skydivers fell to their deaths before a horrified crowd. When Barrientos became the target of some of the accusations that followed, he strapped on one of the parachutes that had failed to open and jumped from an airplane. The chute performed properly. Barrientos claimed that his jump proved that nothing was fundamentally wrong with the parachute or his credibility.
He served almost continuously as president from 1964 to 1969, when he died in a helicopter crash.

Prince Felipe of Spain was voted by People magazine as the Sexiest Royal in 1997. After years as one of Europe's most eligible bachelors, the 41-year-old heir to the Spanish throne is married and a dad to two daughters. But he's flown the F/A-18 Hornet, and is helicopter-qualified in the army and the navy.
Now, if you were born into European royalty, and you asked for the keys to a supersonic fighter, your dad would probably hand them over. Furthermore, while Spanish women might swoon over his six-foot-five height, most air forces would pass on someone that tall, as a tight fit in a fighter cockpit. But Felipe seems legit—with the other Spanish air force cadets in his class, he happily shaved his hair in the shape of a T, a tradition on the day they get their wings.

There are plenty more presidents, prime ministers, monarchs, and dictators with wings. Which ones do you think have had the right stuff, and which ones are mainly stuffing? Send an e-mail to us at [email protected].
Barrett Tillman specializes in naval aviation and has written 43 books. He's currently working on Whirlwind, the first single-volume account of all Allied air operations over Japan during World War II, due out in May 2010 from Simon & Schuster.