The French Are Coming!
The Patrouille de France performance team graces American skies this airshow season.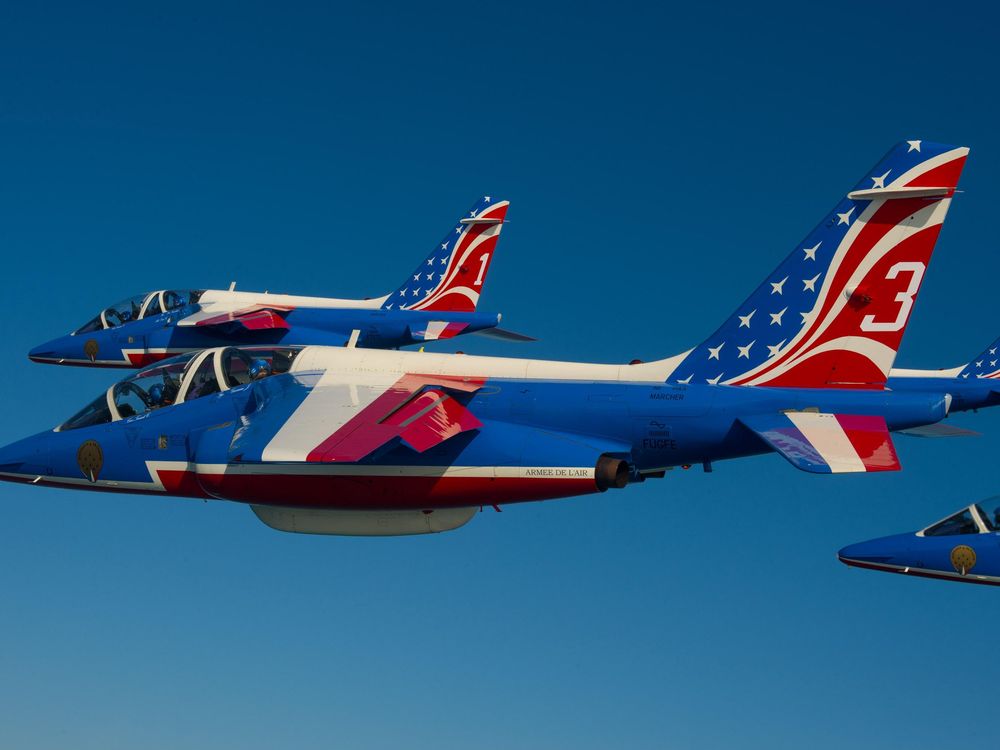 On March 25, the Statue of Liberty got a rare aerial visit from the Patrouille de France (the French equivalent of the U.S. Air Force Thunderbirds).  Eight Alpha jets streaked over Manhattan and out over the harbor, trailing blue, white and red smoke. "Our flag over the Statue of Liberty—that is the flight of a lifetime," says slot pilot Squadron Leader Nicolas Lieumont. Their cargo ship, an Airbus A400M, was right behind. The dramatic flyby was the kickoff for the team's first U.S. tour in more than 30 years. They've picked an auspicious anniversary to return.
Tomorrow (April 6) marks the centennial of the United States entering World War I. The Patrouille will perform as part of the grand centennial commemoration at the National World War I Museum in Kansas City, the highlight of a tour that continues throughout April. Tour stops (consult our 2017 Airshow planner for details) include Melbourne and Lakeland, Florida and Maxwell Air Force Base in Alabama. The French team will meet with their counterparts the Blue Angels and Thunderbirds at Pensacola Naval Air Station in Florida and Nellis AFB in Nevada, and will participate in NATO's Trilateral Exercise Initiative at Langley AFB in Virginia. They also will perform flyovers at Dallas, the Grand Canyon, the Golden Gate Bridge, and Colorado Springs, and will wrap up in Canada, with performances in Ottawa, Montréal, and Quebec City.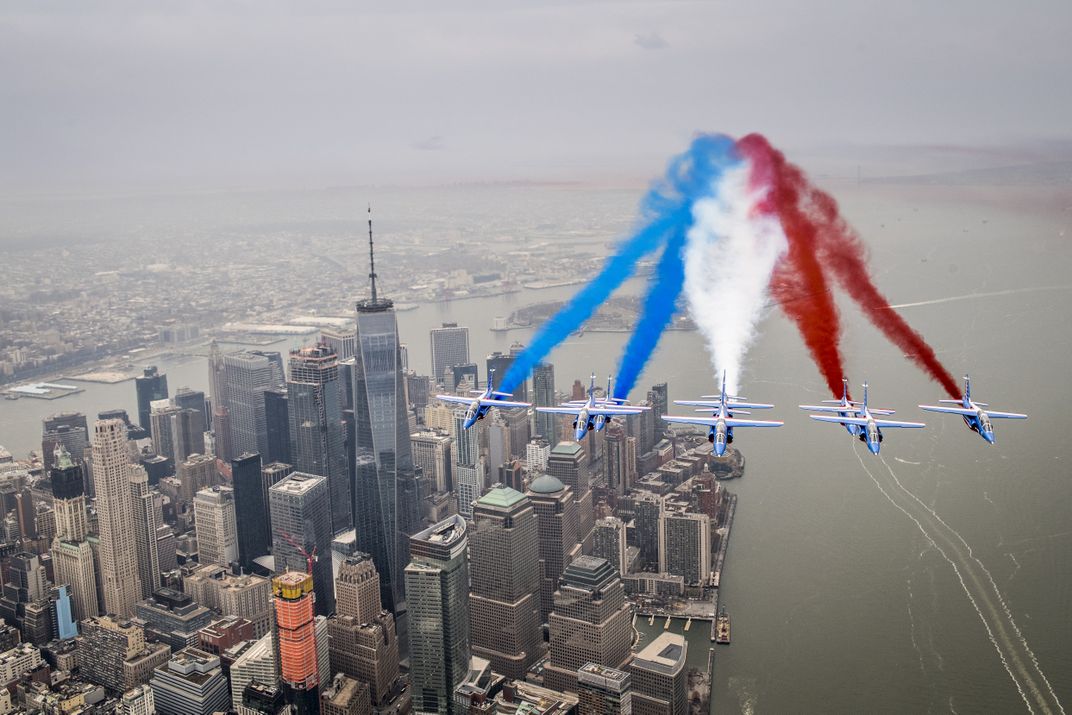 The tour is intended to serve as a reminder of France's role as the United States' oldest ally. Gérard Araud, the French Ambassador to the United States, remarked on the two nations' shared history of military aviation at a recent reception for the Patrouille pilots at the French Embassy in Washington D.C., saying, "When you walk along the corridor in the Pentagon that is dedicated to American aces, the first picture is of an American pilot wearing a French uniform and French pilot wings: Raoul Lufbery, from the Lafayette squadron! The Lafayette squadron, created in 1916, symbolizes the strong bond between our two air forces, their shared roots."
Like their American counterparts, members of the Patrouille are veteran fighter pilots. Squadron Leader Christophe Dubois is the team's leader. His aircraft, like each of the team's Alpha jets, is decorated with the likeness of a French WWI ace—his is the great Georges Guynemer. For Squadron Leader Lieumont (once an exchange student at the U.S. Air Force Academy), the message of the tour is clear. "It's very important for the pilots to be here to thank the American people for what they did for us in the First World War and World War II," he says. "We fight together [now] because we believe in the same things and values—in freedom."
Although a flyover of Washington was scrubbed due to weather, the team was still able to visit the National Air and Space Museum, where they saw the SPAD XIII Smith IV in the World War I gallery. Said Lieumont, "I would like to have one to fly one day."