Frank Frakes, Plane Crasher
An airshow act inspired by automobile demolition derbies
Bob Duncan, director of the Maury County (Tennessee) archives, wrote in 2012 about Frakes' idea for the act, which he came up with in 1931: Curtiss Jennys were famous for folding up on hard landings; Frakes "would travel to the show, check around for an old clunker airplane that he could pick up on the cheap. He would then do just enough work on it to get it to fly. The old crates he used didn't have to last long, as it was always a one way trip—into the ground."
Nine years later, Frakes was still dive-bombing houses. He told the Reading Eagle (Pennsylvania) that the house used in the stunt was specially built of two-by-fours and siding, and measured about 16 by 30 feet. "I admit I fool the public," he said. "Everybody who goes out there will expect to see me get killed, but I won't. Just the same, they won't be disappointed. I'll show them the most spectacular stunt they ever witnessed. The secret is that I never let that engine crankshaft hit anything solid. I don't care what happens to the rest of the plane. Let 'er rip." 
At some point, the Civil Aeronautics Authority (CAA) began to watch Frakes. They disliked his stunts, and tried to revoke his pilot's license. "As fast as they'd lift his flying license in one state, he'd jump to another," reported the St. Petersburg Independent (Florida), in 1968. Duncan writes that the CAA would watch the newspaper for advertisements for Frakes' shows. It may have been at the Florida State Fair that Frakes learned that CAA agents were in the audience. Writes Duncan, Frakes "crashed his plane, and instead of jumping out and waving to the crowd, an ambulance came roaring onto the field. [Frakes] was slapped onto a stretcher. With sirens wailing the ambulance roared out of the fairgrounds toward the hospital. The federal agents watched it go. A few miles from the fairgrounds [Frakes] climbed out of the ambulance and hopped a freight train toward the next event over the state line."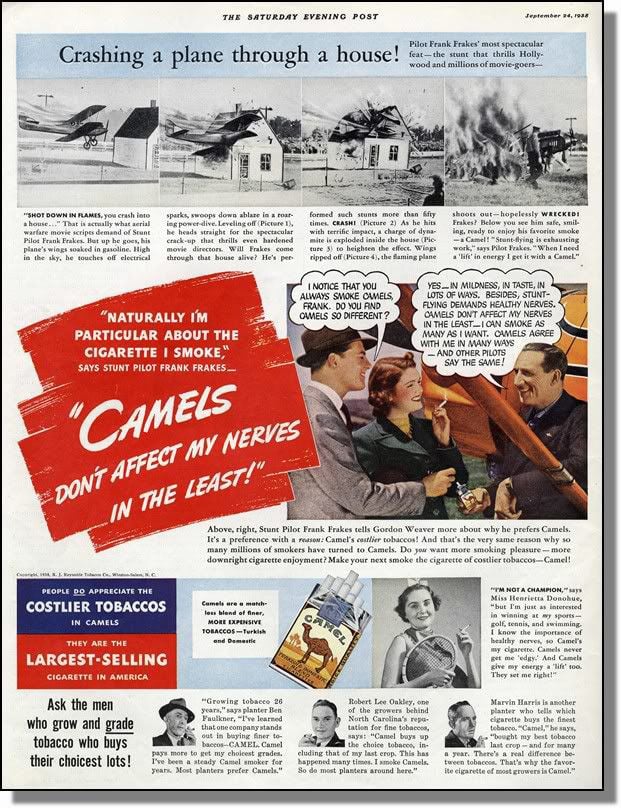 In 1922, a small-time promoter had a big idea: Ward Beam, owner of an aerobatic flight school in Celina, Ohio, decided to put together a team of daredevil automobilists. As Boston University sociology professor Itai Vardi notes in his 2011 article "Auto Thrill Shows and Destruction Derbies," "Beam's men initially devised a set routine of car tricks, consisting of precision driving and automotive endurance demonstrations. Yet the shows soon turned largely into spectacles of high risk and destruction. The greatest attraction, Beam discovered, were the wrecks and smashes: autos colliding in head-on crashes, slamming into brick and flaming walls, leaping from ramps straight into other vehicles (known as the 'T-bone Crash'), and running over human 'iron men.'" This soon morphed into the demolition derby. 
Beam may have been influenced by an earlier spectacle: public train collisions. In 1896, writes Vardi, the management of the Hocking Valley-Toledo, Ohio, railroad came up with a publicity stunt—a staged collision between two dilapidated trains, filled with dummy passengers and ticket-collectors. "Despite the rainy weather," writes Vardi, "some 25,000 people gathered to watch the unprecedented show." Although one official sustained a broken leg when a flying bolt hit him, the crowd, unfazed, rushed toward the wreck in a frenzy of souvenir hunting. 
It was only a matter of time before staged airplane crashes joined the mix. "The premiere aviator-crasher," writes Vardi, "was a stunt pilot by the name of Captain Frank "Bowser" Frakes, a native of Tennessee who performed scores of such spectacles at fairgrounds nationwide. Frakes' repertoire consisted of flying planes into trees, lakes, prefabricated houses, and occasionally even straight into the ground."
By the late 1930s, "Fearless Frakes" was so well known he was a pitchman for Camel cigarettes. When World War II started, Duncan writes, Frakes traveled to Canada to join the Royal Canadian Air Force. Too old for combat, he was soon flying cargo planes. When the United States entered the war, Frakes returned home to become an instructor for the U.S. Army Air Forces. 
After the war, Frakes began to travel with an automobile thrill show, writes Duncan, performing his "Casket of Death" routine. (Frakes would climb into a casket that had been reinforced with steel, blow up the casket with dynamite, and then leap forward to receive the cheers of the crowd.) 
He never lost his love of spectacle, writes Duncan: "Neal Frakes, Bower's nephew, remembered that he was still concocting ideas for stunts into his old age. He tried to entice Neal into riding a homemade rocket into the air. The rocket would explode in the sky, and Neal was to float back to earth in a parachute. The lad had been previously warned by family members to 'stay away from Uncle Bowser.' Neal beat a hasty retreat." Frakes died in January 1970. 
Here's some footage of Frakes' act: