Flyboy: David Ellison Takes Off
In his new film, the actor-pilot gets to combine his two loves.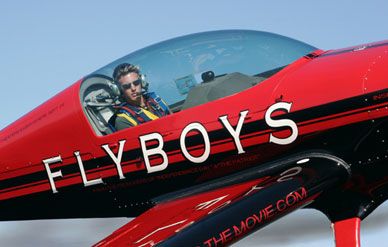 Twenty-three-year-old David Ellison is one of the stars of the new film, Flyboys, Ellison, who in real life is also an aerobatic pilot, plays a member of the famous Lafayette Escadrille.
Air & Space Associate Editor Bettina Chavanne caught up with Ellison at the EAA AirVenture show in Oshkosh, Wisconsin, this summer, where he was flying his Cap 232, which was painted in full Flyboys regalia to promote his new film.
A&S: How much fun did you have making this movie?
Ellison: It was the best time of my life. My two passions are flying and acting. To be able to combine both of those in my first film was unbelievable.
A&S: How did you get connected with the project?
Ellison: Tony [Bill, Flyboys' director] was adamant about having a real pilot in the movie. I first met him when he was a student of [renowned aerobatic pilot] Wayne Handley's, and I was too. I was 18 and had no interest in film at the time. I was going to Pepperdine, and when I later transferred to the University of Southern California, I needed a place to keep my airplane. I looked all over the place, and Wayne said "I know a guy down there in the movie business [Bill] who said you can keep your airplane in his hangar for a bit."
A&S: Were you the only one who knew how to fly on the set?
Ellison: Yes, except that James Franco [who has the lead role in Flyboys] got his pilot's license just before the movie starting filming.
A&S: How much did you know about the Lafayette Escadrille before you did the film?
Ellison: Only a little bit, to be honest. I wasn't as educated on World War I as I was on World War II. It wasn't until the movie that I really did a lot of research.
A&S: How did you become interested in flying airplanes?
Ellison: I met a guy in a hobby shop when I was 12. I was in there with my dad and wanted to build model airplanes and fly them. [After talking with him a few times], he offered to teach me and my dad to fly models. He was an aerobatic instructor and had a Pitts S2B. After a year of teaching us to fly models, [my dad and I] bought a Katana. He taught me and my dad to fly in that, then he gave me my first ride in the Pitts and I was hooked from there.
A&S: Did you have problems with aerobatics?
Ellison: I got sick my first flight.
A&S: How often did you fly in the film?
Ellison: It was semi-limited for insurance purposes. We flew three days and shot 12 hours a day. The camera shot us 25 minutes at a time. There were multiple flights each day, and we squeezed as much flying in as possible.
A&S: What's your favorite airplane to fly?
Ellison: I fly a Cap 232, and it's my favorite. I flew it here [to Oshkosh] in 2003 as part of Stars of Tomorrow. I've been here three times. The first time I was a 13-year-old kid running up and asking Sean Tucker for his autograph, and I didn't know anybody. The second time, Wayne had started teaching me aerobatics, and I actually came here with Sean and Mike Williams for Stars of Tomorrow. And now I'm here with the movie.
A&S: How involved did your father [Oracle CEO Larry Ellison] get with aviation?
Ellison: We started flying on the same day. He's got over 1,000 hours, he's checked out in the Pilatus PC-7, and he's type-rated in the Cessna CJ-3. Basically, once he got his license, we would both fly down to Salinas, he'd do touch-and-gos in the Cessna CJ-1, and I would do touch-and-gos in the Katana—and then later in a Lancair 360. We'd shoot touch-and-gos all day long. Have lunch. Do it again. As I got older and got into aerobatics, [my dad would do] touch-and-gos, I'd go to Wayne [for an aerobatic lesson], come back, and then we'd meet for lunch.
A&S: Are you doing aerobatics now?
Ellison: I've been flying aerobatics since I was 14. I soloed on my 16th birthday. I've flown a bunch of airshows, a competition in an Unlimited, and I flew at Nationals.
A&S: Do you think you want to act or focus on flying? What's your favorite hobby?
Ellison: It's hard to say what my favorite is. For a career I'd really want to act and make movies, and keep flying as much as I can. If I can act and fly, I'll be happy.
A&S: How did you think the flying in Flyboys looked on the big screen?
Ellison: I was really, really happy with the way it came out. [At the preview screening at Oshkosh] I was actually a little nervous because I knew how critical everyone would be—because they knew what they were looking at. We got a standing ovation last night, and Bob Hoover stood up and said it was the most inspiring aviation movie he's ever seen. To have that from a hero of mine was "it."
A&S: If you had a dream project, what would it be?
Ellison: My dream project is…a movie that takes place in the world of aerobatics. I really don't think that we've seen a good aerobatic movie that shows that side of flying and how involved it is. You come to places like Oshkosh and people see how good these guys are and the kind of discipline that goes into it. It's an intense sport, but you've never seen that onscreen. It's something I fell in love with as a little kid, and to be able to combine both of those would really be my dream project. It's really difficult [to make a movie about flying]. If Flyboys does really well, it'll revive the genre. I'm hoping for that.
A&S: What are some of your favorite old aviation films?
Ellison: I've seen The Great Waldo Pepper, Blue Max, Dark Blue World, Hell's Angels, all of those. I actually think I went and watched every single aviation movie before this movie came up.
A&S: Were there hairy moments on the set?
Ellison: Back then [when they were filming aviation films in the 1930s and 1940s], they were pushing the airplanes as hard as possible. [But if you're] doing that for a movie, it's not safe, it's dangerous. Computer-generated imagery [CGI] allowed us to show realistically what the dogfights were like in the old airplanes.
A&S: Did you learn a lot about aviation from studying the antique aircraft on the set?
Ellison: The first time I ever sat in an old airplane I sat in a Javier at a place in Paso Robles called Antique Aero. Chuck Wentworth runs it. My best friend and I flew the Paso Robles aerobatic competition. Chuck invited us over, and he had a completely restored Fokker triplane in the hangar. Actually had the rotary engine and the fabric. I sat in the airplane and was like "You've got to be kidding me."
A&S: What other collections have you visited in the U.S.?
Ellison: I've been to the Smithsonian a few times in [Washington] D.C. I've been to EAA AirVenture museum. I donated Wayne's Raven [aerobatic] airplane to the Evergreen Aviation museum [in Oregon]. I've visited the Museum of Flight in San Diego as well. And the Hiller Aviation Museum in San Carlos, my hometown.
A&S: Most of you were pretty inexperienced actors. What was that like?
Ellison: Filming took three months. It was lots of fun. We were kind of like a squadron, everyone became best friends. We were isolated an hour, hour and a half north of London. We hit it off right off the bat.
A&S: Do you think flying is popular among young people today?
Ellison: I started flying aerobatics when I was 14. I didn't meet anyone my age that was flying until I was 17. Now you look around and there are so many more young aerobatic pilots. The Stars of Tomorrow are a big part of that—everyone is under 30.
I just love Oshkosh because I've been here three times, and each time it's been kind of like a milestone in my life. The first time I was 13 and really enthusiastic about flying. After the show, I was like "I have to do this." The second time I came back and actually flew. Two of the highlights of my life happened to me at this year's show: Saturday, me and my best buds flew [an aerobatic show as part of ] the Stars of Tomorrow. Those were the best aerobatic flights of our lives. Everyone in the audience was clapping and gave us a standing ovation. We jumped on the wings [after landing] and it was awesome. And then to show the movie Flyboys and get a standing ovation was amazing too.