Fly-Powered Planes and Other Oddities
Oddball items at the National Air and Space Museum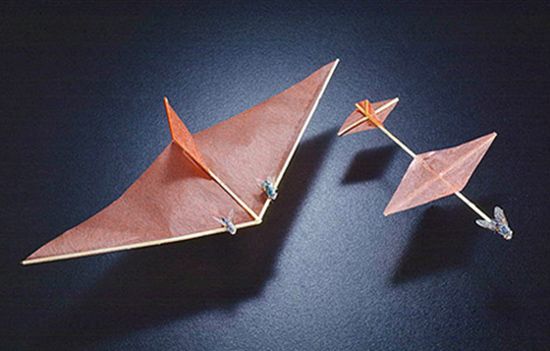 As we celebrate all things weird and wonderful on Halloween, let's take a look at some of the stranger objects donated to the Smithsonian over the years.  The photograph above shows two model airplanes designed and built by Frank Ehling in the 1970s. Take a closer look — the models are powered by flies. As Kathy Hanser wrote for the National Air and Space Museum's blog in 2009, "The one-fly design has a wingspan of two inches, and the two-fly version, which features a delta-wing design, is four inches wide." Ehling's 2001 obituary in the Washington Post, writes Hanser, described the designer's fly-harnessing method: "…Ehling honed an effective technique involving cupping a fly with his hands and then hurling it to the ground to knock it unconscious. He would then dab glue on its rear end, carefully avoiding its delicate wings, and attach the fly to the plane."
The strange device on the right, known as an Armbrust Cup, traveled around the globe with Charles and Anne Lindbergh in the 1930s. The cup, writes Museum education specialist Tim Grove, "converts condensation from breath into drinking water—for use in emergency landings at sea. Since weight restrictions were an ever-present challenge, the Lindberghs could take only a limited supply of water. Lindbergh had read about this new invention before his solo flight across the Atlantic and took one along."
The Armbrust Cup was originally donated to the American Museum of Natural History in New York, but was eventually sent to the United States Air Force Museum. In 1959 the cup was transferred to the Smithsonian Institution's Air Museum. It's currently on display in the Boeing Aviation Hangar at the Steven F. Udvar-Hazy Center.
Our final item is this somewhat creepy-looking android. It was built around 1962 at the Illinois Institute of Technology, writes Paul Ceruzzi, the Museum's Chair of the Division of Space History, to test space suits for NASA. "It was intended to be installed in a prototype suit (on Earth), and its limbs would be set in motion that closely resembled what a human suit wearer would do. Strain gauges would tell how much force was required to move in a suit, and therefore how much effort an astronaut needed to wear the suit. It was never intended to fly in space, and could not operate without a control console connected to it."
The designers managed to have a bit of fun with the android. "As a dramatic demonstration of its capabilities," Ceruzzi writes, "its designers got it to dance 'the Twist,' and to mimic the pelvic gyrations of Elvis Presley."
The android was donated to the Museum in 1986 by Larry Graham, and is on (static; no dancing) display at the Udvar-Hazy Center.