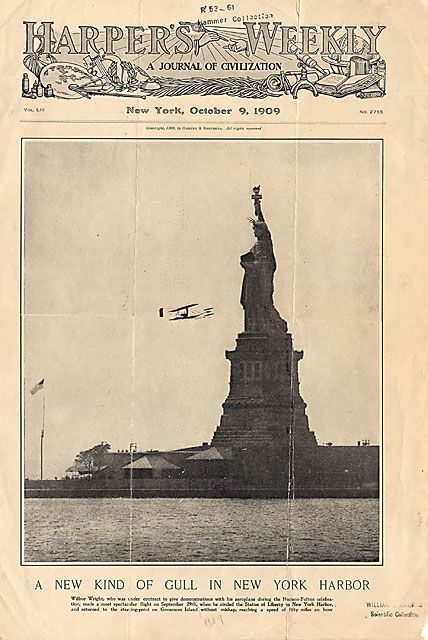 Wilbur Wright was a prudent man. Before flying over New York City's harbor on the morning of September 29, 1909, Wright fastened a red canoe to the underside of his Model A biplane, figuring the canoe would transform the Model A into a makeshift floatplane should he need to make a water landing.
Wright was in New York for the Hudson-Fulton Celebration, a two-week event that marked the 102nd anniversary of Robert Fulton's steamboat voyage to Albany and the 300th anniversary of Henry Hudson's 1609 sail through the river that was named for him. While his brother, Orville, was in Europe promoting their latest airplane designs, Wilbur agreed to fly at the Hudson-Fulton event after organizers promised him $15,000 for a flight of 10 miles or one hour's duration, plus $1,000 for expenses (the expense money would be his even if he was unable to fly due to weather or mechanical problems). And—just to make things interesting—the Hudson-Fulton Committee on Aeronautics asked the Wright brothers' arch rival, fellow airplane designer Glenn Curtiss, to fly, promising him $5,000 for a 20-mile roundtrip flight from Governors Island to Grant's tomb in Riverside Park, New York. (At the time, the Wrights were engaged in a patent infringement suit against Curtiss).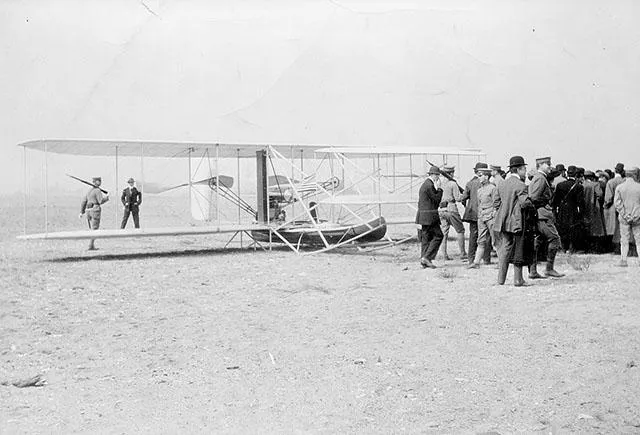 At 10:18 a.m., Wright created one of those incredible New York moments by flying from Governors Island to nearby Bedloe's Island (now known as Liberty Island), where he circled the Statue of Liberty before landing back at Governors five minutes later. While Wright was in the air, the harbor waters churned with the passage of ferries, tugs, ocean liners, and military ships, and the crews and passengers of these vessels weren't the only ones looking skyward: Thousands of spectators lined the banks of the Hudson and lower Manhattan for a chance to witness history in the making. The next day, the New York Times wrote: "Going far to the rear of the statue, Mr. Wright circled in nearer the goddess on the south side, passing it, as he said afterward, within 25 feet and directly over the breakwater of the island. A seagull, flying past the statue, was overtaken by the man-made flier, and the gull, as if outdone, dipped down far under the big silvery wings above it."
The Times also reported that after Wright touched down back at Governors Island, the throngs of onlookers "took a long breath and yelled, not with nice dignity, perhaps, but with exultant excitement. Downtown New York had seen its first real aeroplane flight."
Last Wednesday, nearly 100 years after Wright's triumph in New York Harbor, Weber Shandwick, a public relations firm, organized a press event to draw attention to the aerial history made during the Hudson-Fulton Celebration of 1909. On hand were Amanda Wright Lane, great grand niece of Wilbur and Orville, champion aerobatic pilot Patty Wagstaff, and noted Wright brothers historian Tom Crouch, who is a senior curator at the National Air and Space Museum. At 1:30 p.m. under an overcast sky, Lane, Wagstaff, and Crouch boarded a helicopter, along with several reporters, and made a low-altitude flight past the Statue of Liberty and Governors Island to see the city as Wright had seen it a hundred years prior. Crouch, who has written about other early aviators flying past Lady Liberty, said the experience was "more than cool."
Curtiss, however, would not be so fortunate: Not only did he not make it to the Statue of Liberty on September 29, he barely made it off of Governors Island. Taking off in the gusts that flowed over the harbor throughout the day, Curtiss' airplane was too underpowered to safely plow through the turbulent air, and after traveling only 300 yards, he quickly landed. Curtiss again tried—and failed—to make a substantial flight, and October 2, he left New York City.
Wright had ended up making three glorious flights on September 29, but he wasn't done yet. He still needed to make a flight of at least 10 miles or one hour in duration if he wanted to collect the $15,000 payoff from event organizers. What route would he choose? Well, the flight Curtiss had been expected to fly—from Governors Island to Grant's tomb and back—was 20 miles. Perhaps we shouldn't be surprised that Wright chose the Grant's tomb run, a flight twice as long as he needed to make. It seems that Wright couldn't resist the opportunity to show up Curtiss, who had made such a feeble display of his own airplane's capabilities.
On October 4, at 9:53 a.m., Wright took off in his canoe-outfitted biplane, a life preserver at his feet. As hundreds of thousands of New Yorkers cheered him on, he flew along the Hudson to Grant's tomb, returning to Governors Island 33 minutes later. Wright had just made the first long flight over U.S. waters, a gutsy move that earned him the prize money. "There was also a huge psychological payoff," says historian Crouch. "Wilbur made the flight for which Curtiss had contracted. That must have been enormously satisfying."