Finding Fred McConnell
Aviation in the heartland has fewer than six degrees of separation.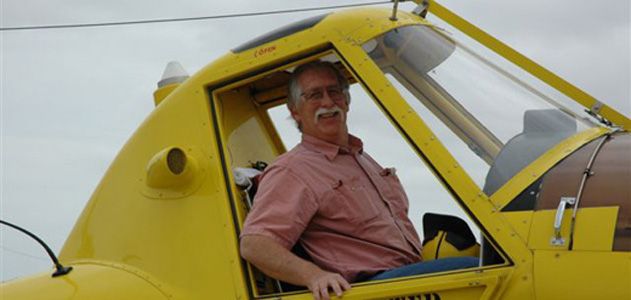 Lemuel Shattuck, a pilot and aviation instructor, is also that rare thing: a natural writer. Although his story in our December 2007 issue Jim Bumgarner's in the 1980s when Bumgarner first heard of an abandoned airplane in Kansas. While Bumgarner researched and restored the Fleet, Shattuck was inspired to track down Kittie Lou McConnell-English, the former pilot's daughter, and record her family's story. Air & Space associate editor Rebecca Maksel talked to both author and daughter about the experience.
A&S: How did this story come about?
Lemuel Shattuck: I attended Central Missouri State University (now known as the University of Central Missouri) from 1983 to 1988. During my studies, I worked part-time under Jim Bumgarner's supervision maintaining university aircraft, eventually accumulating enough experience to become an airframe and powerplant mechanic. Jim, in fact, gave me my practical examination. One of the students I worked with, Mark Zerener, was the individual who told Jim about the Fleet. We have no idea where Zerener is now.
I contacted Kittie Lou after seeing a posting of hers on the McConnell Air Force Base Web site correcting a post misspelling the name of her paternal grandfather. I had no idea that Fred McConnell had any living descendants, and she had no idea that her father's airplane was still in existence. We have been in contact since that time and she has been more than helpful on this project.
There are so many details to this story that it was hard to pare it down to 700 words. The fact that Fred worked for Boeing and built an airplane in his backyard is condensed to "brought up in the pre-war aviation milieu in Wichita." Blondie auditioned for Bill "Bojangles" Robinson as a young girl and was offered a Hollywood contract before Shirley Temple came along. Her father forbade it. Kittie Lou herself is a dancer.
Jim is one of the dwindling holdouts from what I consider to be the true Golden Age of aviation. He can take anything and bend it to his will. I watched him make a pump to charge his Scuba tanks out of a B-29 air pump, a pipe filled with activated charcoal and another stuffed with sanitary napkins; it worked flawlessly. Jim lives and breathes aviation. He is 78 this year and I dislike contemplating the world without him in it. He still goes to the airport most days and attends many fly-ins with the Fleet, his J3 or his Sea Bee. Jim's love of aviation mirrors that of Fred McConnell, and that, as much as the Fleet, draws the two together through the decades.
###
A&S: Tell us how you first "met" Lem Shattuck, author of our "Restoration" story, and also about the significance of McConnell Air Force Base to your family.
Kittie Lou McConnell-English: It is truly an amazing story how I came to meet Lem and subsequently have become friends over the Internet. He is a remarkable and talented person, and I have come to respect and admire him during the course of his putting together the story for Air & Space/Smithsonian magazine.
McConnell Air Force Base was dedicated to my father and two uncles, who represented all of the men and women who went off to fight in World War II, and any war, for that matter. They would have been humbled and shocked beyond belief to have such an honor.
Wichita folks had a tough job in 1954 when they decided to rename the base after a local person, and they just happened to finally choose three hometown brothers out of the countless choices who were the epitome of people's ideals.
I remember the base dedication ceremony well. General H.R. Spicer made an indelible impression on me as a 10-year-old girl. Not only was he quite charming, but he was very attentive to my little brother, little sister, and me during the dedication. He was a very caring and loving person. His smile was from ear to ear, and the twinkle of his eyes was mesmerizing. He was most definitely not the usual stiff officer type.
It was simply spine-tingling to have "accidentally" encountered Lem, and then to have him tell me how my father and mother's plane was found, piece by piece, in a Kansas wheat field, and then restored. My husband, Bruce, and I are planning a trip sometime in the next year, to go back and meet Lem in person, and also Mr. Bumgarner, the owner and restorer of the Fleet.