Fight Club
Model airplanes battle each other for dominance and acclaim.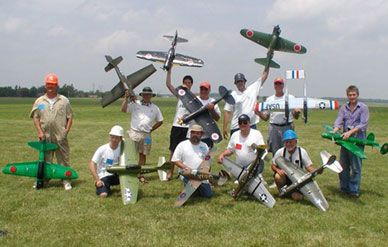 Don't mess with the Wolf Pack Squadron. They will chew up your streamer and spit it out in pieces.
In the world of radio-controlled dogfighting, model airplane enthusiasts battle each other—or rather, their models battle each other—for dominance and acclaim. The keys to the competitions are 30-foot by ¾-inch streamers attached with cotton strings to opponents' tails. A round starts with a call to "start combat." The fight lasts five minutes. Removing any part of a streamer from another airplane earns you 100 points, and returning from the sortie with your own streamer intact gets you four points per foot of streamer. Each competitor is assigned a judge who does the scoring independently of the pilot, and the Muncie, Indiana, keeps track of points and maintains national rankings.
It's a niche world that mirrors actual aerial combat, where technical improvements and piloting skill mean the difference between glory and ignominious defeat.
The RCCA runs several classes of competition, the most popular being "slow survivable combat," according to Rick Fraley, the association's event director and a legendary model dogfighter. SSC is an "open class" competition, which means pilots don't have weight, power, and other limitations on their airplane design. Many of the models sport historically accurate paint schemes applied with painstaking care.
You have to give the radio control combat community credit for high drama. Competitors vie in events with names like "Where Eagles Dare," "The Mount Diablo Face-Off," and "Hell over Hillsdale." Even without bullets flying, the risk to aircraft is real—a blessing and curse for the hobby's popularity. Some people don't like their model airplanes becoming targets. "The Sunday flier might be interested in watching combat, but is not going to risk his equipment or invest in planes 'that will get all torn up'," wrote RCCA president Ed Kettler in a recent column for association members. Yet that's undeniably part of the sport's appeal. "Let's face it, combat is entertaining for the spectators, and there's part of the NASCAR mentality about the folks coming to watch the crashes," Kettler wrote.
The number of radio control fliers turning to combat is growing, with about 200 members from 35 fight clubs now in the RCCA. It often takes convincing, and mentoring, to convert a peaceful pilot to an airborne hunter.
Fraley's garage in Eaton, Ohio has become a center for radio combat veterans, who come to cut foam wings for new designs that make their airplanes faster and more lethal. The Wolf Pack Squadron, made up of Fraley and four cohorts, was once, according to the RCCA website, "the scourge of the combat circuit."
Even with that rep, the ultimate national trophy has eluded Fraley. "In the past I have finished several years in the top 10," he says. "Unfortunately I do not have a title."
Keep fighting, flyboy!