Family Formation
The son of famed airshow pilot Sean Tucker follows in his father's smoke trails.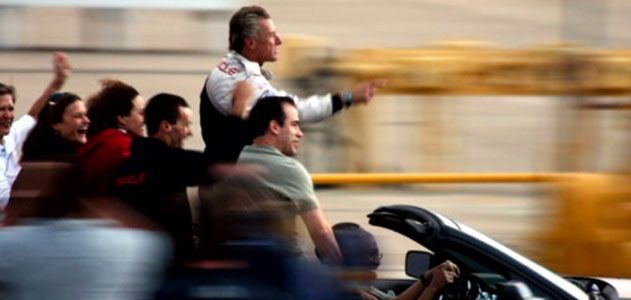 The script for an airshow pilot reads simply: Learn to fly, gain experience, add aerobatics, compete, join the entertainment business, thrill millions, stay in the business if serendipity—and sponsors—smile on you.

That's pretty much the life story of Eric W.D. Tucker, but with a prequel. The son of renowned airshow pilot Sean D. Tucker, Eric took his first airplane ride in the front seat of his father's Pitts Special on the day before he was born. Sean, 56, chuckles over that 27-year-old memory while navigating the highway from his Salinas, California, home and talking on a cell phone. Referring to Colleen, his wife of 31 years, he says: "She was a couple weeks late. I was going skydiving that day, so we flew out to the place in my plane. I did one very gentle roll, and we landed. So Eric's first taste of aerobatics came just hours before he was born."

The three-decade-old Tucker family business has always revolved around "the romance of flying a biplane," says Sean. Eric has played a role since the age of nine, when he began narrating Sean's 13-minute routine. (Sean gave him the part when his son asserted he could do better than the announcer at one small show.) During summer vacations, Eric puddle-jumped around the circuit with his father's flight operations manager, "Uncle" Norris' Piper Cherokee Six as Sean flew commercial to the next show. Jokes pilot Bill Stein, formerly of the Red Baron airshow team: "As a little kid, Eric was learning how to stop spinning. At the same age, I was learning how to do fractions."

The Tuckers describe their locale, California's central coast, as "mecca for aerobatic pilots," with its average of 350 days favorable for VFR (visual flight rules) flight each year. Along with his dad, another well-known local airshow performer, Wayne Handley, "had a huge effect on my flying and my upbringing," Eric says from his San Francisco home. Handley, originally from Carmel, now lives in an airpark community 30 miles west of Yosemite National Park. "I was so impressed with Eric when he started flying competitions," he says. "He was so casual, so laid-back. Sean and I are Type A squared."

Eric began flying aerobatics at age 12. "In high school, I won my first contest," he says. "But in the next two or three, I came in last. So I got a big taste of humble pie." After high school, Eric decided to not fly for three or four years. "I had an incredible jump-start. But I had to ask myself: 'Is this my passion, or not?' "

His answer came after a chance conversation about flying at a party during his sophomore year at California Polytechnic State University. "I pulled out my pilot's license, blowing my friends away. One of them told me: 'I've known you for three years, and I didn't know you were a pilot!' " Long story short, Eric rekindled his interest in aerobatics, took his friends for joyrides, earned his flight instructor rating, and started teaching aerobatics at Sean's Tutima Academy of Aviation Safety in King City, about 45 miles south of Monterey.
When his father, Handley, and airshow performer Mike Goulian founded the Stars of Tomorrow formation-flying team for young pilots in 2003, Eric didn't qualify. He jokes: "I got booted. I wasn't good enough yet. I had to go practice some more until I earned the right to fly." The bar for admission was high: He had to win an intermediate aerobatics competition, with no outs and no zeros. Only one opportunity—the 2004 contest in Delano, California—fit into his schedule. "Eric did everything Sean asked him to do," says Ben Freelove, a fellow instructor at Sean's flight school. "And he kicked all our butts. And he did it while going to school full-time."

While Eric was performing as left wing with the Stars of Tomorrow during the 2005 airshow season, Sean decided he wanted to learn to fly formation too. So the son became the father's instructor. "I love sharing the sky with him," says Sean. "He is a [better] formation aerobatic pilot than I." For the past two years, Eric has been flying as left wing in Sean's performances, which are sponsored by the software company Oracle. This year, the Tuckers are seeking a title sponsor for the Collaborators, their four-member formation team, which includes Stein and Freelove.

People who know them say that Eric's relaxed attitude is a perfect complement to his father's effervescence. "Eric is all about experiencing. My dad is all about adventure and challenge," says Tara Tucker, a 24-year-old graphic artist in Los Angeles. "They have a very easy way of welcoming people. Strangers quickly become family," says Lyndi Taylor, Sean's younger sister and Team Oracle's director of corporate hospitality.

"It will be exciting to see what Eric is like in 30 years," says Stein. Airshows are certain to be a big part of both Tuckers' future, but it's far from their only interest. "Skiing is my favorite hobby of all time," Sean says. "I'm fascinated by music, and I'm a junkie for any outdoor sport," says Eric. And, he adds, "I can check the surf from bed."

Jill Michaels is a freelancer and screenwriter in Seabrook, Texas.