Everyone in the Ocean!
Swim Call on a U.S. Navy Aircraft Carrier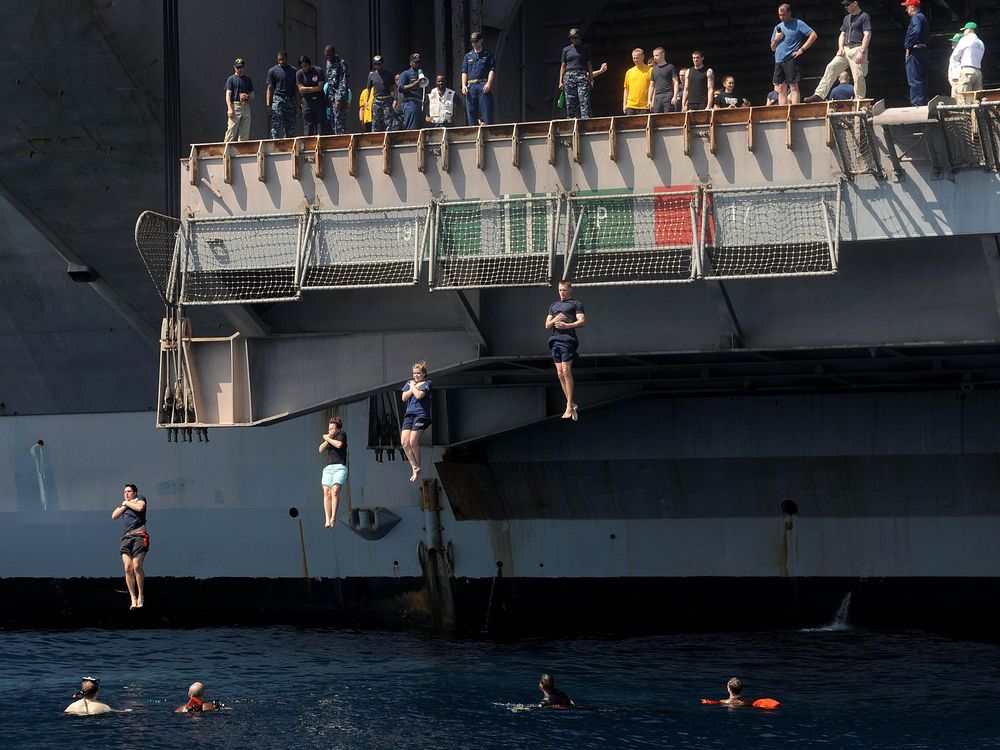 On a balmy day this past June, more than 2,000 sailors of the carrier USS John C. Stennis leaped from its aircraft elevator into the warm waters of the western Pacific Ocean during a U.S. Navy tradition known as swim call. Navy personnel specialist William Harbin called it one of the best experiences of his life. "Who else can say they swam next to an aircraft carrier with armed shark guards [as] your own private security?" said Harbin. During a swim call, sharpshooters stand on the ship's deck or nearby in a rigid-hull inflatable boat, watching for sharks.
Depending on its aircraft load, a carrier's flight deck may sit as high as 60 feet above the waterline. Its hangar bay elevators lower swimmers to 30 feet from the waves—the equivalent of an Olympic diving platform—so leaping sailors risk a broken bone if not using good form. The USS Eisenhower issued instructions to prevent injuries  by asking that the crew "practice to prevent injury from wrongful water entry."
The tradition dates back at least to the 19th-century British Royal Navy and was once known as All Hands to Bathe, when it was more an order than an option and was meant to keep sailors clean. Since at least World War II the U.S. Navy has conducted swim call on vessels ranging from submarines to amphibious command ships, but the most dramatic may be floating alongside a 100,000-ton carrier holding 90 aircraft and 6,000 fellow crew.