Electronic Music Duo Looks to NASA's Past for Inspiration
Wilco keyboardist, art historian team up to revisit the early space age.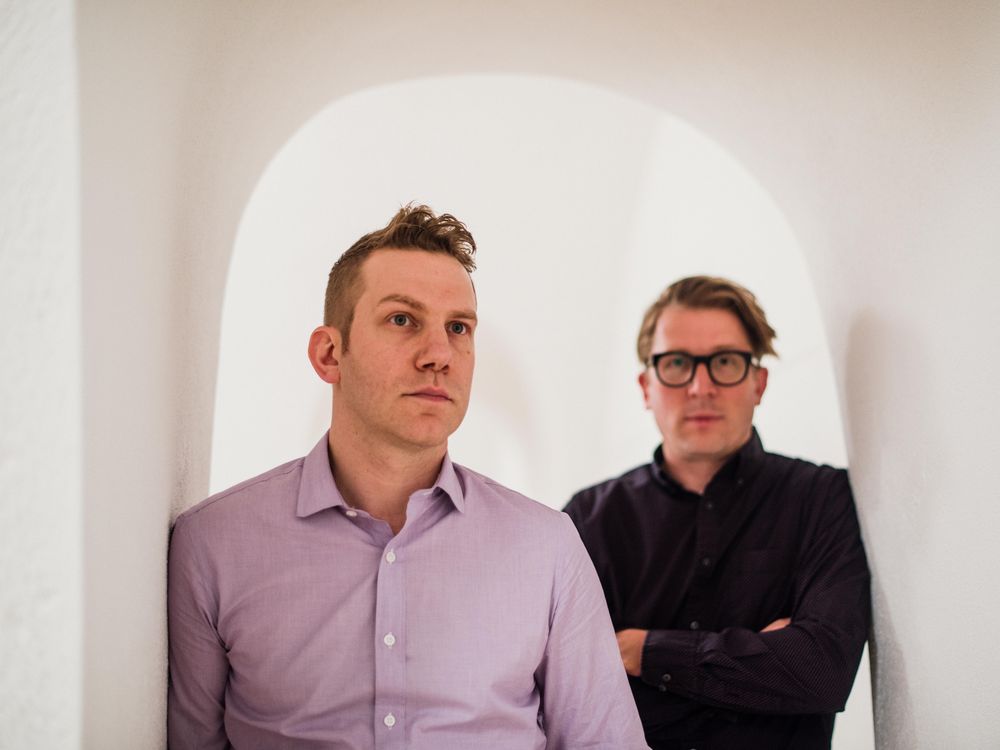 On their debut album Hip Mobility, James Merle Thomas and Mikael Jorgensen—who call their musical project Quindar—weren't interested in rewriting The Right Stuff or remaking Apollo 13. They wanted to explore the early decades of NASA and the pre-Shuttle space program, but from an oblique angle. "Countdown, blastoff—that stuff has been well covered," explains Jorgensen, probably best known as a multi-instrumentalist in the critically acclaimed indie band Wilco. "We wanted to find little moments that were more humanizing."
 
The result of their search—one result, anyway—is a sequence of eight electronic compositions inspired by archival material from NASA and its contractors that Thomas began unearthing while earning his art history doctorate from Stanford University: sound recordings, bits of film, blueprints, documents. A few compositions, like the album-closing "Honeysuckle This Is Houston," sample NASA radio transmissions directly. But the artifacts are more often an influence than an ingredient, says Thomas. "The project has a deep grounding in the fine-grained experience of looking at materials, walking around the interior of SkyLab — just soaking up the embodied knowledge of the place."
 
The duo chose the name Quindar after the familiar analog-synthesizer generated "handshake" tone that indicated a successful radio transmission during the Mercury and Apollo eras. "It's got the coolest letter of the alphabet — Q — and it sounds post-war," Jorgensen says. "Quindar! Like radar, like Telstar. To me it's obvious that it's rooted in this postwar moment."
 
That postwar era is Thomas's speciality. The dissertation that planted the seed for the project focused on "the intersection of art, technology, and politics of the Cold War period," he says. 
As for the album title, that came from some test film Thomas found of spacesuit designers demonstrating the range of motion on one of their prototypes—and the duo's recognition of a solid double entendre: "What is 'hip mobility," Jorgensen asks with a grin. "Is it being able to move into Bushwick, Brooklyn, or to move out of Bushwick, Brooklyn?" (Jorgensen and his family recently traded Brooklyn for the sunlit charms of Ventura County, California.)
 
Thomas breaks down the project's aesthetic and method in detail in the liner notes included with the album: "After researching the details of a specific sound, we strip it from its history, manipulate its formal qualities and then build a new compositional framework around the sound's character," he writes, "deciding in some cases to go so far as to fully obscure the original piece of archival audio with which we began."
Found materials are more recognizeable in Quindar's live performances, where they are typically joined by Jeremy Roth, a concert lighting designer and video artist who triggers projections in real time. He's not just pressing "play" and letting a pre-assembled sequence of video run; he's making creative choices about what to play, just like Thomas and Jorgensen. Quindar has been performing since 2013; their most recent appearance was at the Eaux Claires Music & Arts Festival in Wisconsin in mid-June. The music on Hip Mobility was recorded in fits and starts between 2012 and 2015—not exactly Space Race tempo. But then Jorgensen and Thomas are both busy men.
 
Thomas, a lifelong musician who completed a Guggenheim Fellowship at the National Air and Space Museum in 2011-12, is more likely to cite avant garde composer John Cage as an influence than John Glenn. In January, he was appointed executive director of Vox Populi, a nonprofit artists' collective and exhibition space in Philadelphia. 
 
Jorgensen, a pianist and recording engineer from Chicago, has toured with Wilco for 15 years and played on seven of the band's albums. (Full disclosure: I've been a fan of Wilco for longer than Jorgensen has been in the group.)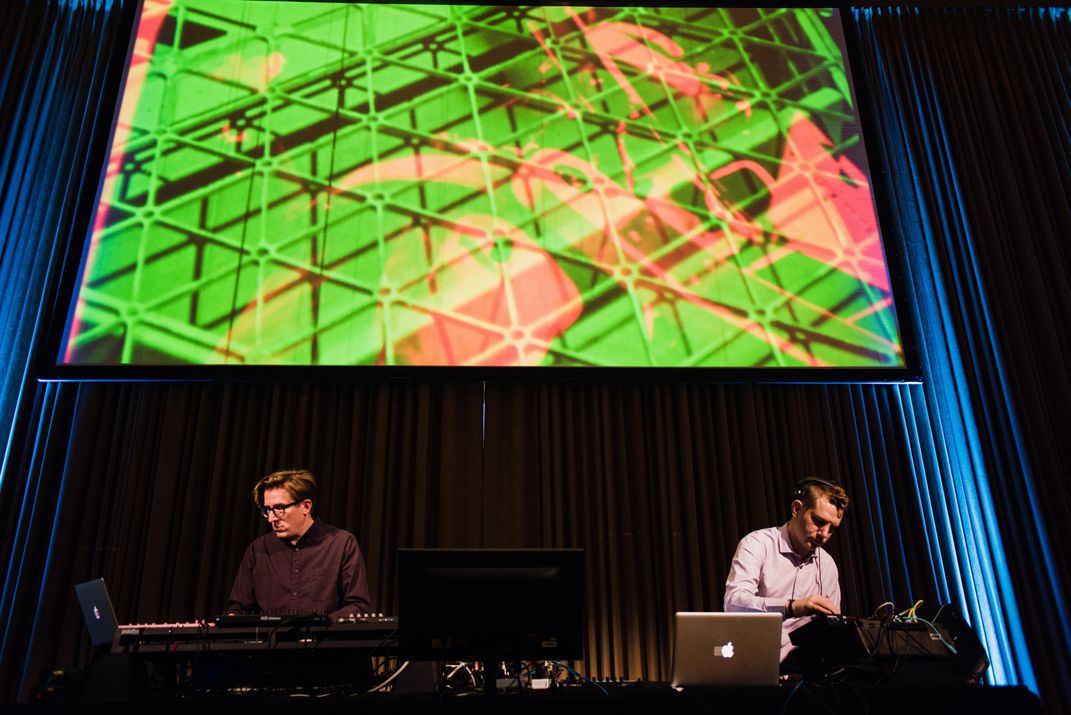 Discussing their approach to interpreting their subject material, both artists cite Stoned Moon, the series of lithographs Robert Rauschenberg made after NASA invited him and other artists to Cape Canaveral to document the Apollo 11 launch in 1969. The roughly three dozen pieces Rauschenberg made after his visit were impressionistic, incorporating imagery of Florida flora and fauna along with schematics of rockets and spacesuits and portraits of astronauts. Thomas also likes to talk about the famed industrial designer Raymond Loewy, who devised space habitats and equipment for NASA between 1967 and 1973, having previously created the ubiquitous Coca-Cola logo and the sigil on the side of every Greyhound bus. Of his thousands of designs, the SkyLab interior was the most notable one brought to fruition by NASA.
 
Thomas and Jorgensen met through a mutual friend, Volker Zander, the bass player for Calexico who also has performed with Wilco. Recognizing in each other a creative ally, they spent several years looking for a project to dig into together. Hip Mobility is the long-gestating first result of a process that began in earnest when Jorgensen invited Thomas to his Brooklyn studio five years ago for an expectation-free jam session. Thomas likes to use the word administration, as opposed to composition, to describe their working methods, much of which involved setting up systems of synthesizers and sequencer gear and letting themselves be surprised by the resulting sounds.
 
Jorgensen says Quindar sees IMAX as a natural format for their project, which would allow them to push Roth's visuals even farther. IMAX theaters also tend be located in museums and science centers, the sorts of places they see as better suited to their multimedia collaboration than traditional music venues.
  
Hip Mobility, the debut album from Quindar, is out July 14 on Butterscotch Records.