This is the Team that Knows How to Pull Off a 127,000-Foot Skydive
Red Bull Stratos talks about the jump and unveils some record-breaking artifacts.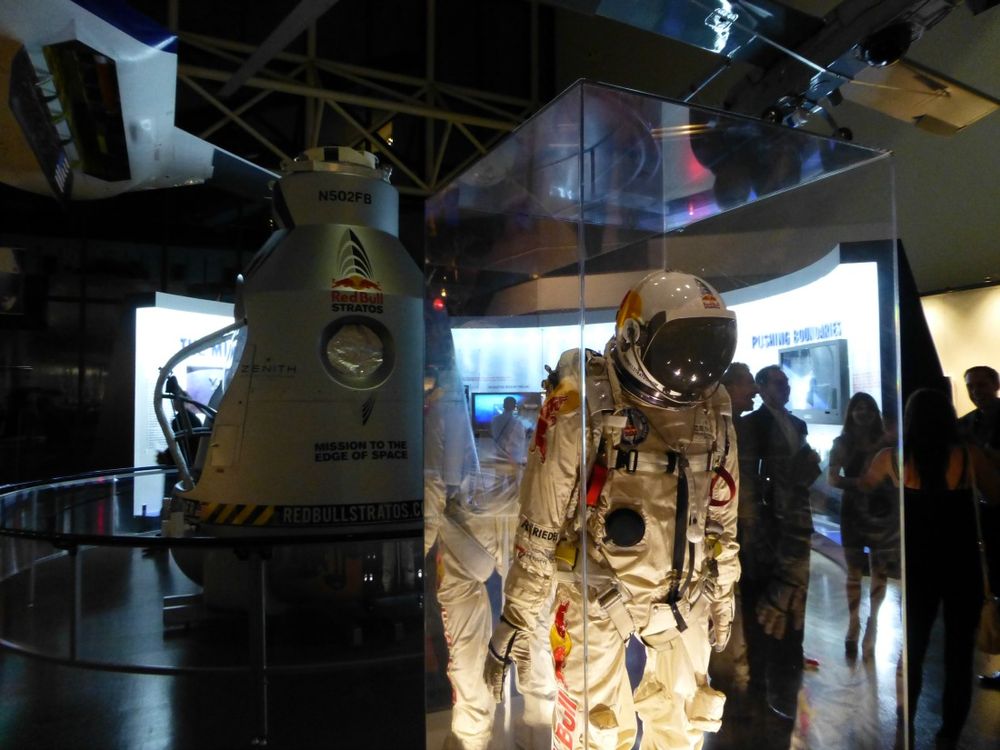 Two new artifacts now sit at the far west end of the National Air and Space Museum on the National Mall. A sleek and modern flight suit stands upright, the helmet tilted ever so slightly to enjoy the view below its boots. The position mimics Felix Baumgartner's in October 2012, as he stood 127,852 feet high on the edge of the Red Bull Stratos balloon gondola – also in the exhibit – preparing to be the first person to break the sound barrier outside of a vehicle. This temporary exhibit runs until May 26, 2014, when it will move permanently to the Udvar-Hazy Center in Chantilly, Virginia.
On Tuesday night, Red Bull sponsored a reception at the museum to celebrate their donation to the Smithsonian Institution, inviting Felix Baumgartner, mentor and previous jump altitude record-holder Colonel Joe Kittenger, and technical project director Art Thomson for a panel moderated by museum senior curator Tom Crouch. (Much of the remaining Stratos team was also in attendance.) Thompson and company spent most of the talk emphasizing the "true flight test" nature of the project and the innovations they made to flight suit technology that could benefit high-altitude pilots and commercial space riders. 
Baumgartner explained that it took him months to convince the people at Red Bull, long-time sponsor for his BASE jumping activities, to get behind the record-breaking skydiving attempt. He insisted that all they needed was what they already had: Art Thompson. Thompson started his career working for Northrop Grumman on such projects as the B-2 stealth bomber, then went on to start his own aerospace company that does everything from concept design to consulting for Hollywood blockbusters, and has long worked with Red Bull on their technical activities.
Getting Kittenger on board was another matter. He'd been pursued by, and turned down, many wanna-be near-space divers over the years, so he would only sign on under four conditions. First, that there would be at least three jumps, to assure they could test the flight suit and capsule before they sent it up to 120,000 feet. Second, that there were two balloons for every launch for redundancy. Third, that Baumgartner quit BASE jumping until the final attempt, because Kittenger wasn't going to waste his time if Baumgartner was risking his life elsewhere. Finally, "I would not drink a Red Bull." Evidently, those were fair terms for Red Bull, and the jump was on.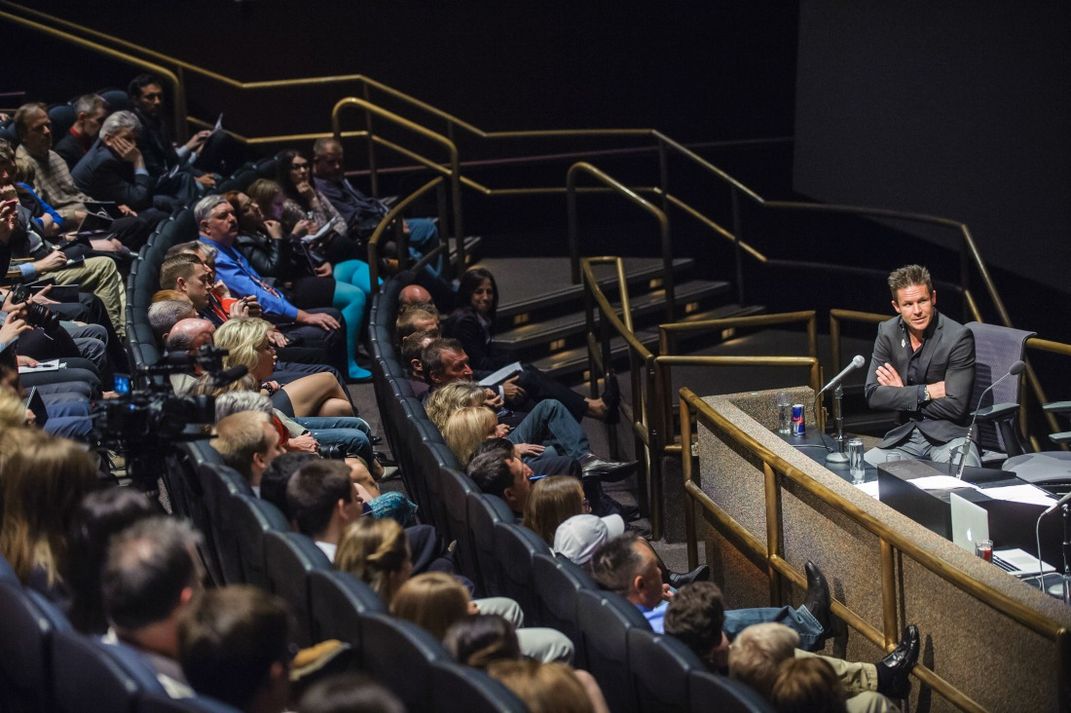 Turns out the most nerve-wracking part of the jump attempt wasn't, you know, falling from the edge of space; it was getting used to the pressurized flight suit that Baumgartner needed to wear. Early in his training, he began having "anxious feelings in the suit" which felt, he recalled, "like you have to breathe through a pillow." On the day he was supposed to be in the suit for about five hours – the amount of time he'd be in it during the entire pre-launch, ascent, and, in case of an abort, a descent in the gondola – he balked. Baumgartner skipped the training session and fled to the airport to fly home to Austria. Thompson caught him before he boarded, but it was too late; Baumgartner was out of the mindspace to make the attempt. He says now, "I'm always trying to find my limit, and that day I found my limit." With the help of a psychiatrist he was able to try again a few weeks later, and to sit in the suit multiple times to prove to Thompson that he'd overcome this limitation.
The suit itself is a source of pride for Thompson. He ordered both the standard suit worn by U-2 pilots and the orange escape suits worn by astronauts during the shuttle launch, but those are meant to be worn in the seated position. Thompson's team made a few adjustments, such as rotating the hip sockets and adding a seal on the visor, which he hopes will "be integrated into future suits for better mobility."
Baumgartner described his ride up in the sealed and pressurized gondola as being like "sitting in a Rolls Royce" compared to Kittinger's 1960 record-breaking 102,800-foot jump, which was made from an open gondola, with Kittinger "suffering all the way" in the freezing air, Baumgartner said. When asked what it was like to stand so high and look down, he said that he tried to enjoy the moment, but there's no room at that point for "real emotions." You have a checklist and you have to make sure everything on it has been crossed off. He looked up at the black sky "which is so much different than when you look at it from the ground," and looked out to see the curvature of the Earth. "And then I took one step into the unknown."