The Dusty Gems of Pima
Tucson's famous air and space museum was well worth a stop on my western tour.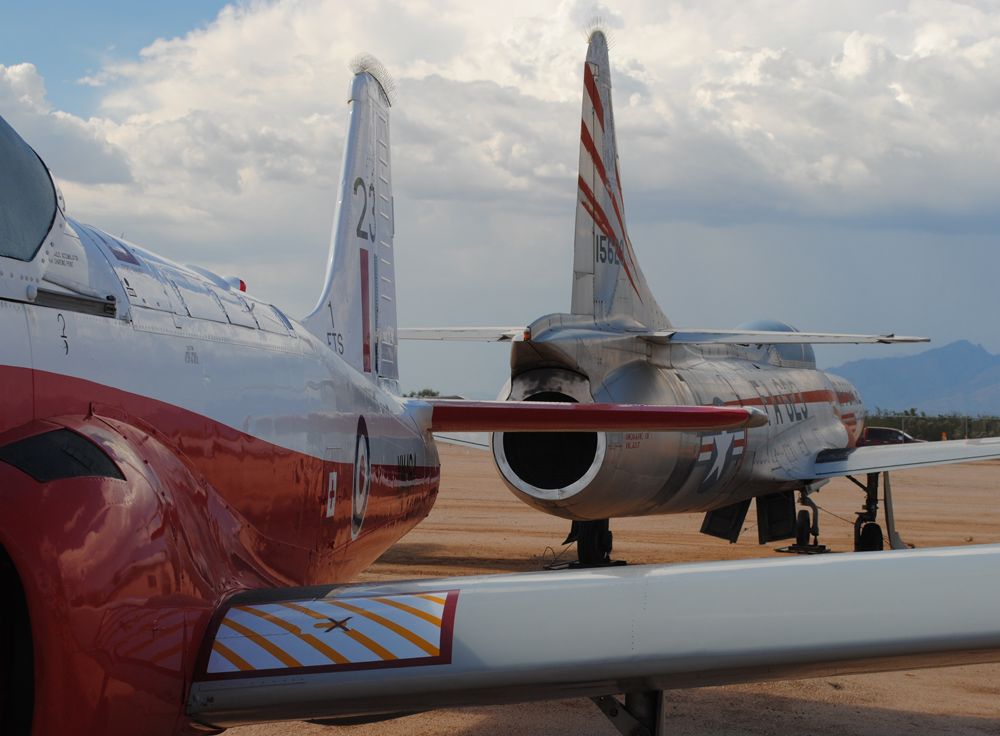 My son, Ian, and I couldn't wait for our Tucson, Arizona, stop on our epic western vacation. We shoved off from Buckley Air Force Base outside Denver—my new Air Force Reserve assignment—for two weeks of hiking, white water rafting, and a meet-up with my wife's brother and wife in Prescott, Arizona.
After stops at Dinosaur National Monument in Colorado and Utah, we headed to the Pima Air & Space Museum in Tucson, which features more than 300 aircraft displayed inside six hangars and outside on 80 acres of dusty desert scrub. We stayed at nearby Davis-Monthan Air Force Base, home of "The Boneyard," officially operated by the 309th Aerospace Maintenance and Regeneration Group (AMARG).
The hangars at Pima are wonderful—housing an SR-71 Blackbird, a PBM-5A Mariner, and B-24 Liberator, among many others. Ian and his sister Eve did thorough pre-flights in the Sikorsky SH-3 and Boeing 720 cockpit simulators—flipping switches with abandon.
After lunch, Eve and my long-suffering wife Margaret wisely stayed inside in the air-conditioned comfort of the main hangar's snack bar while Ian and I explored the aircraft outside. I loved the juxtaposition of fighters, cargo, test, and civilian aircraft—all baking in the 90-degree Arizona heat. Our faves: the Blue Angels Grumman F-11 Tiger, the famous (or infamous to those subjected to its nausea-inducing parabolas) NASA KC-135A "Vomit Comet," and a certain silvery B-52 Stratofortress.
We approached the Stratofort from the left—nothing unique about it. Passing the nose, I glanced down its right side. I stopped in my tracks—this was the NB-52A (one of two NB-52s) flown by NASA. Before us was "The High and Mighty One," a veteran of dozens of X-15 launches. Inboard of engines five and six was the specially designed pylon used to drop the iconic test aircraft that gave Neil Armstrong and other test pilots of his generation their astronaut wings.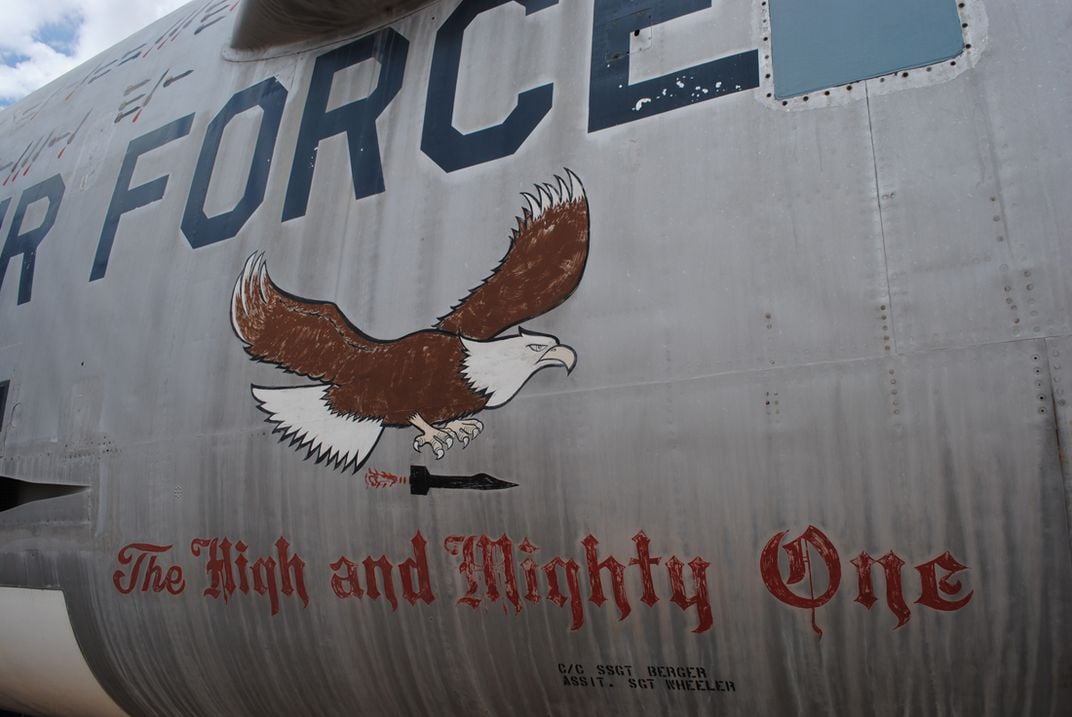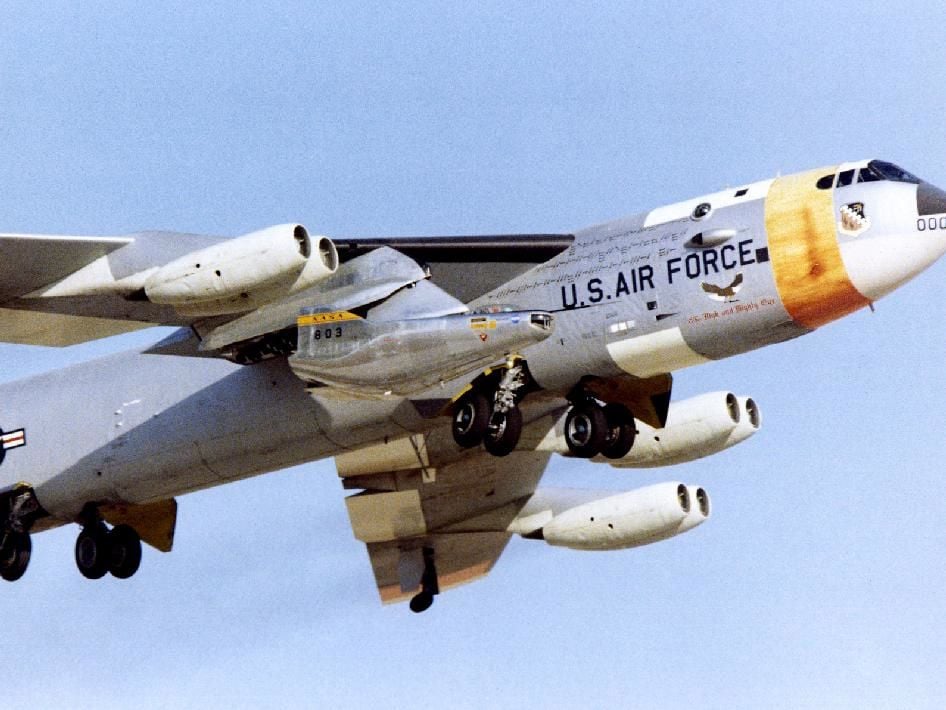 A fast-approaching thunderstorm opened up; Ian and I scrambled under the fuselage of a C-141B. After the rain stopped, we headed inside and toured the gift shop. Yes, there were coffee cups, shirts, and books. But in a corner, displayed on a Boeing catering cart, were aircraft parts. I picked out a radio compass dial and an oil gauge, among others. A bag of late-stage compressor blades was only six dollars. The instruments were under 10 dollars.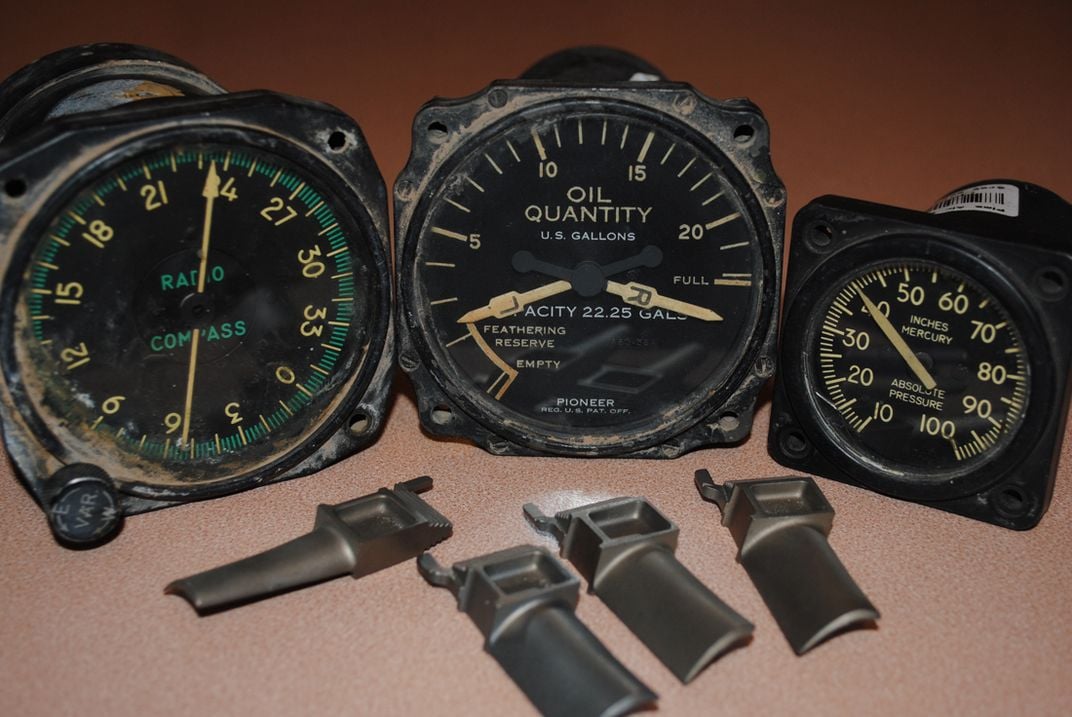 With a wordless glance, Ian and I vetoed the Boeing 747 fan blades on sale for 100 bucks. That would be a hard sell to his mother. She's very understanding, and would have balked for only one reason: How to pack five feet of titanium for the flight home in already over-stuffed suitcases?
More importantly, we bought our tickets for the Davis-Monthan AFB "Boneyard" tour the next day. More about that soon.