Duke Ellington Sings About the First Moon Landing
In 1969, the jazz composer performed a rare vocal to mark Apollo 11's historic flight.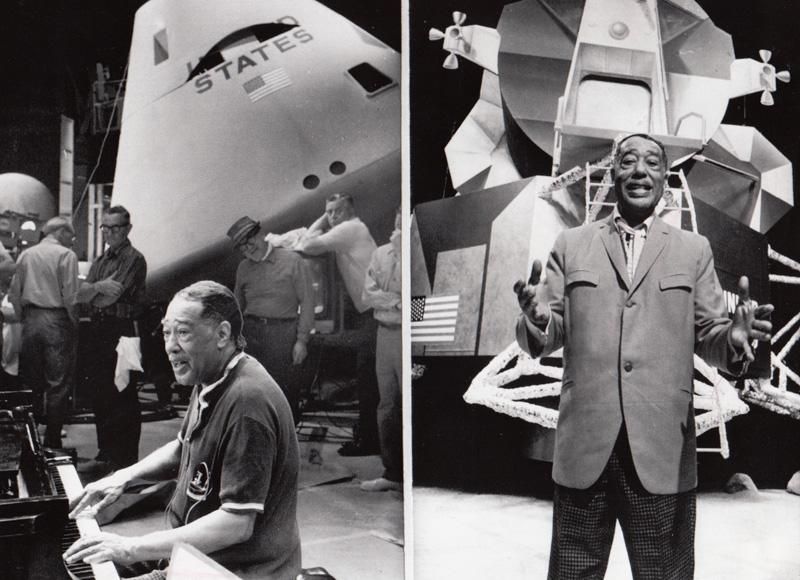 The Moon has always been a popular subject for song writers. At the time of the Apollo 11 flight in July 1969, the American Society of Composers, Authors, and Publishers (ASCAP) listed more than 250 song titles beginning with the word "Moon"—everything from "Moonlight Becomes You" to "Moon River." That year, sensing a marketing tie-in with the Apollo landings, the Pickwick label issued a compilation album recycling ten renditions of popular songs performed by Billy Vaughn, including "Moon River," "Moon Glow," "Silver Moon," and "Shine on Harvest Moon."
"It appears that rather than killing romantic songs about the Moon, you have inspired hundreds of song writers," astronaut Ron Evans told the Apollo 11 crew during their daily news update on the mission's seventh day. "Nashville, Tennessee….reports it is being flooded by Moon songs."
Duke Ellington, one of America's greatest composers and jazz musicians, was among the inspired writers, having been commissioned by ABC-TV to compose and perform a 10-minute vocal paean that would be played to the nation as part of the network's 30 hours of continuous coverage of the first Moon landing. "Moon Maiden," written for piano, bass and drums, also marked Ellington's public debut as a vocalist.
 "At my age, I don't really need an excuse to do anything," he told reporters at a press conference after taping the song at ABC Studios in New York for later broadcast on the day of the lunar landing. "I just felt I could do it. But it's a one-shot thing. This is the end of my singing career."
By that time, Ellington said, he had already written or composed more than 5,000 songs, and he had no trouble writing about a space voyage, although he did admit it was difficult getting romantic about a spaceship. "The train was the most romantic vehicle we ever had," he said. "If you ever heard the C&O whistle blowing blues—that whistle was something." But the Moon and spaceship were of secondary importance in his song: "There's got to be a girl out there for a man to be singing about," he said.
As part of its marathon coverage, ABC News had prepared a number of short features, including James Dickey reciting his poem "The Moon Ground" (which had been prominently featured in Life magazine three weeks earlier) and a discussion between Twilight Zone creator Rod Serling and a panel of science fiction authors that included Frederik Pohl and Isaac Asimov. But it was Ellington's song and lyrics that were most written about afterward:
Moon Maiden. Way out there in the blue…
Moon Maiden. Got to get with you.
I made my approach and then revolved,
But then my big problem is still unresolved.
Moon Maiden, Maiden, listen my dear.
Your vibration's coming in loud and clear.
I'm just a fly-by-night guy, but for you…
I might be quite the right-so-right guy.
Moon Maiden, Moon Maiden, Maiden you're for me.
Ellington recorded the song in a studio set that simulated the Apollo 11 landing site, complete with a mock-up of the lunar module. Introducing the performance, ABC anchorman Frank Reynolds said, "It does seem appropriate that as man is about to set foot on the moon for the first time in the history of mankind, that we should honor this event and celebrate it with music."
That year, two rock songs with "Moon" in the title managed to crack Billboard's Top 100 songs, although neither had anything to do with Apollo: Creedence Clearwater Revival's "Bad Moon Rising" and "Mr. Sun, Mr. Moon" by Paul Revere and the Raiders. The psychedelic pop band The Moon issued a self-titled album, featuring David Marks, a former member of The Beach Boys.
In England, there was another memorable performance with direct ties to Apollo. The BBC hired the progressive rock band Pink Floyd to provide background music on a special edition of the arts series OMNIBUS, which aired during a lull following the Apollo 11 landing. The band played a five-minute, improvised set that would later be called "Moonhead." The piece has never been released commercially, but has taken on a cult-like status among some Pink Floyd and space fans.
Other broadcasters played a recently released pop song by a little-known performer named David Bowie titled "A Space Oddity," which had been recorded in June 1969 and released in early July to coincide with the moon landing. Originally inspired by Bowie's viewing of the film "2001: A Space Odyssey," the song tells the tale of Major Tom, an astronaut who, after reaching orbit, decides not to return to Earth. "I'm sure they really weren't listening to the lyrics at all," Bowie explained in an interview with Performing Songwriter magazine in 2003. "It wasn't a pleasant thing to juxtapose against a moon landing." Nonetheless, the intense media exposure gave Bowie his first hit single, and "A Space Oddity" became one of his most famous songs.