One of the World's First Delivery Drones Is Now a Museum Piece
The first to deliver coffee, clothes, and medicine takes its place in history.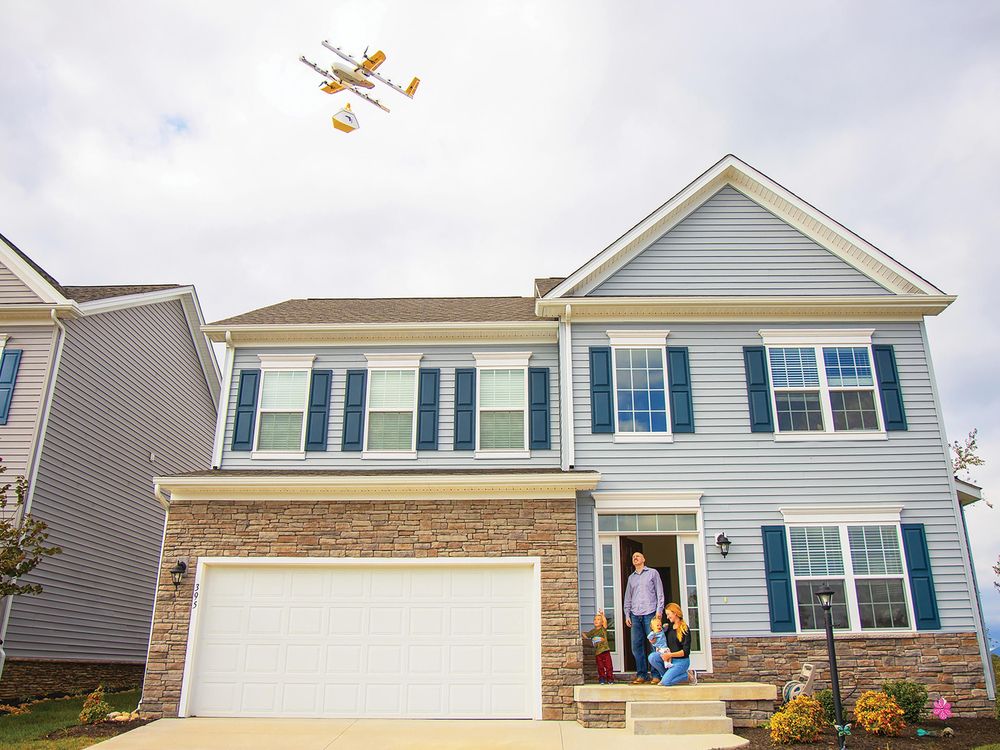 The Jetsons-esque dream of on-demand commercial delivery took a step closer last October 18, when three Wing 7000 delivery drones departed their "nest" established in a Christiansburg, Virginia parking lot. The first to arrive at its destination—after traveling 2.32 miles in two minutes, 50 seconds—was airframe A1229 with delivery of a FedEx-shipped winter vest to Paul and Susie Sensemeier. Like most drones, it was remotely piloted (or more accurately, monitored) by a human. Wing's control center has the capability for an operator to control up to 15 drones simultaneously. The National Air and Space Museum has just accepted the donation of A1229 from Wing, one of Alphabet's companies.
Wing began as a Google Moonshot project in 2012 to develop the emergent capabilities of autonomous aircraft made possible by advances in lightweight high-efficiency electric motors, higher-performance lithium ion batteries, better sensors, and rapid progress in AI algorithms. Google was hardly alone. Several companies, including Amazon, have sought to achieve a breakthrough in practical autonomous aerial delivery. Wing's efforts stood out early because its first demonstrator, "Chickadee," used a fixed-wing, tail-sitter configuration reminiscent of the Convair XFY-1 Pogo (also in the Museum's collection) for vertical takeoff and landing, which performed well in public tests in Australia. Notably, it delivered its packages by lowering them from a hover via a breakaway tether to keep the drone from crashing into humans, animals, or structures. By 2016, Wing had moved on to the compound lift rotor-and-propeller combination used on the 7000-series aircraft. That year the Obama administration took notice and helped facilitate grants and waivers to begin testing in the United States. The Trump administration greatly expanded this authorization in 2017 to include the first regular commercial drone home-delivery service trial in the nation. The Christiansburg trials followed the launch of similar programs in Australia and Finland.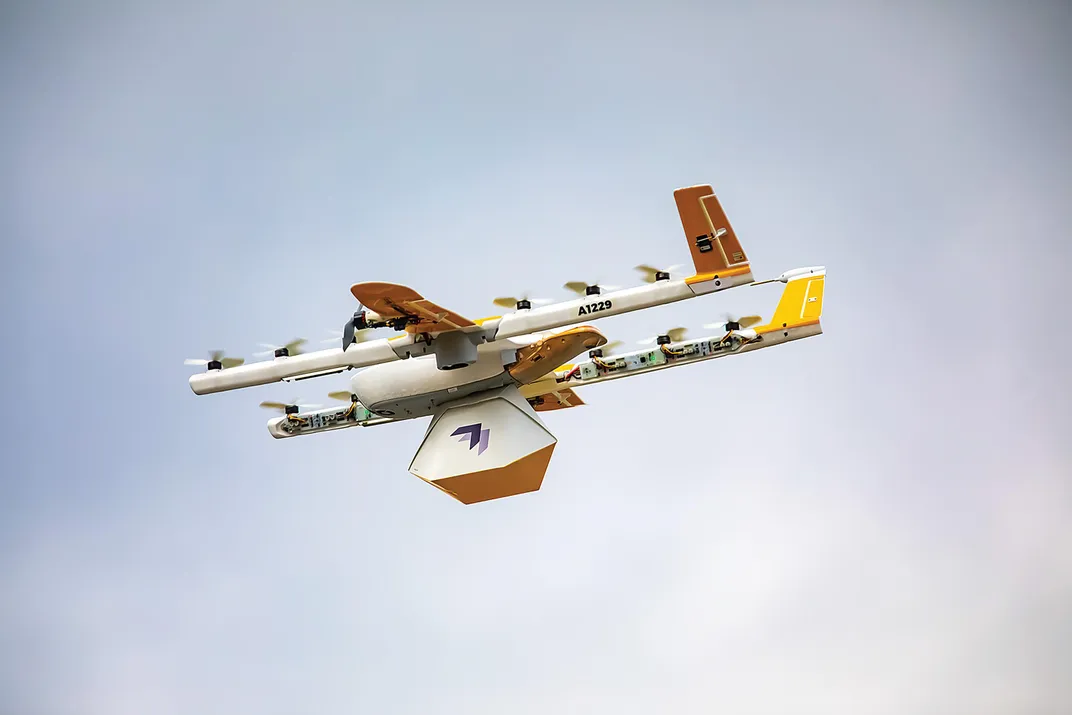 The Wing trials and those of other promising drone delivery services like Zipline's fixed-wing-with-parachute-drop boxes, used to deliver blood and medicine, highlight an important moment in the development of autonomous flight. A1229 and the other Wing 7000 drones demonstrated that the technology for autonomous delivery has matured to the point that it is technically feasible. Still unresolved are whether this type of service can make a profit; determination of the most suitable applications; and the buy-in of a skeptical public.
A comparison of A1229 with earlier delivery drone projects highlights the rapid pace of technological development. Its rotors are designed to sound less annoying than the earlier ones, which mimicked a swarm of angry bees, and its foam-core, cushioned structure is optimized to reduce the potential of injury or damage in the event of failure. Once drones like A1229 become accepted as a low-risk and unobtrusive feature of the landscape, the primary challenge turns to the issue of the most economically viable application. A1229 could not carry more than three pounds or travel more than six miles. For quick deliveries of coffee, burritos, and medicine, this works well in a suburban environment, particularly if the retailers using the service are immediately adjacent to the nest. Larger payloads, however, require larger aircraft that pose a greater risk to life and property if something goes wrong. For this reason, next steps are more likely in long-distance delivery over unpopulated spaces or in designated low-risk corridors. While the question of whether or not you will have postal-delivery drones stopping by on a routine basis anytime soon has yet to be resolved, A1229 makes it clear that a new era in air transportation is dawning, whether or not we are ready.