If Someone Has a Complaint About Drones, This FAA Inspector Hears About It
He knows whether a drone pilot has been naughty or nice, but he also keeps the cranks off their backs.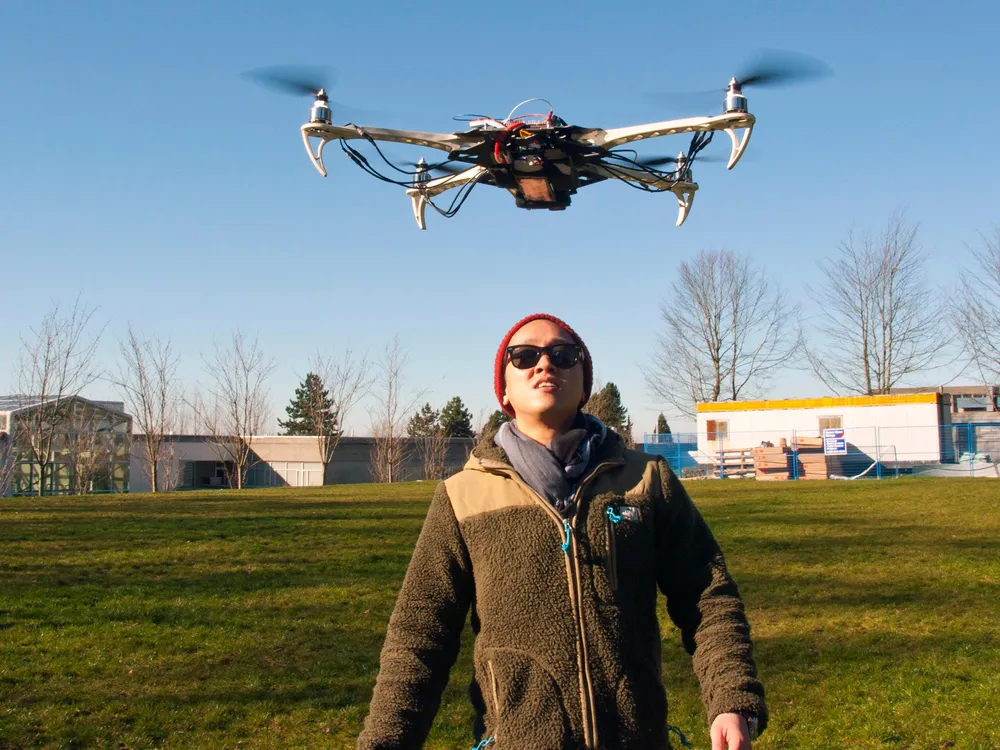 As drones become ever more common in the local skies, many people (Air & Space staff included) look giddily toward a future when UAVs deliver our mail, keep us connected, or just let us take great videos. But not everyone is so enthusiastic, and some people are downright angry.
One of the most thankless jobs in aviation is the Aviation Safety Inspector at an FAA Flight Standards District Office. Rarely is a pilot happy when one of these inspectors shows up, ready to test them until they screw up and get their pilot's license revoked. It's an old stereotype that inspector Nikolas Kubli is working hard to avoid. As the local UAV expert in the FAA's Richmond, Virginia offices, it's also his job to keep the region's drone pilots within legal bounds—and to keep irritated members of the public off the legal drone pilots' backs.
"If somebody sees a drone flying down the boardwalk at the beach, we will get complaints," says Kubli. "The person will say, 'that's against the law. They are not allowed to do that and I want something done about it!' And that is often not the case."
If drone pilots follow the rules, Kubli will protect them. "When I get a complaint," says Kubli, "I will contact the drone operator and talk through what they were doing and how they were doing it, and confirm their certificate." If no rules are broken, he calls the complainant and tells them that the pilot "is properly certificated [and] properly following Part 107 or Section 333 requirements."
The problems Kubli typically sees are "drones hitting buildings, [near misses] at altitude, Peeping Toms, lost drones, drones where they shouldn't be, paranoia calls, rouge operators, stuff like that." Much of that, of course, is against FAA regulations, if not blatantly illegal under state or local laws, and "then obviously there is a problem that will have to get discussed." But alongside legitimate complaints are what he calls the "chemtrail" complaints.
Kubli says he gets complaints from individuals that think "drones are out to get them." One caller said he had to resist a drone that was trying to pull open his front door. Another was certain drones were monitoring all his conversations. A third caller claimed that a drone "was trying to look down the vent tube in the bathroom to see them naked with a flashlight," and still another was convinced that a drone's red navigation light was burning a hole in his body. Kubli says he tries to calmly and respectfully explain what drones can and can't do, and that "some [complainants] will listen and hopefully understand what I'm telling them. But I've had some that just [can't or won't] accept it."
Paranoids aside, Kubli receives plenty of legitimate complaints. Drones are so cheap and easy to obtain that many people assume they don't need extra permissions to fly. "We're continuing to have quite an issue with rogue commercial operators," says Kubli. While most commercial pilots know they need a Part 107 certificate or a Section 333 exemption from the FAA, "I've also had operators that made it clear that they have no interest, and felt that they have no responsibility, for compliance with the requirements." Those are the folks that worry him most.
"Let's face it. The cat is out of the bag" when it comes to drones, which have to share airspace with airplanes, whether they like it or not. "The key is to do it with as much coordination, as much safety as possible," says Kubli. "All it's going to take is one airplane accident caused by a drone, and the non-drone civilian community is going to start demanding…'you need to do something now about it.' And ultimately that is going to create more regulations to make it harder for the drone operators." The only way to avoid that, says Kubli, is for drone pilots to be serious about safe, legal flying.
So please, if you buy a drone, register it properly (if required), get your FAA certification to pilot it (if required), make sure you're in a safe place before you fly, and don't do anything too stupid—or Kubli will be in touch shortly.