Are UAV Ready to Rock?
Indie band OK Go plays pro-drone concert at DC's legendary 9:30 Club.
Rock group OK Go has earned a reputation for wildly imaginative videos that typically feature the band performing an elaborately choreographed routine in a single, uninterrupted shot. Their latest and most impressive, "I Won't Let You Down," has racked up nearly 18 million views on YouTube since its premiere in late October. The clip begins with the four band members dancing atop Honda Uni-Cub single-wheel scooters inside what looks like a vacant office building. (Honda paid for the video, presumably to promote their new "Personal Mobility Device.")
But then the camera backs up to keep the quartet in frame as they ride into the street, where they're joined by a dozen (and then dozens more) uniformed Japanese schoolgirls twirling brightly-colored umbrellas. The camera rises overhead, providing a bird's-eye view of a piece of macro-choreography out of Busby Berkeley's dreams. Eventually, it reaches an altitude from which each umbrella looks like an illuminated peg from an old Lite-Brite console, spelling out OK Go, the title of the song, and even scrolling caricatures of each band member.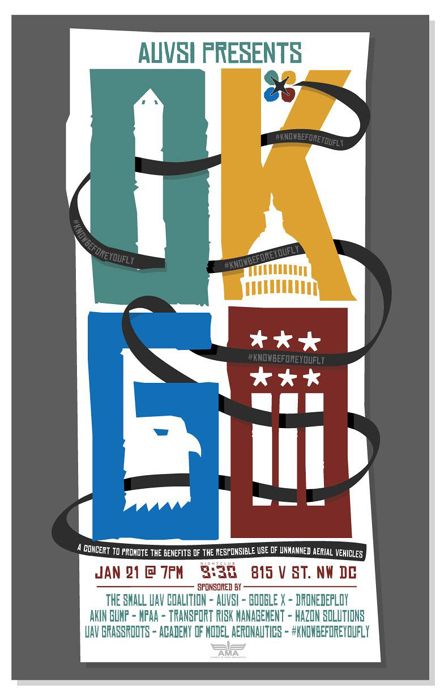 Though directed by Morihiro Hanaro, the video was shot by a DJI Spreading Wings S1000 Premium – a frightening-looking, eight-bladed "octocopter" drone you can buy today on Amazon for as little as $3,439 (plus $4.49 shipping & handling). But you may not be legally able to fly it where you live. The "I Won't Let You Down" video was filmed in Chiba Prefecture, Japan, on the outskirts of Tokyo.
"If we had tried to shoot that here, we would have been killed – by the government," OK Go frontman Damian Kulash told the audience during a concert at Washington, D.C.'s 9:30 Club last week, according to a Washington Post report. 
The event – billed as "a concert to promote the benefits of the responsible use of unmanned aerial vehicles" – was free to the public and organized by the Small UAV Coalition, a group of sponsors that includes the Association for Unmanned Aerial Vehicles International, Google X, Drone Deploy, and the Motion Picture Association of America, among others.
Kulash might've been joking, but five days after the show a drone manufactured by the same company that made the one OK Go used – DJI – crashed on the grounds of the White House at 3 a.m., prompting a temporary security lockdown.
That "quadcopter" turned out to have been piloted not by terrorists, but by a drunk, off-duty employee of the National Geospatial-Intelligence Agency, the New York Times reported. He hadn't intended to aim it at the White House, but after losing control of the drone he was worried enough that it might've ended up there to text a few of his friends about it before retiring for the night. Upon reading the following morning that a drone had indeed been found on the southeast lawn, he promptly turned himself in. Meanwhile, DJI announced it will push out a software update that would prevent the drone's rotors from spinning up in Washington, D.C. airspace – adding the nation's capitol to a list of no-fly sites that already includes 3,500 airports, according to a Washington Post report. 
The Federal Aviation Administration is under pressure from Congress to announce rules for commercial drone use early this year. Jay Vincent, a Chicago-based aviation enthusiast and the co-founder of UAV Grassroots, was one of several drone advocates who visited Captiol Hill last week to try to make sure the FAA rules won't be too restrictive.
"The worry here is that you could potentially stymie progress and the great potential these UAVs have," Vincent says from Chicago. "We'd like to see enthusiasts and hobbyists be able to use them responsibly, in a rational, regulated way."
Vincent says UAV Grassroots had been looking to stage a high-profile public event during its week of meetings with various lawmakers. When the "I Won't Let You Down" video posted last October, racking up three million views in its first 24 hours online, a number of media outlets picked up on the DJI octocopter's role in its production. Vincent wondered if OK Go might be willing to play a show to call attention to the issue of drone regulation, and he had an in – he'd gone to high school in the early '90s with Dan Konopka, now OK Go's drummer. He contacted Knopka directly, he says.
Vincent called the concert at the famous 1,200-capacity venue serendipitous. "The 9:30 Club was booked on the 20th and booked on the 22nd, but on the 21st, the last night of our trip, it was open."
Reached in Los Angeles, Bobbie Gale, OK Go's publicist, says that the band was paid for its performance, but agreed to play the show because they "will always be pro-tech, pro-creativity, pro-nerd, pro-use your own mind." Hungry Ghosts, OK Go's fourth studio album, came out last fall.