Don Lopez (1923-2008)
World War II ace, test pilot, engineer, historian, Deputy Director of the National Air and Space Museum—in his 84 years this legendary aviator did it all.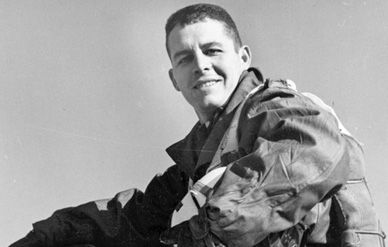 "The Gulf Coast has buildups of cumulus clouds almost every afternoon, and they gave me some of the most beautiful and pleasurable flying I've ever experienced. Often in the late afternoon, Barney [Turner], Dick [Jones], and I would take off in three fighters (sometimes all the same type, usually some mixture of P-51, P-38, P-63, and P-47) and rat race through the cloud valleys and over the cloud mountains. We would zoom up one side of a steep cloud, then roll over the top and dive down the other side, do a roll or two through the valley, and then zoom up over the next mountain. There was no conscious thought of flying behind the leader; we just followed him, and the airplane was a part of the pilot. The beauty of the clouds and the sun was surpassed only by the shadows of the airplanes on the clouds surrounded by a rainbow halo. If I had to do only one thing for the rest of my life, I think that would be it. It was what heaven should be like for fighter pilots."
--Donald S. Lopez, Into the Teeth of the Tiger
Every now and then, destiny brings the right person to the right place at the right time. For the Smithsonian Institution's National Air and Space Museum—home to the world's most important icons of aviation and space—that person was Don Lopez.
Lopez, who died on March 3 following a heart attack at the age of 84, was a modest man blessed with enormous talents and a keen, self-deprecating wit. A World War II flying ace, he was also a test pilot, aerospace engineer, Air Force Academy professor, aviation historian—and legend to all who knew him. Said General John R. "Jack" Dailey, director of the National Air and Space Museum, "Don's vast knowledge and knack for hiring an outstanding, creative curatorial crew enabled this museum to tell the story of aviation in a thorough, authoritative, and engaging way."
Since he was a young boy growing up in Brooklyn, New York, Lopez wanted to be a fighter pilot. He remembered that at age three, he waved at the heroic figure of Charles Lindbergh as he paraded through the streets of Brooklyn in 1927. "I cannot remember a time since then when I was not interested in flight," Lopez said in his memoirs.
He became an avid reader of publications about World War I aviation like Flying Aces and Battle Birds. "An uncle gave me a book about the movie Wings, and when the movie was showing at a theater near our house I got to see it," Lopez said. "It really hooked me on fighter planes."
A family friend who flew barnstorming flights off the beach on the Jamaica Bay shore gave Lopez his first airplane ride when he was about seven. It was in an open-cockpit Waco. "When I was a little older," Lopez said, "I used to ride my bicycle to Floyd Bennett Field. I would stand by the fence looking as sad as I could, and occasionally the same family friend would take me up."
When he was a teenager, the family was living in Tampa, Florida, where Lopez spent many hours watching Bell P-39s fly in and out of Drew Air Force Base. At the University of Tampa, Lopez signed up for the Civilian Pilot Training Program, which was training pilots in case of war. On May 8, 1942, he enlisted.
He received his wings on May 28, 1943, and the lieutenant who swore in his group said he was sure there would be at least one Distinguished Flying Cross recipient in the bunch. Lopez vowed that he would be it, and he was.
"Back then, everyone was pretty eager to fight," Lopez said. "I think everybody wanted to be a fighter pilot, and when you were selected, you were just overjoyed."
He was even more excited when he learned of his assignment to China, where he would fly Curtiss P-40s and North American P-51 Mustangs under famous war heroes Colonel Tex Hill and General Claire Chennault.
Lopez was 19 when he shipped out, but he looked much younger. In his memoir of his experiences, Into the Teeth of the Tiger, he wrote, "I needed to shave only every other month or so." Squadron leader Tex Hill thought he had lied about his age. "He looked like he was about 16 years old when he arrived," Hill recalls in the book. "But he became one of the great fighter pilots of World War II."
During his two years in China, Lopez flew 101 missions and tallied up five victories, the number required to be called an ace. Dailey observed, "Don flew in the most demanding arena and excelled. Being an ace is the validator that a pilot has the courage and the skills to be the best. It is the most prestigious recognition for a pilot."
Lopez left China in March 1945 and spent the next six years testing fighters at Eglin Air Force Base in Florida. He recalled that it was an exciting era to be a test pilot. "I got to fly everything there was. I flew not only the fighters, but also the bombers and transports. It was the beginning of the Jet Age—fighter pilot heaven." That phrase was later to become the title of one of his books.
While in Florida, Lopez met his wife, Glindel. "The only thing I would change in my life is that I would meet my wife sooner," Lopez said. The Lopez family includes two grown children and a granddaughter. Son Don Lopez Jr. is one of the world's leading experts on Buddhism, and daughter Joy is an executive assistant to the head of a genetic research center.
After his test pilot days, Lopez completed a short combat tour flying North American F-86s in Korea. Following an assignment at the Pentagon, he earned a bachelor's degree in aeronautical engineering at the Air Force Institute of Technology and a master's degree in aeronautics from the California Institute of Technology.
Apollo 8 astronaut Frank Borman was one of Lopez's classmates. "He never lost his calm sense of humor— even at Caltech," Borman says. "The academic load was difficult for everyone—most of us were climbing the walls, but he was always completely calm. He was technically very brilliant."
Lopez spent the next five years helping establish the aeronautics program at the new U.S. Air Force Academy as an associate professor of aeronautics and chief of academic counseling. After his retirement from the Air Force in 1964, Lopez worked as a systems engineer on the Apollo-Saturn Launch Vehicle and the Skylab Orbital Workshop.
In 1972 he came to the Smithsonian as assistant director for aeronautics. He was part of the team, led by Apollo astronaut and then-museum director Michael Collins, responsible for planning the National Air and Space Museum. Lopez was instrumental in developing the exhibits that welcomed visitors at the Museum's opening on July 1, 1976. Since that day, NASM has been the most visited museum in the world.
"Mr. Lopez was the backbone of the museum—a walking encyclopedia," former colleague and aviation writer Jay Spenser said. "His knowledge of aviation was phenomenal."
Senior curator Tom Crouch, who worked with Lopez for over three decades, agrees. "Don's command of the history of flight was incredibly broad and deep," he said.
In 1983, Lopez became deputy director, a position he held until 1990. He served as senior advisor to the director before retiring in 1993. From 1993 to 1996, Lopez served as senior advisor emeritus. He was again appointed deputy director in 1996.
When pressed, Lopez said that one of his greatest achievements at the National Air and Space Museum is the Pioneers of Flight gallery. "Originally, it was supposed to be a temporary exhibit, but I filled it with such great airplanes it hasn't been changed all this time," he said.
Lopez's affability, knowledge of aviation, and inside stories about the Museum's artifacts made him the perfect VIP tour guide. Among those fortunate to have received a tour from him throughout the years were President George H.W. Bush and family, Anne Morrow Lindbergh, Swedish King Carl Gustaf, Prince Charles, President Li of China, Queen Sofia of Spain and her children, and numerous entertainers.
In May 2003, a Curtiss P-40 similar to the one he flew in China was delivered to the National Air and Space Museum's companion facility, the Steven F. Udvar-Hazy Center in northern Virginia. Before it was hoisted to the ceiling trusses for permanent display, Lopez sat in the cockpit and posed in front of the airplane in the exact position as a photo taken of him in China during World War II.
"It was wonderful," Lopez said about that day. "I am proud to have a P-40 here. It felt good to sit in the cockpit—I'd have no trouble flying it today."
Until his recent illness, Lopez came to work at the Museum at 7 a.m. every day and put on the office coffee pot. He often stayed late to attend events and lectures, and never lost his enthusiasm or seemed weary of giving tours and speaking about aviation.
Lopez loved life and loved the National Air and Space Museum. "I've been working in air and space my whole life, and this is the culmination of that. How could you have a better job than this?" he once told a reporter.
"I've been fortunate," Lopez continued. "I've gotten to do lots of good things in my life. I saw the beginning of the Jet Age, helped establish the aeronautics program at the Air Force Academy, worked for eight years on the space program, and helped found this museum."
People who knew Lopez say they are the fortunate ones. He had an all-around-nice-guy quality that endeared him to everyone, and his sense of humor was legendary. As Dailey points out, "I have never heard anything about him that wasn't complimentary."
Readers who would like to share their own thoughts or memories of Don Lopez can visit the National Air and Space Museum tribute page.
Books
Lopez wrote two books about his flying experiences: Into the Teeth of the Tiger (Bantam, 1986) and Fighter Pilot's Heaven: Flight Testing the Early Jets (Smithsonian Institution Press, 1995).
He also wrote The National Air and Space Museum: A Visit in Pictures (Smithsonian Institution Press, 1989) and a children's book about flying.
Associations and Awards
Lopez was a member of the American Fighter Aces Association and the Experimental Aircraft Association and a Fellow of the Royal Aeronautical Society. In 1995, the National Aeronautic Association named him an Elder Statesman of Aviation, and in 1999 he was presented the Federal Hispanic Heritage Month Excellence in Leadership Award.
Lopez seemed especially thrilled when the Air Force Association gave him the Gill Robb Wilson Award in 2007 for his work as a writer. The award, presented by the president of the AFA, the Secretary of the Air Force, and the Chief of Staff, is given for accomplishments in arts and letters. "I never thought of myself as a writer, really," he said with typical modesty.
Lopez was also honored in 2007 as one of the living legends at the Gathering of Mustangs and Legends at Rickenbacker Field in Columbus, Ohio.
Military Honors
Silver Star
Distinguished Flying Cross with One Oak leaf Cluster
Air Medal with two Oak Leaf Clusters
Soldier's Medal
Chinese Breast Order of Yun Hui
Aircraft Flown by Don Lopez
Beech C-45 (Twin Beech) Expeditor
Bell P-39 Airacobra
Bell P-63 Kingcobra
Boeing B-17 Flying Fortress
Boeing B-29 Superfortress
Beech Bonanza
Curtiss C-46 Commando
Curtiss P-40 Warhawk
Douglas A-24 (SBD) Dauntless
Douglas B-26/A-26 Invader
Douglas C-47 Skytrain
Fairchild PT-19
Grumman F8F Bearcat
Lockheed P-38 Lightning
Lockheed P-80 Shooting Star
Lockheed T-33 Shooting Star
Martin B-26 Marauder
North American B-25 Mitchell
North American F-86 Sabre
North American P-51C Mustang
North American P-51D Mustang
North American SNJ-6 Texan
Northrop T-38 Talon
Piper J-3 Cub
Piper PA-18 Super Cub
Pitts Special
Republic F-84 Thunderjet
Republic P-47 Thunderbolt
Stearman PT-17
Vultee BT-13 Valiant