Docking on the Empire State Building
Despite plans for a mooring station, only one airship ever docked at the Empire State Building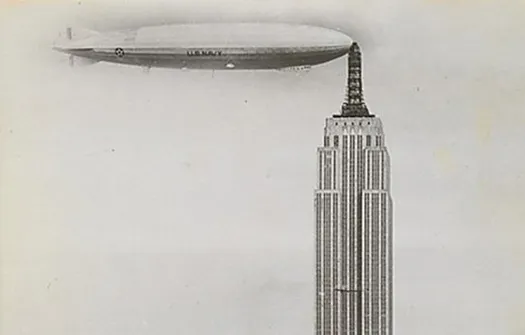 Ah, the romance of the airship. With its advent, passengers could finally be transported over great distances in comfort—even luxury. "On a plane you fly, but on the Graf Zeppelin you voyage," remarked one pampered passenger. (For the Graf Zeppelin's first transatlantic flight, besotted crowds of 50,000 or more awaited its arrival at the landing field at Lakehurst, New Jersey in 1928, even though it was delayed a day due to bad weather. Millions more watched as the airship slowly made its way up the East Coast, floating over Washington, D.C., past Baltimore and above New York City.) The airship experience, however, didn't come cheap. In 1928, a round trip transatlantic ticket went for $3,000, worth about $40,000 in today's dollars.
But what about the photograph shown here? The New York Times reports that in 1929, "Alfred E. Smith, the leader of a group of investors erecting the Empire State Building," announced that the height of the building would be increased by 200 feet so that a mooring mast for dirigibles could be installed. Smith noted that passengers would exit the airship down a gangplank, and a mere seven minutes later could be on the street, ready to experience everything Manhattan had to offer.
Dr. Hugo Eckener, the commander of the Graf Zeppelin, reports the New York Times, dismissed the project as impractical, noting that dirigible landings required dozens of ground crew, not to mention plenty of rope. "The notion that passengers would be able to descend an airport-style ramp from a moving airship to the tip of the tallest building in the world, even in excellent conditions, beggars belief," notes the Times.
In 1930, International News Photos distributed this manipulated photograph. At the time, no airship had docked at the Empire State Building. That didn't happen until September 1931, when a privately-owned dirigible docked for a mere three minutes, in a 40-mile-per-hour wind. "Traffic was tied up in the streets below for more than a half hour as the pilot, Lieutenant William McCraken jockeyed for position in the half gale about the tower 1,200 feet above the ground," the Times reported in 1931.
This image—and 200 others—are on display at the National Gallery of Art in the exhibition "Faking It: Manipulated Photography before Photoshop." The exhibition runs through May 5, 2013.